Cheapest Self Storage in Melbourne, Sydney & Brisbane. Guaranteed!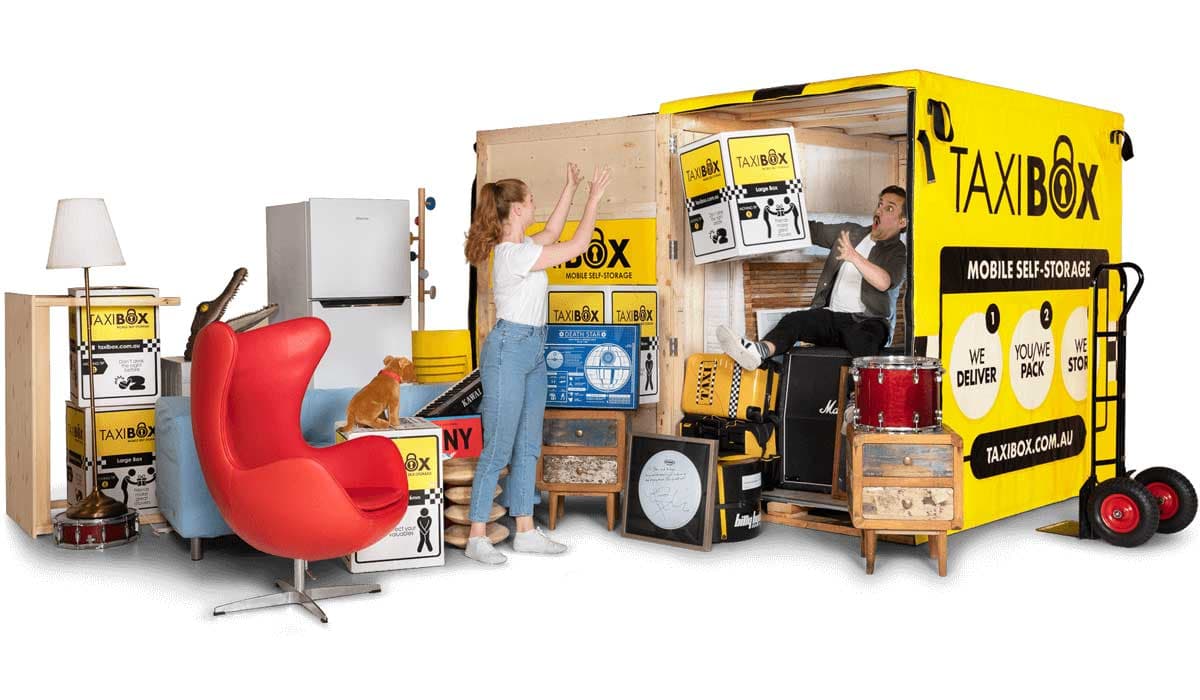 Safe & Secure Cheap Self Storage in Melbourne, Sydney & Brisbane
Want cheap self storage rates around Melbourne, Sydney & Brisbane but want to ensure that your belongings are safe and secure?
TAXIBOX offer a best price guarantee!
This means that you know you are getting the best rates in Melbourne, Sydney & Brisbane and our storage facility is state-of-the-art. Plus, even though we are the cheapest storage provider around Melbourne, Sydney & Brisbane, we are also the most convenient. Here is the process:
We Deliver – a portable storage unit known as a TAXIBOX is delivered to your door
You Pack – when it suits you, pack and lock your TAXIBOX
We Store – we collect and store your belongings inside your TAXIBOX inside our clean and secure warehouse. Since you hold the keys – we never open your TAXIBOX
Unbeatable!
Book Cheap Self Storage With TAXIBOX Now!
So if you're looking for cheap self storage in Melbourne, Sydney or Brisbane, call TAXIBOX and remember our best price guarantee! Get an instant quote online or call now – 1300 87-60-87.
Frequently Asked Questions About Our Cheap Self Storage
Why Is Mobile Self Storage Better Then Standard Self Storage?
Mobile self storage reduces the hassle of storing your items. You don't need to hire a ute or truck and deliver your items at a warehouse, instead we come to you, drop off the TAXIBOX and pick it up when it's packed. Our unique 'mobile' model ensure we are the cheap self storage provider of choice!
Can I Access My Items Any-time?
You can access the items in your TAXIBOX 6 days a week from 9:00am to 5:30pm on weekdays and 9:00am to 2:00pm on Saturdays. Please provide 24 hours notice and note we are closed on public holidays and between Xmas and New Years.
What Size Is A TAXIBOX?
Each TAXIBOX is huge at 2.4m (long) x 1.5m (wide) x 2.2m (height) externally. It's perfect for about one to one and half rooms' belongings and furniture.
How Secure Is The TAXIBOX When On My Property?
When a TAXIBOX is delivered the keys are handed to you and only yourself! Our employees don't keep the keys to your lock.
Where Can The TAXIBOX be delivered to?
A TAXIBOX can be delivered to the location you specify as long as the space could fit an average sized car. This could be in your driveway, the front lawn or even the street. For on-street delivery, see our permits page.
How long do I have to load my TAXIBOX
Take as much time as you need and we will pick it up when you're ready and store it at our facility.