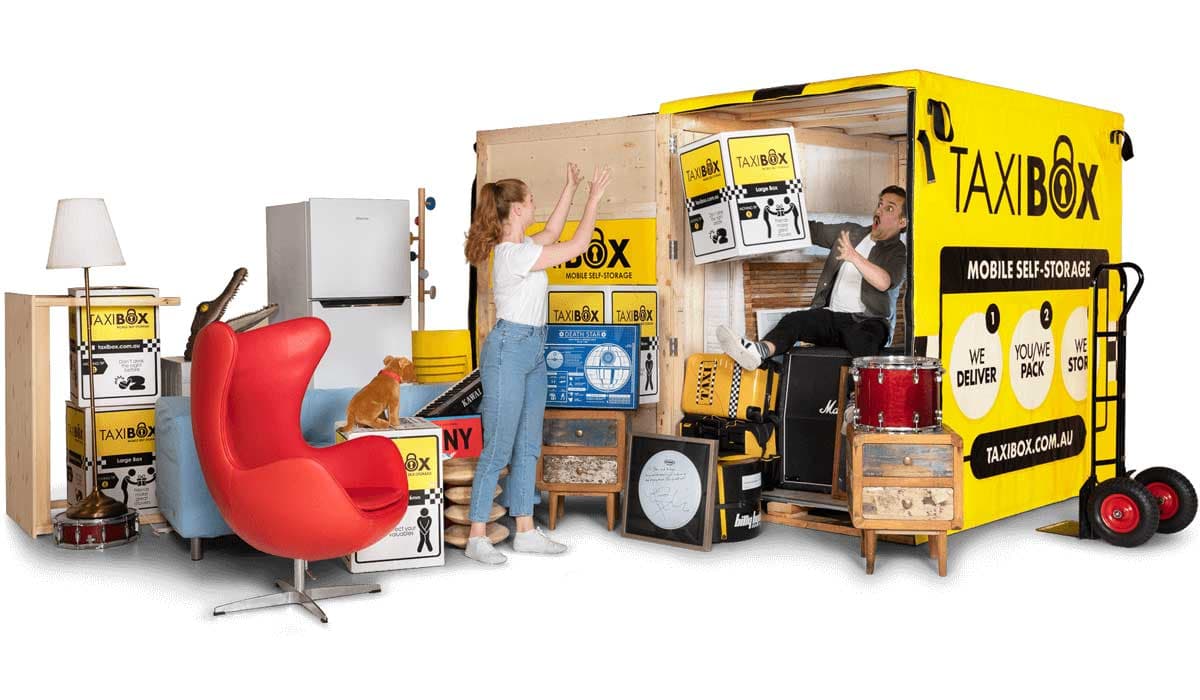 Portable Storage Containers
Australians move home and change businesses often, making portable storage container solutions a big deal for saving time and money. The self-storage industry in Australia has been undergoing a transformation in recent years, including contactless storage and personalised innovations that put you in control of your storage solutions and storage needs, and TAXIBOX is leading the way.
5 major advantages of using TAXIBOX for your portable storage needs.
1. Load and unload only once!
We deliver our TAXIBOXES (our portable self-storage containers) right to your home driveway or office for you to load. Once loaded, you can keep your portable storage unit on-site, or we can return to collect it and store it at our secure state-of-the-art storage facility.
No need for rental trucks or making several trips to a regular storage facility where you may struggle with stairs and long and shared hallways.
2. Our portable self-storage units are made from a durable composite that has been specifically developed for the purposes of furniture storage.
Metal containers, on the other hand, can cause condensation and/or mildew which will damage your belongings.
When outside, TAXIBOXES are protected with a heavy duty weatherproof cover.
3. Our portable storage units are ideally sized and are loaded, moved and searched much more easily than large metal containers.
No need to rent more space than actually used! Our 8m3 storage units allow to you to use as much (or as little) storage space as you actually need. You never overpay for unused space!
TAXIBOX's portable storage units are never tilted and always remain flat, ensuring maximum protection for your belongings. Our conveniently sized storage units allow you to organise and categorise various rooms / areas of the house according to different TAXIBOXES. There's nothing worse than having a lawnmower in the same confined space as your bed!
Our portable self-storage containers make it much easier to search for and find items when you need them. Metal containers can be a real headache to sift through. Our unique delivery system means that our containers can be parked and placed in hard to access spots that our competitors simply can't get to!
4. Our state-of-the-art storage facility is clean and secure. We also regularly undertake fire audits and conduct regular pest control.
TAXIBOX affordable storage units are clean, dry and secure – perfect for short-term or long-term storage requirements. These units are ideal for home or business storage. We regularly undertake fire audits by a professional evaluator and continually monitor to identify and eliminate any pest activity.
5. We care for your belongings as if they were our own.
We place absolute emphasis on customer satisfaction and make sure that every customer is left with a positive impression of TAXIBOX. We know that many companies may preach a high level of service, but we treat your belongings as if they were our own and put real care into practice!
What size and dimension are TAXIBOXES?
Our storage and moving containers are ideally sized for a wide range of storage solutions and storage options. They are 2.4m long, 1.5m wide and 2.2m high (externally) or 2.32m long, 1.46m wide and 2m high (internally). TAXIBOXES also have a large door for easy access and can hold up to 1 tonne of weight.
TAXIBOX portable storage containers are the convenient alternative to huge shipping container pods that are heavy, cumbersome, and difficult to relocate. Our storage units are ideal for home, business, or moving house to Sydney, Melbourne or Brisbane hassle-free.
Secure Storage for your items
Your furniture and possessions are important and worth taking proper care of, even while in storage, and TAXIBOX offers real peace of mind. Our portable storage containers are weather resistant and come with a heavy duty padlock. TAXIBOX can be stored on-site at your home or business premises, or at any of our secure storage facilities dotted around the city.
Mobile storage containers are the new style of residential and commercial storage. We deliver the TAXIBOX to your location for free so you can load and unload at your own pace for short-term or long-term storage. Important renovations or even entire household moving has never been easier, thanks to TAXIBOX portable storage solutions.
Finding the best storage solution for you
As Australia's favourite storage company, TAXIBOX has the answers you are looking for. Here are just a few advantages of advantages we offer.
Keep track of important possessions: By packing the mobile storage unit yourself, you won't lose or misplace important items or documents.
All-hours access: Keeping your TAXIBOX onsite at your home or business gives you 24/7 access, with no need to go back-and-forth to a storage facility.
Convenient long-distance move: Your TAXIBOX can go with you interstate to your new postcode. All you need to do is load your TAXIBOX storage container at your own speed, and when it is ready we will pick it up, take it away, and deliver it to your new address. We are the alternative to stressful moves on a tight timeline with a regular removalist.
Store at home or on-site: TAXIBOX is a progressive storage service with conveniently located secure storage centres. Store your TAXIBOX storage pod onsite or in-house – the choices are all yours.
The all-in-one solution: Relocating your home or office the old-style way is a major endeavour requiring precision planning and perfect timing. You would require packing services for pick up, loading and unloading, a removalist truck, and enough money to cover costs for the removalists return journey. Not so with TAXIBOX!
Protection: Important possessions get lost or damaged when there are lots of steps to a move. TAXIBOX offers peace of mind in ways that our competitors can't match.
Cool storage options: Do you require temperature controlled storage? Consider TAXIBOX cool storage units that can chill as low as 0 degrees Celsius. No need to get overheated and overstressed when you can keep your cool with TAXIBOX.
Where you can store your portable container
TAXIBOX can be securely stored on-site at your home or business. Alternatively, you can use our secure storage facilities. Portable storage containers are all about convenient ground level self-storage for level loading and easy access. Our storage units meet local council guidelines for storing at home, unlike larger pod container sizes that are an illegal eyesore in many locations.
Cost efficient way to store your personal items
Whether you want to store on-site, off-site, or at a secure storage facility, cost is the number one priority. That's why TAXIBOX gives you storage options to suit your specific circumstances. We are secure storage and moving services all-in-one, offering flexible solutions for every situation.
Save money with self-storage without truck hire or removalists costs. With TAXIBOX, there are no back loading fees and we deliver your portable storage container for free. Our containers are ideal for storing at your home or business, so you don't pay exorbitant storage facility fees for space you don't need. These are just a few cost-efficient measures that help us tick all the right boxes for you.
For more information about the wide range of TAXIBOX services, contact one of our helpful service assistants online or over the phone, and get your storage solutions sorted today!
Don't just take our word for it, have a read through some of our testimonials to see what the TAXIBOX portable storage experience across Melbourne, Sydney & Brisbane is all about!