We deliver
Stay put. We'll deliver your TAXIBOX to wherever you need it.
You pack
Pack it, lock it & store it for easy access for as long as you need.
We collect
Job done! Celebrate by letting us collect your empty TAXIBOX.
The coolest storage around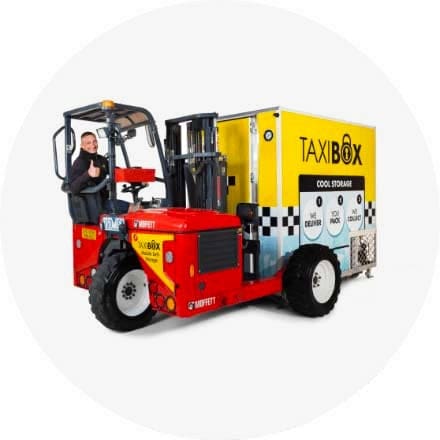 We go where we're needed
TAXIBOX Cool Storage sit flat on the ground, making loading easy & safe! Plus, our unique delivery method means we can deliver virtually anywhere.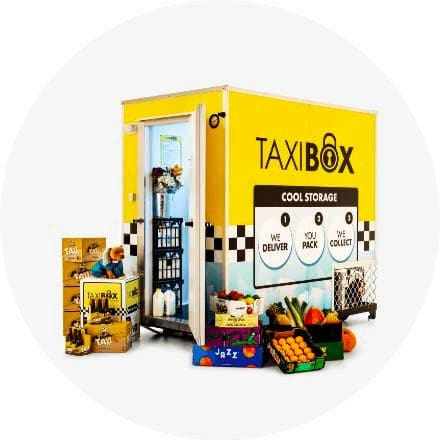 We're seriously cool
Our state-of-the-art digital cooling system is brag-worthy. Simply adjust the temperature to suit your needs—down to 0º Celsius.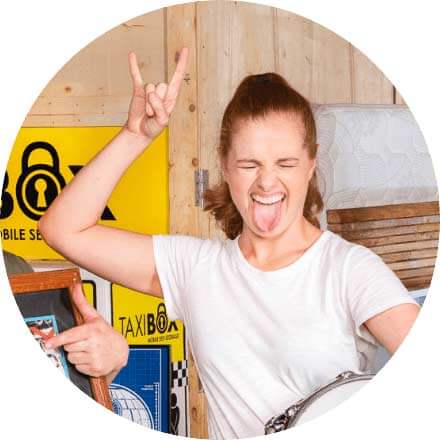 Save a tonne of money
Store for a few days, weeks or months starting from $299. No funny business or hidden costs. Oh – and we offer a best price guarantee too.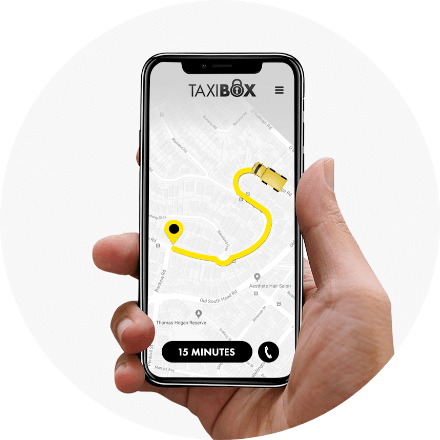 A+ communicators
Our real-time, live driver tracking means you can track our every move. We'll also send an SMS on our way – so you can work on keeping cool yourself.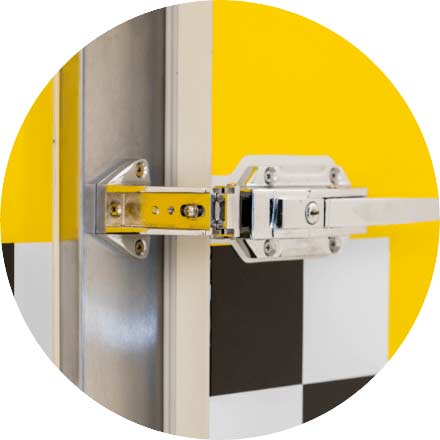 We're the strong, silent type
Our 100% Aussie born cool rooms are made from quality materials that mean business. Plus, we're OH&S, Electrical & Food Safety Compliant.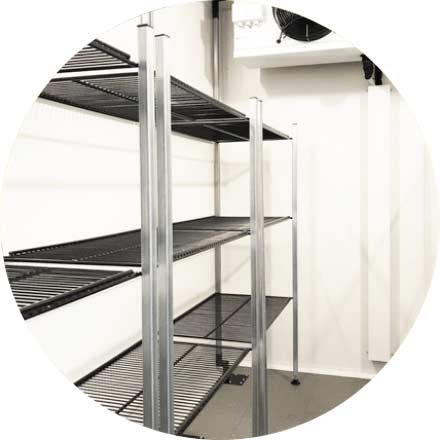 We love accessories
Shelves? Got it. Trolleys? Sure thing. Extension leads and generators? Um… Yup. We have all the gear to transform an event from great to epic.
Cool rooms from TAXIBOX are mobile storage units capable of reaching 0 degrees Celsius. They are the extra fridge you need for quality storage, restaurants, parties, festivals and events. We have been innovating self-storage options and the way people move interstate for years, helping countless individuals to access more cost-effective and flexible self-storage solutions. Along with our mobile cool rooms available for short and long term hire, you can also access quality and secure self-storage that is kept on site in one of our self-storage facilities based in Sydney, Brisbane and Melbourne, or onsite secure self-storage.
The way TAXIBOX works is simple. You identify the need for some extra storage, like a mobile freezer or an additional storage shed you need to store some stuff for either a short while or a long while. Then you hop online to use our instant online quoting facilities. We believe in offering our customers the highest level of service for the lowest possible price which is why you'll find that all of our prices for both our cool room hire and our self-storage options are entirely transparent. You can contact one of our friendly customer service representatives if you have any questions and to find out more about our Best Price Guarantee.
Once you know that you need some extra storage like a cool room hire or a residential storage solution, you'll need to know how much storage you actually need. To accurately estimate the amount of storage that you require, log on to the TAXIBOX app. Along with real time driver tracking, other features we offer our customers include our 3D calculator, Calcumate. This powerful little tool helps you to accurately estimate the size of the storage container or mobile cool room that you need to fit all of your stuff. We help our customers to pay only for what they actually need, actively keeping your self-storage and cool room hire costs as low as possible.
Once you have the optimum sized cool rooms or self-storage unit, then it's time to book. All of our self-storage solutions are available for short or long term hire which means that how you use your self-storage is up to you. We'll deliver your TAXIBOX to your preferred location for free. From there, you pack it with whatever you need safely stored and then either keep your container onsite where it can be securely locked and is 100% weatherproof, or we can come and collect it again for you and keep it at one of our storage facilities. You enjoy free access to your storage unit 6 days per week, but you'll have to ring ahead and give us some notice if you need access to make sure that your storage unit is ready and available for you when you turn up.
Because we'd developed a faster, smarter and more flexible storage solution that picks up your packed container from site and delivers it to one of our storage facilities, we wondered whether we could actually take that storage unit somewhere else for our customers too. What about the people planning an interstate move Australia? Weren't the prices for relocating interstate exorbitantly high? Could we provide a high quality removals service which also helped to keep costs lower for our customers?
The answer was yes, we could. Along with offering you onsite, offsite and flexible self storage options like a mobile cool room, we also off an interstate removals service. It works just like our self-storage option in that you use our online quoting facility and Calcumate to check how much you really need for everything that you need to move. Once you have found the right sized container, simply book it online and choose your delivery date/ If you're planning to move interstate, then you can also consult our moving house checklist for some tips and suggestions on how best to plan your big move and keep your costs as low as possible. It includes some things like booking an interstate removalist about 4 to 6 weeks out of your actual move date to ensure that you have plenty of time to prepare everything that needs to prepared before moving day arrives. The actual moving day is going to be stressful enough as it is; why not try to anticipate potential problems and put some strategies in place ahead of time. This will save you precious energy and a lot of frustration in the long run.
When your portable storage unit arrives on site, you pack it the way that you want. This also helps you to save on moving costs and traditional removalists charge you usually for the time they spend packing and unpacking your household, as well as the travel distance they need to cover between your old house and the new one. By packing your own heavy duty storage container, you can control your moving costs and do things just the way that you like.
We help people move from Brisbane to Sydney, Brisbane to Melbourne, Melbourne to Sydney, Melbourne to Brisbane, Sydney to Brisbane and Sydney to Melbourne. We help both residential customers as well as business customers seeking to move offices, branches or equipment long distance and interstate.
Alternatively, if you're able to pack your own storage unit then you can hire a local removalist to help with the packing and unpacking service. This way you're only pay for a few hours of their time rather than for the whole move itself. Ordinarily, it's the unpacking that takes the least amount of time and energy. Why not consider choosing a local removalist at the packing end and then unpack your mobile storage container when it arrives at the new house?
No new house and moving ritual can be complete without the all-important house-warming party and that's when you can head back to our website to hire a cool room. As a mobile freezer, you can opt for your TAXIBOX cool room to come with or without shelves, depending on what you need it for. Use your mobile cool room to store your ice, cool drinks, meat and other cool storage perishables. Use for a single night or, if you're planning a festival event or something similar, opt for a long term hire option that covers you for the complete time that you need it.
Search for cool rooms near me using TAXIBOX and rent a cool room from Australia's most trusted self-storage and interstate removalist service.
Our services are available in Sydney, Brisbane and Melbourne where we offer our customers a more innovative, cost effective and flexible storage solution, including cool rooms and interstate moving solutions. All of our prices are available to view online and if anything isn't clear then please feel free to contact a customer service representative either over the phone or online. We'll happily take you through our quoting facilities and explain each cost as it appears on your quote so that you understand the money that you save when you choose TAXIBOX over traditional cool room providers, self-storage solutions and interstate moving services.