We deliver
Stay put. We'll deliver your TAXIBOX to wherever you need it.
You pack
Pack it, lock it & store it for easy access for as long as you need.
We collect
Job done! Celebrate by letting us collect your empty TAXIBOX.
The coolest storage around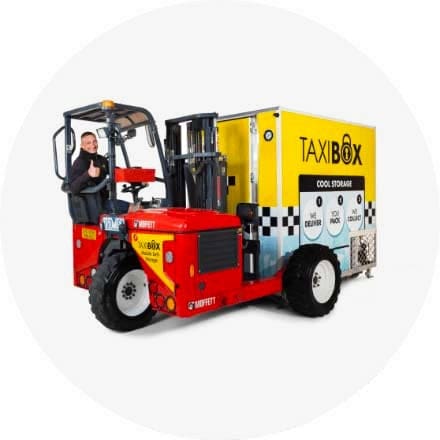 We go where we're needed
TAXIBOX Cool Storage sit flat on the ground, making loading easy & safe! Plus, our unique delivery method means we can deliver virtually anywhere.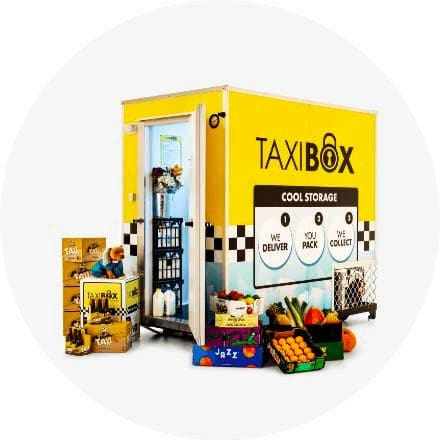 We're seriously cool
Our state-of-the-art digital cooling system is brag-worthy. Simply adjust the temperature to suit your needs—down to 0º Celsius.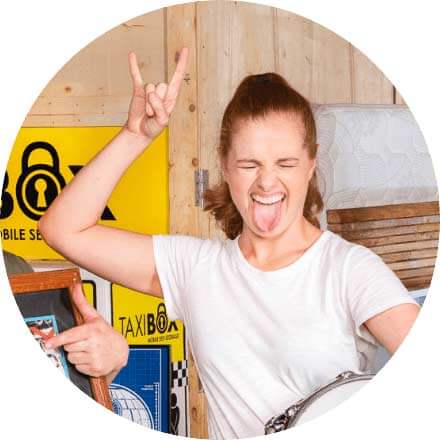 Save a tonne of money
Store for a few days, weeks or months starting from $349. No funny business or hidden costs. Oh – and we offer a best price guarantee too.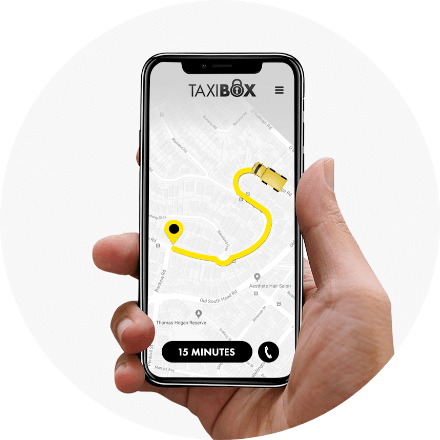 A+ communicators
Our real-time, live driver tracking means you can track our every move. We'll also send an SMS on our way – so you can work on keeping cool yourself.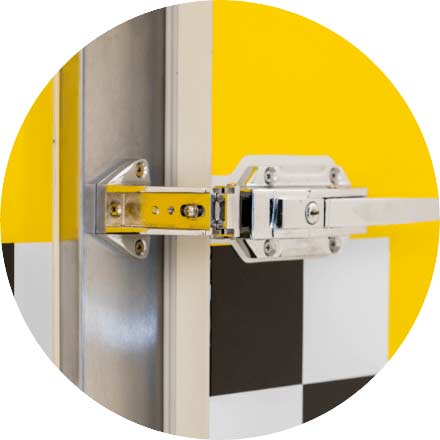 We're the strong, silent type
Our 100% Aussie born cool rooms are made from quality materials that mean business. Plus, we're OH&S, Electrical & Food Safety Compliant.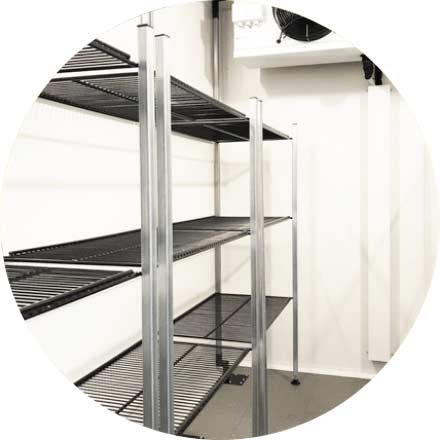 We love accessories
Shelves? Got it. Trolleys? Sure thing. Extension leads and generators? Um… Yup. We have all the gear to transform an event from great to epic.
TAXIBOX Cool Storage
Health and safety standards in Australia make cool room storage solutions essential in lots of situations. From temperature-controlled food storage and shelving at the Sunday markets to cold drinks for weddings, parties and other celebrations, the answer is always TAXIBOX cool room storage.
Storage that keeps it cool
TAXIBOX mobile cool storage units can keep things chilled to 0 degrees Celsius. Our innovative self-storage options are changing the face of hospitality events and festivals, and we are the fast back-up for restaurants and caterers in urgent need of cool room storage solutions. Cost-effective mobile cool rooms are great for short-term or long-term hire, so you can scale your business to your immediate needs without compromising quality.
Features and benefits of cold storage containers
From ice boxes to fridges and freezers, Australia is a country that needs high quality refrigeration that meets storage needs. TAXIBOX has found the solution, designing state-of-the-art mobile cool room storage systems that can be used for any situation where cold storage is required. Here are some significant advantages TAXIBOX offers.
We Deliver Your TAXIBOX Anywhere – We deliver the cold storage TAXIBOX to wherever you want in Melbourne, Sydney, Brisbane, Gold Coast or Adelaide. Our unique delivery method makes loading easy and safe; your heavy duty cool storage freezer room sits flat on the ground with an elevated floor and full temperature control for chiller perfection.
We Collect the TAXIBOX – When the party is over and you no longer need a cold storage system, we return to collect the TAXIBOX. It's as easy as that – there's no need to hire a truck or trailer to have commercial cool room quality.
Total Temperature Control – Many years experience in the storage industry has helped us develop mobile cold storage rooms that meet all expectations. TAXIBOX cool room operation is easy: simply adjust the temperature to suit your needs—down to 0º Celsius.
Strong, Silent and Compliant – TAXIBOX cold rooms are a 100% Aussie born creation. Our cool rooms, as well as our cool room shelving, are made from high quality materials designed for the job. Don't forget – we're OH&S, Electrical & Food Safety Compliant too.
TAXIBOX Online Tracking – With TAXIBOX, you also get to keep cool with hassle-free real time tracking. Our live driver tracking means you can track your TAXIBOX for coordinated delivery. We also keep in touch via SMS for additional peace of mind.
Accessories – Take advantage of all the accessories needed to turn your event into a success. From shelves to trolleys, extension leads and generators, we can supply everything required to get your cool room storage up and running for an epic event.
Save Money – Cool Room Storage is suitable for short-term or long-term use. TAXIBOX is the flexible solution when a commercial food storage room isn't working, party planning is in progress, or a festival has grown bigger than anticipated. TAXIBOX can help you adapt and save money.
Cool room options that scale with your business
Transform your business the no-fuss way with a temperature-controlled cool room. TAXIBOX cool rooms are big, but in the event you need more chiller space for a larger wedding or catering job, simply hire a second cool room. And don't forget end of year celebrations with staff, colleagues or mates, where chilled beverages are sure to be in demand.
We deliver the cool storage TAXIBOX to your home or business premises for no-hassle storage, and we even offer a best price guarantee to ensure you're completely satisfied with the deal.
Sizes and specifications available
At TAXIBOX, we understand you may not have room for huge shipping containers. We are the space saving alternative, offering plenty of cool room storage packed into a storage container that can fit into a regular car parking space.
Measuring 2.4m (D) x 2.35m (H) x 1.5m (W), our TAXIBOX Cool Rooms can fit everything you need for your next event. We deliver the TAXIBOX to your chosen location. You can keep the mobile cool storage unit on-site, and once you're done, our team return to collect it. That's it!
TAXIBOX service and delivery options
Your TAXIBOX is securely transported and placed on a level area at your chosen site. You're the only one with the keys to your TAXIBOX Cool Room, so you can be sure that the items you pack are safe and secure. Your TAXIBOX has a weatherproof door seal, and as a bonus, our cold storage units are made using heavy-duty insulation to ensure perfect temperature control.
TAXIBOX cool room storage is a leading business model for convenience in a busy world. We also offer general on-site or mobile storage for homes and businesses around Australia. If you're building, renovating, remodelling or relocating, TAXIBOX has the answers for short-term and long-term storage needs. Here's how all of our services work.
Mobile Storage – just like regular storage but way better.
We Deliver: We deliver your TAXIBOX to wherever you need it.
You Pack: Take your time to pack your TAXIBOX or let us lend us a hand.
We Store: We'll collect and store your TAXIBOX at our storage facility.
On-Site Storage – make more space at your place.
We Deliver: We deliver your TAXIBOX to wherever you need it.
You Pack: Pack it, lock it, and store for easy access for as long as you need.
Job Done: We come and collect your empty TAXIBOX.
Cool Storage – temperature controlled cool room storage at your chosen location.
We Deliver: We deliver your cool storage TAXIBOX to wherever you need it.
You Pack: Pack it, lock it, and store for easy access as long as you need.
Job Done: We come and collect your empty TAXIBOX.
It really is that easy with TAXIBOX! Book a TAXIBOX online, or contact us over the phone and speak to a friendly product expert. On-site cool room storage is totally possible with TAXIBOX.
Ordering your cool storage unit
Ordering a TAXIBOX is simple. We will arrange a suitable delivery location, day and time with you and can set up a convenient payment system with no hidden fees. Charges may include any accessories ordered online.
With TAXIBOX, you are guaranteed simple solutions without complex invoices or unwanted contracts. We are the cost-effective storage solution that customers appreciate. TAXIBOX Cool Storage is quite possibly the coolest storage around. Our temperature controlled mobile storage is perfect for events, festivals, parties and more.
We'll help you keep things chilled
… so you can get on with the fun stuff.
Events & festival hire
Catering events
Short & long term hire
2.4m (D) x 2.35m (H) x 1.5m (W)