Storage that comes to you
We deliver
Stay put… we'll deliver your TAXIBOX wherever you want.
You/we pack
Take your time… pack and lock your TAXIBOX, or let us lend a hand.
We store
All done… we'll collect and store your TAXIBOX at our storage facility.
Our storage facilities
TAXIBOX Erskineville
3/149 Mitchell Rd Erskineville 2043
TAXIBOX Greenacre
7B, Roberts Distribution Centre, 81-85 Roberts Rd, Greenacre 2190
Sydney loves a TAXIBOX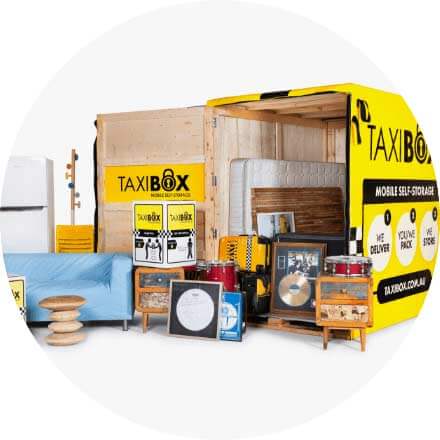 100% storage, 0% hassle
Like regular storage but so much better, easier and fun-er. We come to you, so you can get on with the good stuff.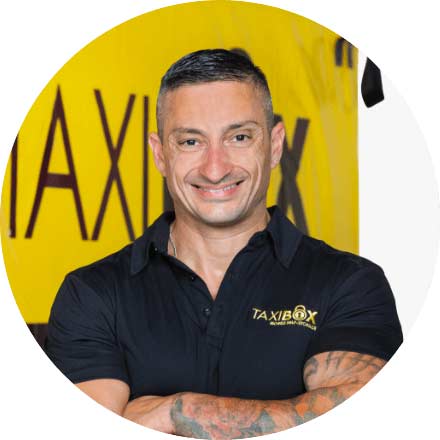 Optional helping-hands
Let us do the heavy lifting by combining your TAXIBOX with our removalists. You'll save big bucks & bad backs.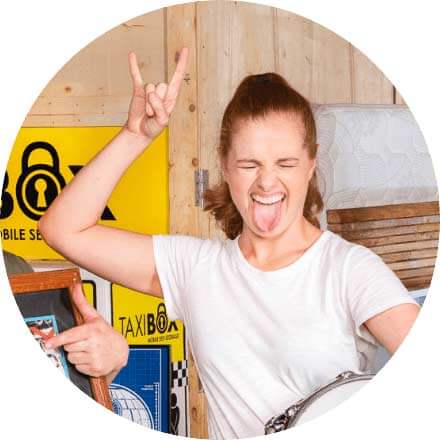 Save a tonne of money
Short or long term storage, save on the cost of truck, ute or mover hire. No funny biz or hidden costs. And we offer a best price guarantee too.
Size DOES matter
Not to brag, but each TAXIBOX holds 1-1.5 rooms of furniture, 120 archive boxes, up to 1 tonne weight & fit into the trickiest of spots or an average sized car space.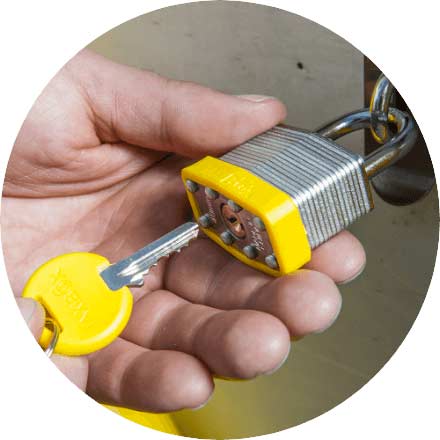 Access without the fuss
Access your TAXIBOX at our facility 6 days a week or have it delivered back to wherever you need it to add or remove stuff.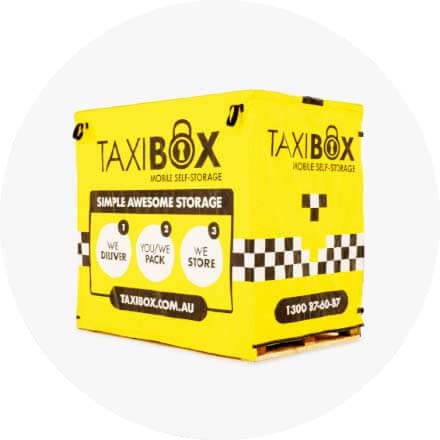 We're the strong, silent type
TAXIBOXES are weatherproof and made tough, secure and robust. Once locked & loaded, your TAXIBOX is returned to our secure 5-star box resort.
Suburbs we offer our storage services to:
TAXIBOX proudly offers our convenient, secure and cost-effective self-storage Sydney services throughout Sydney. See if you can spot your suburb below, where you can find our most popular delivery destinations.
If you can't find your suburb in the list below, fear not – chances are we service your area. TAXIBOX offers services throughout metropolitan Sydney, as well as surrounding areas and outer suburbs.
Self-storage Sydney Inner City Suburbs
Alexandria, Annandale, Darlinghurst, Marrickville, Newtown, Paddington, Redfern, Rosebery, Sydney CBD
Self Storage Sydney Western Suburbs
Blacktown, Parramatta, Penrith
Self Storage Sydney Southern Suburbs
Arncliffe, Botany, Hurstville, Kogarah, Maroubra, Pagewood, Rockdale
Self Storage Sydney Eastern Suburbs
Bondi, Coogee, Eastern Suburbs, Kingsford, Randwick, Vaucluse, Woollahra
Self Storage Sydney in Northern Suburbs
Want to find out if we can come to you? Get an Instant Quote to find out. If you're still not sure, give us a call on 1300 87-60-87 or email us at [email protected].
Storage units Sydney
Looking for a place to store your extra things in Sydney NSW, but wanting to avoid traditional and expensive storage rentals? TAXIBOX is exactly what you're looking for. We have the self-storage units Sydney residents need, without the hidden fees and strict rules. It's your stuff, so we let you store it your way! TAXIBOX is the best storage solution for all of Sydney, from Parramatta to North Sydney, to Hornsby, Bondi, and Chatswood! Get started with TAXIBOX today and enjoy the peace of mind and flexibility of renting cheap storage units in Sydney!
How to find cheap storage units in Sydney?
When your home starts to feel more cluttered and less peaceful, it might be time to get a storage unit. Most of the time, though, storage units are expensive, inconvenient, and full of different hidden fees and rules. TAXIBOX takes an alternative approach to self-storage and is not only a great option for cheap storage units in Sydney but also one of the best self-storage in Sydney options around!
Our prices are transparent, fair, and don't include random fees or charges. On top of that, we go above and beyond to make our self-storage service convenient, something the other guys won't do. So, you not only have a cheap storage unit, you have one that fits your schedule and needs much, much better.
No matter what type of storage you're looking for – short-term, long-term, on-site, or mobile storage – TAXIBOX has a solution for you. We've built our business from the ground up to be one of the most affordable and convenient ways to store belongings and items for storage in Sydney, Melbourne, and Brisbane.
TAXIBOX storage solutions
The biggest advantage of using TAXIBOX? It's not just the price – it's the simplicity and peace of mind. Normally you would have to load up all your belongings for storage into your car or a moving truck, drive them to the storage unit facility, and load them into the storage unit. That makes getting a storage unit almost not worth it due to the time and effort required! With TAXIBOX, it's different. Check out our Cheap Sydney Storage Solutions.
When you order self-storage facilities from TAXIBOX, you tell us what you need and we deliver right to your door. It can sit on your property as long as you need it to while you fill and organise it. Then, once it's full, we'll come back and take it to our storage facility for you! You don't have to leave your home at all, because we take care of everything except the loading. We do all the heavy lifting and driving for you, and once your TAXIBOX™ is at our secure storage facility, you'll be able to access it whenever you need it!
On-site storage service option
What if you'd prefer to have your storage unit remain on your property? With many other storage companies, you don't have great storage options, but that's not the case with us! You can choose our on-site storage service to rent storage sheds that will stay in your driveway or yard as long as you need them. On-site storage units in Sydney are ideal for people who need extra temporary storage space.
For example, if you're doing some home remodelling, you might need to empty all the furniture from one room of your home for weeks, if not months. With on-site furniture storage from TAXIBOX, you can store extra furniture, mattresses, building materials, and other items somewhere other than your living room. This makes home renovations and remodelling much simpler and less stressful because you can still use the rest of your home while the renovations are going on!
De-cluttering while your home business grows
Furthermore, many people who start small businesses run them from home in the early stages. This means lots of boxes, products, and other supplies in your home taking up all the space. While you wait for your business to grow, you need solutions for all the clutter. On-site storage with TAXIBOX is the best way to keep your home uncluttered and peaceful while you start a new business, remodel, or prepare for a move. We'll drop your TAXIBOX™ exactly where you want it, let you have it for as long as you need, and come haul it away when you're done!
Keeping a TAXIBOX™ on your home's premises is like having an additional room in your house. Everything that you're not using and is taking up space can go in there, freeing up floor and closet space in your home for the necessities. TAXIBOXES are weatherproof and safe, with thick padlocks and safety features to keep all your belongings secure.
Cool rooms
Got an event coming up? Keep your guests happy by keeping their food and drinks and whatever-else-their-hearts-desire cool. TAXIBOX Cool Storage Units are climate-controlled all the way down to 0°C and completely secure. You can get a TAXIBOX Cool Room delivered to your home, site, or business, just like you can with normal TAXIBOXES. These Cool Storage Units don't require a generator or any sort of special power source to use; just plug them into your home with an extension cord, and you've got a completely safe, climate-controlled self-storage solution, delivered to wherever you need it!
Chill out with cold storage solutions
Cold storage is the perfect solution for caterers, event planners, festival organisers, butchers, florists, and plain old shin-dig-havers. Food, beverages, flowers — no matter what you're storing, you can be confident that your Cool Room inventory will be safe, secure, and climate-controlled, keeping your items chilled, in perfect condition.
All of our TAXIBOXES can be delivered virtually anywhere and sit flat on the ground, making loading easy and safe, and guaranteeing your items won't have to endure any bumps or bruises. Whether you're running a hospitality business, providing flowers for an event, planning a wedding, or hosting a party, TAXIBOX Cool Rooms are an affordable and practical solution. All you have to do is adjust the temperature to suit your needs and chill. If you think that cold storage is the right solution for you, get in touch with us today!
Moving and Removal Services
Storage isn't all that TAXIBOX does. If you're moving somewhere else in New South Wales, moving interstate in Australia, or just moving from one part of Sydney to another, TAXIBOX has everything you need. Moving is a stressful time, even if it's just across town. You have a very limited window in which you need to be packed up and ready to load (or have removalists load) everything onto the moving vehicle. If you don't adhere to strict schedules, you can find yourself wasting lots of money as part of an already expensive move.
TAXIBOX has answers to those problems. If you know that you'll be moving soon, you can order a TAXIBOX for moving to arrive days before your actual move date. Then, you can take all the time you need to fill up the box and get it ready for relocation. Just imagine how much simpler it can be to have all-hours access for 4 days, 5 days or more to load your things for the move rather than just 4 or 5 hours!
We do the heavy lifting for you!
Once your TAXIBOX™ (or multiple TAXIBOXES) is filled, simply put the lock on it and we'll come back with a forklift for pick up. We can take it to your new home right away, or keep it at one of our secure storage centre facilities for up to a month with no extra charges.
TAXIBOX has more than just storage units for moving. We also have removal options and moving supplies – TAXIBOX provides everything from cardboard boxes, packing materials and moving blankets to professional removalists! Whether you're looking for removalists Sydney to Brisbane, removalists Sydney to Melbourne, or removalists Brisbane to Sydney, there is a TAXIBOX moving solution for you.
Business Storage in Sydney
Business Storage is another service that TAXIBOX is proud to offer. This isn't just for people running businesses out of their homes and needs extra space; this is for small, medium, and large-scale operations with ever-changing storage needs. If your current location or warehouse is bursting at the seams, TAXIBOX will be ready with secure storage solutions in Sydney NSW. You can get as many TAXIBOXES as you need, for as long as you need them, with competitive commercial rates.
No fuss, no mess = TAXIBOX
If your business is largely seasonal, there is no reason to have a large warehouse for 12 months when you only need the space for three or four months. Instead, you can have a smaller facility and supplement it with TAXIBOXES during your busy season! Short-term storage and business storage go hand-in-hand, solving your storage problems without requiring you to lease more space or relocate your business! Finding cheap self-storage in Sydney is easier than ever with TAXIBOX. We make every part of renting storage units, mobile storage, and moving simpler and more relaxed. If you need a new personal storage solution because your home or business space just isn't enough, TAXIBOX is ready to take care of all the items you need to store! Get started today!