We deliver
Stay put. We'll deliver your TAXIBOX™ to wherever you need it.
You pack
Pack it, lock it & store it for easy access for as long as you need.
We collect
Job done! Celebrate by letting us collect your empty TAXIBOX™.
TAXIBOX brings storage home (or to work)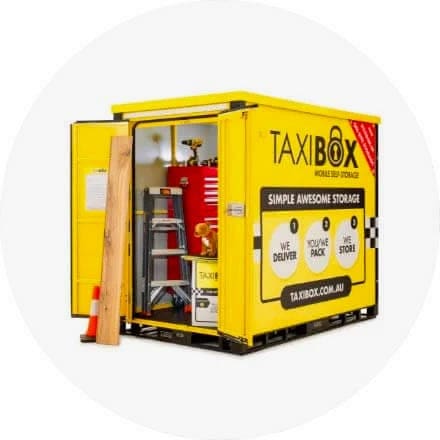 100% storage, 0% hassle
On-site storage means we deliver to your doorstep for you to keep at yours so you can get on with the good stuff.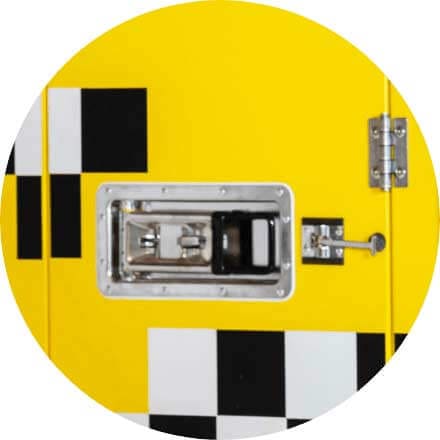 The secure, strong, silent type
Industrial quality durability & security all wrapped up in a rock-solid steel structure. Keep our On-site TAXIBOX™ outside—rain, hail or shine—for as long as you need.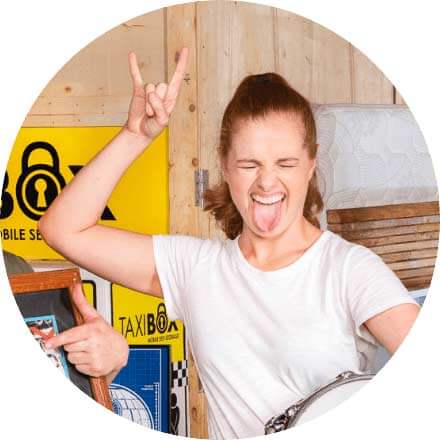 Save a tonne of money
Short or long term storage options starting from a simple $149 per month. Save on driving to storage facilities and vehicle hire costs. And we offer a best price guarantee too.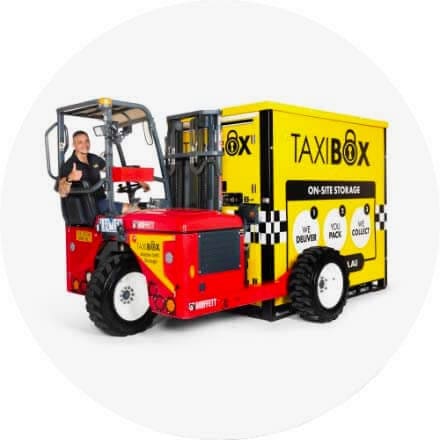 Size DOES matter
TAXIBOXES are 2.4m long x 2.2m high x 1.5m wide & can be delivered into the toughest of spots, using our unique all-terrain delivery method.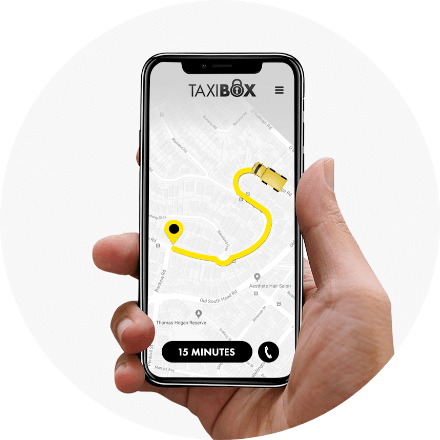 A+ communicators
Our real-time, live driver tracking means you can see our every move. Spend less time thinking about us and more time getting on with the job.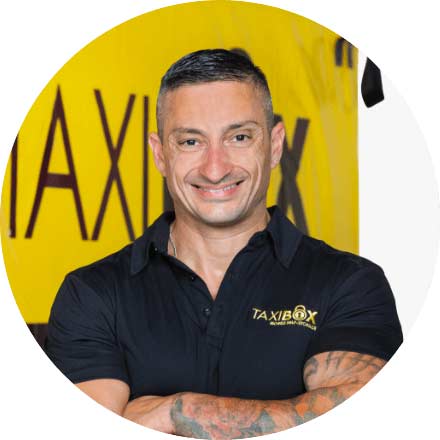 Optional helping-hands
Let us do the heavy lifting by combining your TAXIBOX™ with removalists. You'll save big bucks & bad backs.
Self Storage Units in Australia
Wish you could have a clutter-free space without lifting a finger? It's possible with TAXIBOX on-site storage! We roll up to your home, office, event—anywhere you need us, really—and drop secure extra space when you need it. No more running back and forth to a storage facility; it's like having an extra room, right where you are!
Whether you're renovating, decluttering, or just need that extra bit of space, our on-site storage mobile storage units make life simpler and a whole lot more spacious—it's the TAXIBOX way!
TAXIBOX vs Traditional Self Storage
Traditional storage makes you work around its rules, locations, and timings. But TAXIBOX on-site storage units switches it up, bringing the convenience and flexibility straight to you, not the other way around. This allows you to focus on the important stuff while we handle the headaches and heavy lifting.
Traditional Self Storage:
Location: Fixed storage facilities. You go to them
Access: Not very flexible; typically during the facility's operating hours
Loading: You load your items at the facility
Transport: You're responsible for getting your items to and from the facility
Flexibility: Limited; based on facility rules and operating hours

TAXIBOX On-Site Storage:
Location: We roll right to your doorstep. Yes, your stuff stays with you!
Access: Anytime! Your stuff, your place, your rules
Loading: Load and unload at your leisure, right where you are. Or call our removalist pros to pack for you!
Transport: We bring the storage to you; no need to rent a truck or make multiple trips!
Flexibility: Need more time? Your TAXIBOX stays for as long as you need it
How Does On-Site Storage Work?
TAXIBOX is no ordinary storage Joe. We've analysed all the struggles of traditional storage and created a service that solves all your problems—it's simple, affordable, and fuss-free. Gone are the days of battling traffic, renting trailers, and racing against the clock to squash your stuff into storage facilities. With TAXIBOX, you can pack at your pace, right in your driveway or parking lot.
How it works:

We Roll In: You call; we bring your TAXIBOX right to your doorstep. With our real-time driver tracking, you'll know exactly when we arrive
You Pack & Park: Load up your belongings, secure your TAXIBOX, and voilà! You've just expanded your space without stepping a foot out of your property. Need help packing? Let our expert removal guys take care of it!
We Roll Out: One call does it all! Once you're done, give us a ring. We'll swing by to pick up your empty TAXIBOX.
Which Areas Do We Serve?
TAXIBOX is your first call for secure and hassle-free self storage in Australia. We serve neighbourhoods nationwide, from the buzzing hubs of Melbourne and Sydney to the scenic shores of the Gold Coast in Queensland.
TAXIBOX delivers quality storage solutions in major regions across Australia, including:
Looking for secure self storage near you? Check out all of our 9 locations and book a tour of one of our modern facilities in your neck of the woods.
Why Use Self Storage?
Our on-site storage units are versatile! From your extra closet during a home revamp to your cool companion keeping your party refreshments just right—we transform your space and can adapt at a moment's notice! Don't think space; think possibilities.
Decluttering

Overflowing closets? Our mobile storage is the extra space you've always wanted, minus the costs and hassles of upsizing or renovating. At 2.4m (L) x 2.2m (H) x 1.5m (W) externally, there's plenty of room to stash seasonal decor, extra furniture, sports gear, and more!
Moving Homes

Moving homes doesn't have to be a nightmare. With our portable storage units that pull up to your place, you can pack without the pressure. Arms getting tired? Our muscly removalist team is just a call away.
Business Storage
From stacks of paperwork to piles of stock, TAXIBOX on-site storage units give your business the room to breathe. Our secure commercial storage units fit in a standard size car parking spot, so you can slot them into your space seamlessly. Plus, there's no lock-in contracts or hefty deposits here—just simple, monthly payments!
Event & Festival Storage
Planning a soiree? Keep your food and drinks perfectly chilled with our cool storage units that dial down to a frosty 0º Celsius, perfect for those sizzling BBQs and fiery festivals.
Secure Self Storage With TAXIBOX
TAXIBOX on-site storage is stronger, sturdier, and securer. With us, it's not just about storing; it's about knowing your belongings are secure. Here's why our security is second to none:
Tough & Durable: Who says a box can't be tough? Our rock-solid steel units are extremely secure and designed to protect your belongings, come rain, hail, or shine!
Only You Have the Key: That's right, it's all yours! Your TAXIBOX, your lock, your key, and no copies! It's just you and your stuff, enjoying some quality secure time together
Locked & Latched: With solid construction and a secure door latch, your on-site TAXIBOX is like a security guard for your stuff. Just pop on a sturdy 40 mm padlock and rest easy
Ready for All Weather: It sure is! Our on-site TAXIBOXES feature a sturdy steel construction and have rubber-sealed doors to protect your precious items from the elements
Not sure what all you can fit in? Use our easy space calculator to find the perfect storage unit size for your stuff.
If you need more space, simply call us up and we'll zip over with one, two, three, or however many TAXIBOXES you need. Now, that's service!