Delivered virtually anywhere.
On-street, off-street, or straight to your new place.
Do we service your suburb?
---
TAXIBOX Braeside
118 Boundary Rd, Braeside 3195
TAXIBOX Reservoir
274 Edwardes St, Reservoir 3073
TAXIBOX St Kilda
12 Grey St, St Kilda VIC 3182
Storage that comes to you
We deliver
Stay put… we'll deliver your TAXIBOX wherever you want.
You/we pack
Take your time… pack and lock your TAXIBOX, or let us lend a hand.
We store
All done… we'll collect and store your TAXIBOX at our storage facility.
Geelong loves a TAXIBOX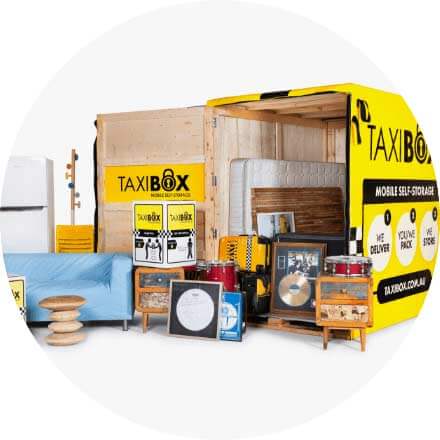 Great storage, zero hassle
Like regular storage but so much better, easier and fun-er. We come to you, so you can get on with the good stuff.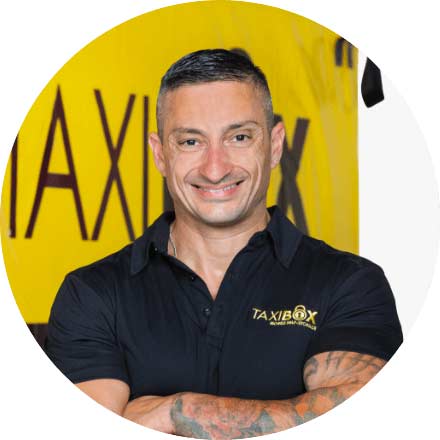 Take a (further) load off
Let us do the heavy lifting by combining your TAXIBOX with our removalists. It will save you big bucks and bad backaches.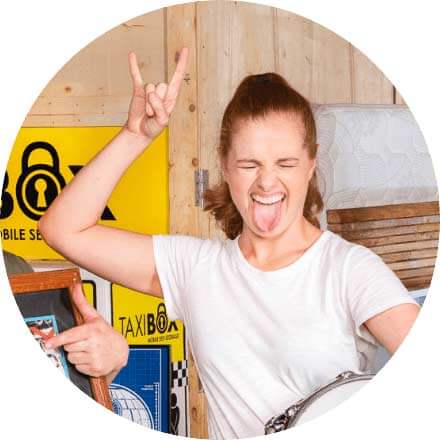 Made for bargain lovers
Forget bucks spent on trucks. TAXIBOX comes directly to you with great rates, no hidden fees, no long-term commitments and a best price guarantee.
Size DOES matter
Not to brag, but every TAXIBOX holds around 1-1.5 rooms of furniture, about 120 archive boxes, up to 1 tonne of weight—and they fit into an average sized car space.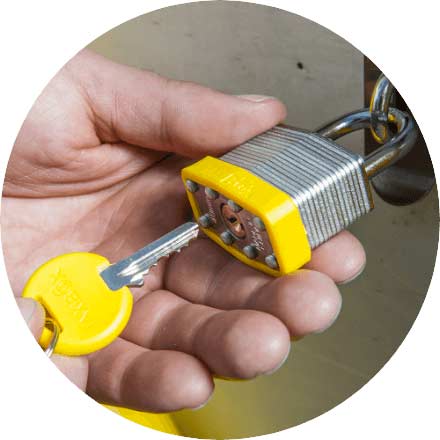 Access without the fuss
Wanna visit your TAXIBOX? No worries! Give us a bit of warning and we'll make sure your TAXIBOX is looking spiffy for your reunion.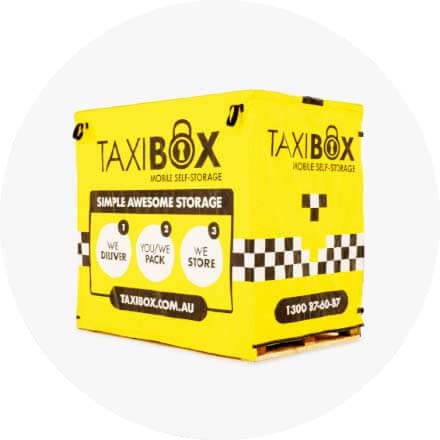 We're the strong, silent type
Every TAXIBOX is raised off the ground, made from tough, durable wood composite structure and wrapped with a heavy-duty weatherproof cover to keep your stuff mould and mildew free.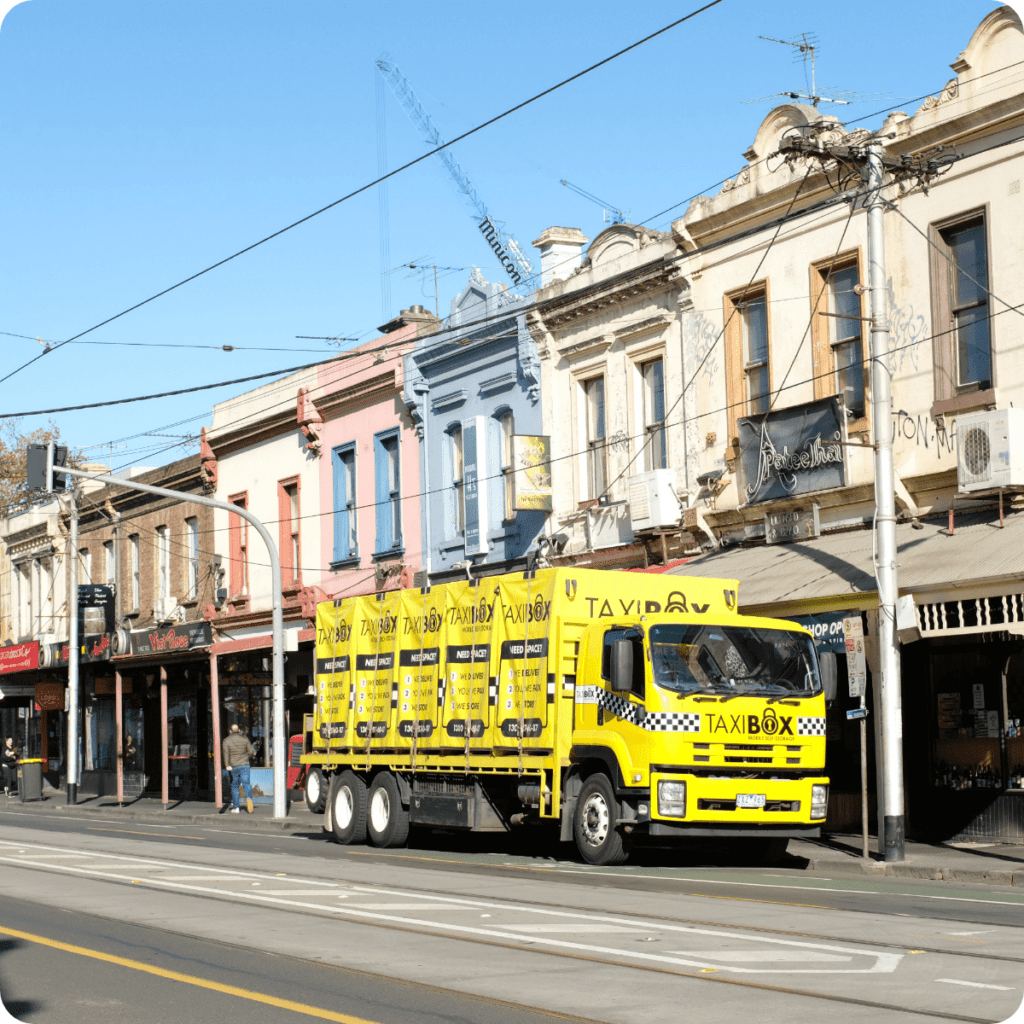 Simple self-storage solutions
Innovative TAXIBOX storage units in Geelong and North Geelong are changing the way people do self-storage in Vic. TAXIBOXES are portable storage facilities that can be loaded your way, kept on-site long-term, or relocated locally or interstate.
TAXIBOX takes a progressive and adaptable approach to meeting every Melbourne mobile storage need. By allowing the customer to take charge of their own storage space, we are able to offer cost-effective and simple storage solutions. From mobile storage to on-site storage and temperature-controlled cool storage, TAXIBOX has the storage solution you are looking for.
If you are renovating or remodelling, TAXIBOX is the hassle-free way to make extra room so you can get the job done. If you are moving, simply load the TAXIBOX and on moving day the removalists will take the TAXIBOX for relocation. You won't need to lift a finger, and the TAXIBOX can be waiting for you at your new address, ready for you to move in. It doesn't get any easier than that!
Secure storage units in Geelong, Vic
Geelong is a busy city and gateway to greater Geelong and regional Victoria. Storage services are in demand and TAXIBOX Geelong storage is the stress-free storage solution. TAXIBOXES are used while building, renovating, refurbishing, or relocating.
With portable storage (mobile storage), the TAXIBOX is delivered to your address and placed on a level pallet. Load the TAXIBOX your way at your pace, and we will return to collect it when you are done. For long-term storage, use an on-site TAXIBOX for as long as required. Load and unload the TAXIBOX to suit your changing needs.
For catering, restaurant cool room backup, weddings, and parties, choose temperature-controlled cool storage to ensure perishables are crispy fresh and beverages are perfectly chilled. TAXIBOX also offers traditional storage at a secure CCTV-monitored storage facility, plus removalists services that make relocating a smooth and stress-free task.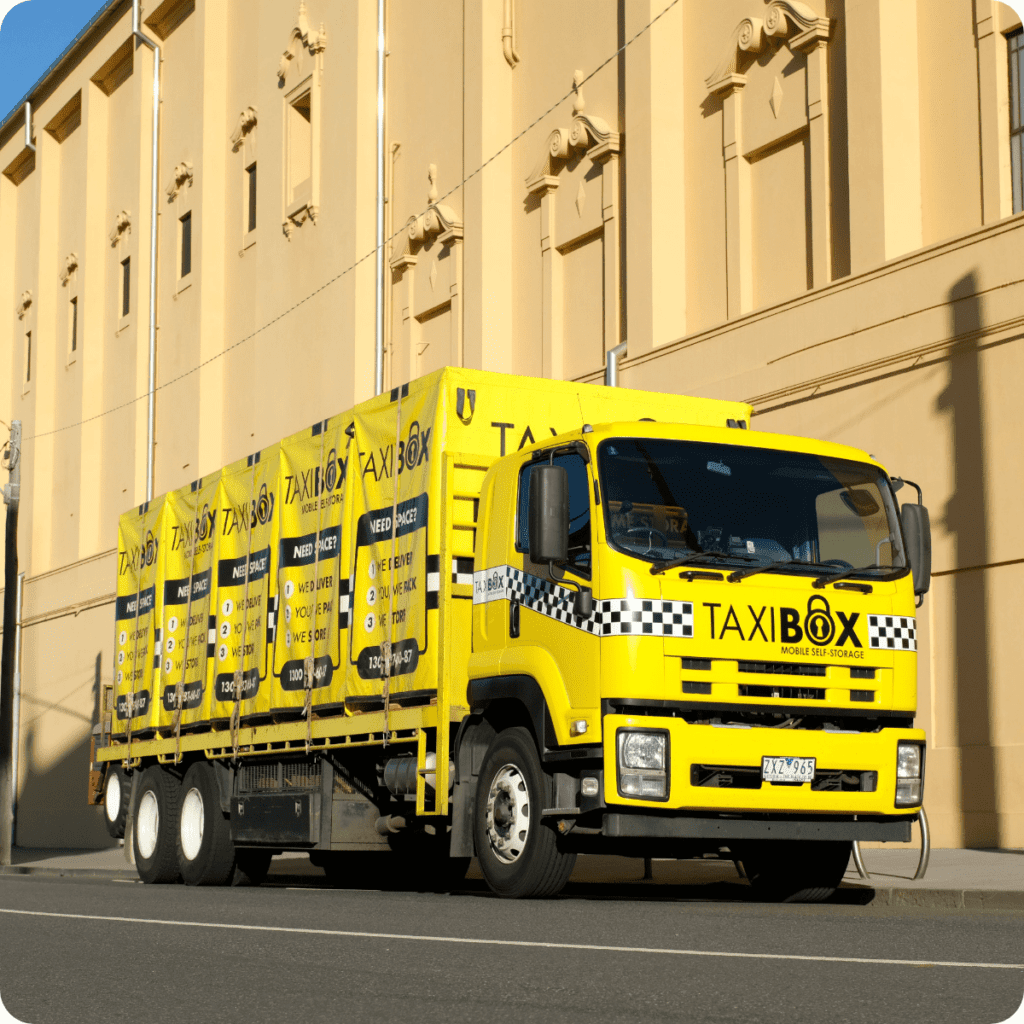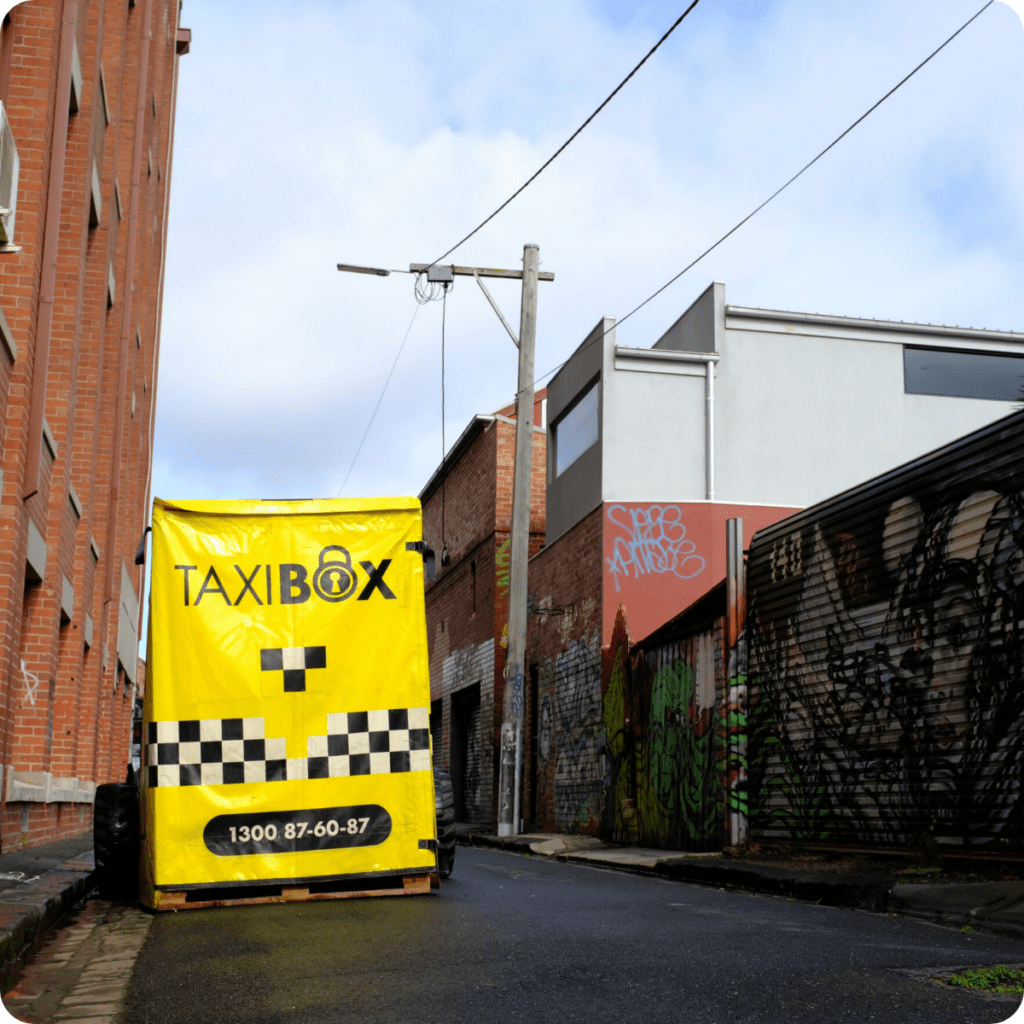 Benefits of portable storage units
TAXIBOX self-storage in Geelong is for people who want easy access to their important stuff. With a self-storage unit, you don't have to hire a trailer or truck or load and unload your things. We deliver the TAXIBOX to your home or business premises, and we pick it up again when you are done using it. There's no need to travel to a far-away storage facility when you have everything you need at home.
With TAXIBOX, you can create a storage centre space at home or at your workplace, and load the self-storage unit at your own pace. Access your essential things 24/7 and keep your inventory in order and accessible. TAXIBOX works around your schedule so you can adapt to on-site storage needs on the go. TAXIBOXES can be used for short-term storage or long-term storage solutions as the need arises.
There are no lock-in contracts and you can access your important belongings outside of office hours. You can even purchase all your packing materials, such as bubble wrap, moving blankets, and boxes, from our online Box Shop. Everything is delivered with your TAXIBOX so you can start loading straight away. That's easy Melbourne portable storage done the TAXIBOX way.
The coolest storage in Geelong Vic
If you have an event coming up, you will need to keep your guests happy with chilled wines, ales, juice, and healthy salads. TAXIBOX Cool Storage Units are temperature-controlled all the way down to 0°C and are totally secure. All you need is your own padlock and you are good to go. You can get a TAXIBOX Cool Room delivered to your home, event site, or business, just like you can with our other TAXIBOXES.
These Cool Storage Units don't require a generator. Simply plug in with a suitable extension cord and your cool room stock will be secure and ready for the celebrations whenever you are. All you have to do is adjust the temperature to your specific needs, and chill out the no-stress way with TAXIBOX.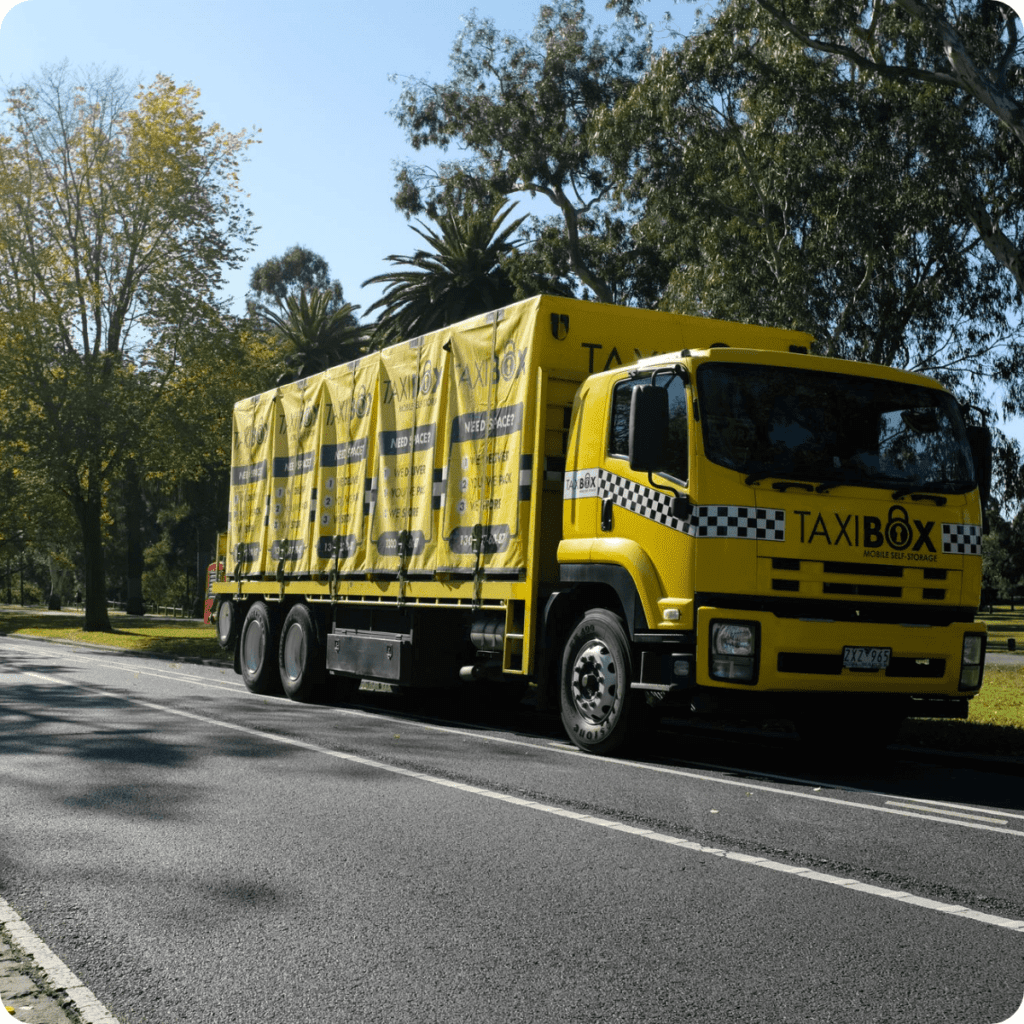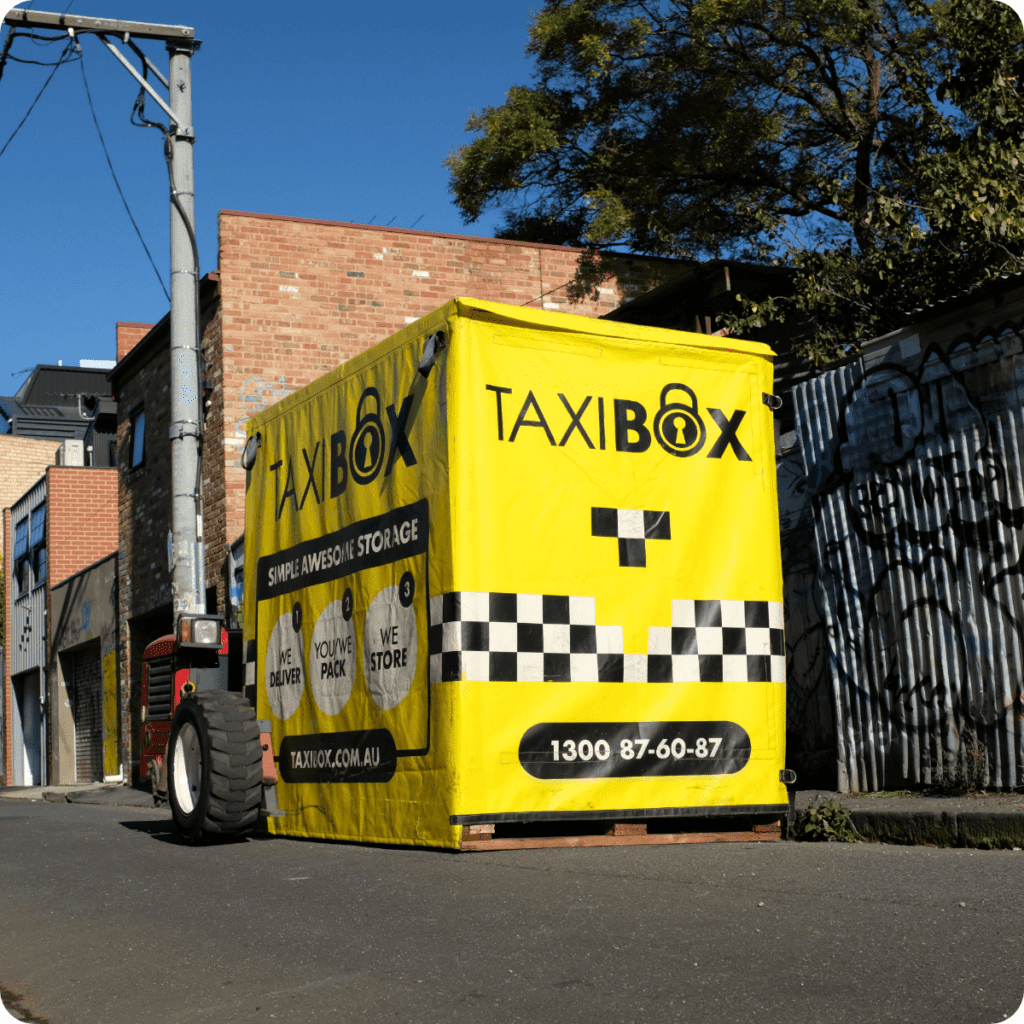 Cost-efficient storage options
Because TAXIBOX offers flexible self-storage solutions, you can arrange the most cost-efficient storage option for your specific situation. We have storage solutions to suit all budgets that other storage providers can't match. For short-term or temporary self-storage facility solutions, long-term storage, commercial storage, or removalist services in Geelong, look no further than TAXIBOX. Whether it's cool rooms, on-site storage, mobile storage, or even an interstate move, we've got affordable storage solutions to meet your storage needs.
Convenient removalists services
TAXIBOX removalist services make moving around Geelong and Australia simple. We'll drop the TAXIBOX off at your door so that you can pack at your own pace, and once you're all packed, we come back with a forklift to collect it. Alternatively, the removalists can do the packing for you, and we can even relocate the TAXIBOX directly to your new home for complete peace of mind. Speak to our friendly staff for a quick quote when you are ready for your next move to Geelong, Melbourne, or elsewhere in Australia.