Storage that comes to you
We deliver
Stay put… we'll deliver your TAXIBOX wherever you want.
You/we pack
Take your time… pack and lock your TAXIBOX, or let us lend a hand.
We store
All done… we'll collect and store your TAXIBOX at our storage facility.
Wanna pay your TAXIBOX a visit?
I'm sure they'd love to see you
TAXIBOX Banyo
931 Nudgee Road, Banyo 4014
TAXIBOX Ormeau
15 Blanck St, Ormeau 4208
Brissy loves a TAXIBOX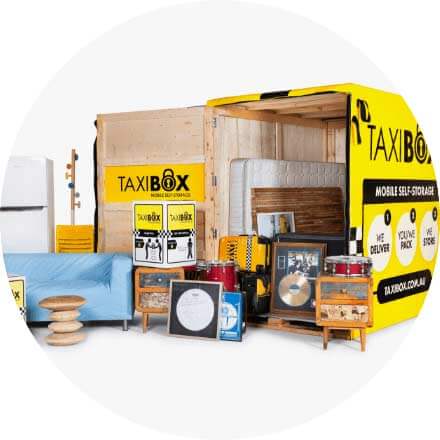 Great storage, zero hassle
Like regular storage but so much better, easier and fun-er. We come to you, so you can get on with the good stuff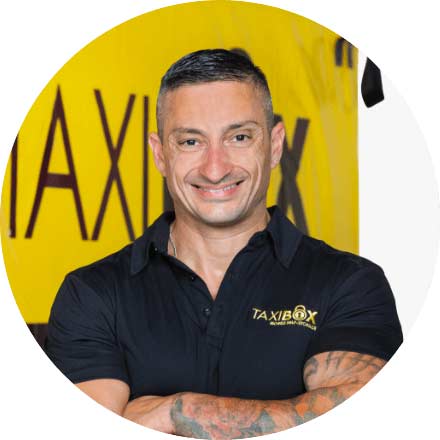 Take a (further) load off
Let us do the heavy lifting by combining your TAXIBOX with our removalists. It will save you big bucks and bad backaches.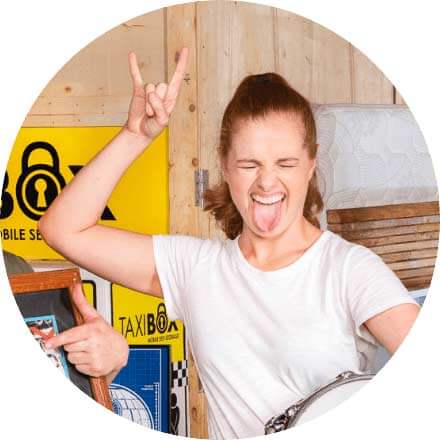 Made for bargain lovers
Forget bucks spent on trucks. TAXIBOX comes directly to you with great rates, no hidden fees, no long-term commitments and a best price guarantee.
Size DOES matter
Not to brag, but every TAXIBOX holds around 1-1.5 rooms of furniture, about 120 archive boxes, up to 1 tonne of weight—and they fit into an average sized car space.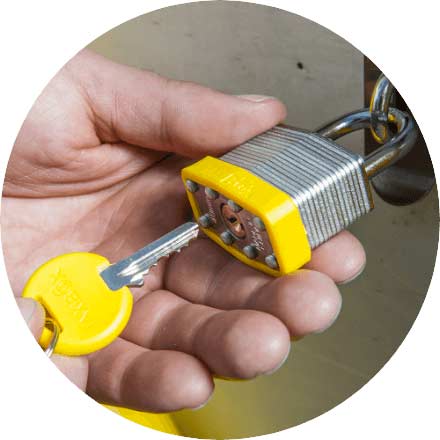 Access without the fuss
Wanna visit your TAXIBOX? No worries! Give us a bit of warning and we'll make sure your TAXIBOX is looking spiffy for your reunion.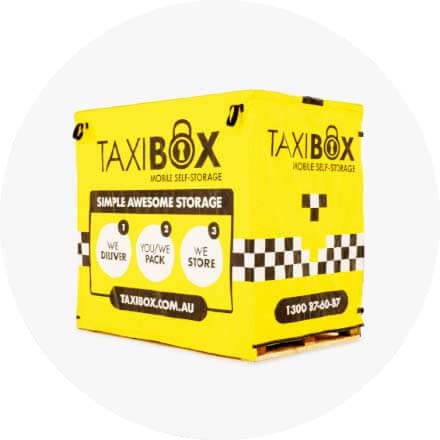 We're the strong, silent type
Every TAXIBOX is raised off the ground, made from tough, durable wood composite structure and wrapped with a heavy-duty weatherproof cover to keep your stuff mould and mildew free.
Suburbs we offer our storage services to:
TAXIBOX proudly offers our convenient, secure and cost-effective self-storage Brisbane services throughout Brisbane. See if you can spot your suburb below, where you can find our most popular delivery destinations.
If you can't find your suburb in the list below, fear not – chances are we service your area. TAXIBOX offers services throughout metropolitan Brisbane, as well as surrounding areas and outer suburbs.
Inner City Suburbs
East Brisbane, Nundah, Woolloongabba
Western Suburbs
Southern Suburbs
Acacia Ridge, Logan, Moorooka, Mount Gravatt
Eastern Suburbs
Northern Suburbs
Caboolture, Sandgate, Chermside, Clayfield, Stafford
Want to find out if we can come to you? Get an Instant Quote to find out. If you're still not sure, give us a call on 1300 87-60-87 or email us at [email protected].
Storage units Brisbane
Running out of room in your home is a frustrating occurrence that happens to everyone at some point. Sometimes, the solution is as easy as getting rid of some of your old stuff. But, what do you do if the clutter is caused by items you can't simply throw away? In that situation, it's time to look for cheap storage units. TAXIBOX has storage units Brisbane residents can use on their terms, without breaking the bank. From on-site storage and mobile storage to cold rooms and removals, there is always a storage unit that fits your needs with TAXIBOX!
Convenient storage solutions Brisbane-wide
Whether you live in Brisbane CBD, Fortitude Valley, South Brisbane, Redcliffe, Beenleigh, or Sherwood, TAXIBOX is always nearby. Compared to other Queensland self-storage companies that only have storage units you have to drive to, TAXIBOX is incredibly convenient! That's because, instead of you driving to your storage unit, we bring the storage unit to you! When it comes to storage units, Brisbane residents need better choices than expensive, tedious storage companies. That's where TAXIBOX comes in.
When you get a storage unit from TAXIBOX, you get to choose the date and time that it arrives at your doorstep. Once it's delivered, you can have as much time as you need to load your belongings into the storage box. After you're finished loading it up, we'll come back and take it to one of our storage facilities. There, you'll have full access to all your belongings whenever you need them. This makes TAXIBOX the best storage in Brisbane!
Storing business supplies and inventory on-site
If you'd prefer to keep your TAXIBOX™ on your property, that's fine, too! This is a great solution for small businesses; you can store inventory and supplies in a TAXIBOX™, not your office or living room. Starting a small business in your home means that things can get out of control pretty quickly; a TAXIBOX™ for small business storage is a great short-term solution to keep things in order while your business grows.
On-site storage units in Brisbane aren't just for people who want to rent storage shed for their small businesses, though. They're perfect for anyone who needs some extra unit size space that will let them keep their belongings without creating massive clutter. An over-cluttered home is known to be a great source of stress, while a clean and tidy environment makes people feel calm and balanced. If your home has begun to feel more cluttered over the last few years, it may be time to get a TAXIBOX™ to help you keep things organized!
Cool rooms
Got an event coming up? Keep your guests happy by keeping their food and drinks and whatever-else-their-hearts-desire cool. TAXIBOX Cool Storage units are climate-controlled all the way down to 0°C and completely secure. You can get a TAXIBOX Cool Room delivered to your home, site, or business, just like you can with normal TAXIBOXES.
These Cool Storage Units don't require a generator or any sort of special power source to use; just plug them into your home with an extension cord, and you've got a completely safe, climate-controlled self-storage solution, delivered to wherever you need it!
Climate-controlled storage wherever you are
Cold storage space is the perfect solution for caterers, event planners, festival organisers, butchers, florists, and plain old shin-dig-havers. Food, beverages, flowers — no matter what you're storing, you can be confident that your Cool Room inventory will be safe, secure, and climate-controlled, keeping your items chilled, in perfect condition. All of our TAXIBOXES can be delivered virtually anywhere and sit flat on the ground, making loading easy and safe, and guaranteeing your items won't have to endure any bumps or bruises.
Whether you're running a hospitality business, providing flowers for an event, planning a wedding, or hosting a party, TAXIBOX Cool Rooms are an affordable and practical solution. All you have to do is adjust the temperature to suit your needs and chill. If you think that cold storage is the right solution for you, get in touch with us today!
How to find cheap storage units in Brisbane?
Another challenge that presents itself to people who are looking for commercial storage units is price. Most storage facilities are run in the old-fashioned way, with hidden fees and tricky pricing that make storing your belongings much more expensive than it needs to be. If you're looking for cheap self-storage for your storage needs in Brisbane, you'll find that TAXIBOX is not only one of the cheapest self-storage options, but also one of the best storage companies in Brisbane!
Moving with TAXIBOX
Self-storage solutions are not the only thing TAXIBOX offers. If you are considering moving interstate in Australia, TAXIBOX has the solution for you. Whether you're moving from one side of Brisbane to the other or you need removalists from Brisbane to Sydney or removalists Brisbane to Melbourne, we have your back.
Moving is a stressful task, and most removalist providers don't do much to make it any easier. You have to have all your things packed and ready to go before they arrive with the truck, and your moving schedule is more or less based on their work hours. This forces people to squeeze the entire moving process into a very narrow window of time. That adds to the stress of moving when it's designed to make things easier.
Storage solutions at your own pace
With TAXIBOX self-storage facilities, you don't have to pack up everything at once. You don't have to be ready the moment we arrive, and you don't have to stress about whether or not you'll be subjected to a bunch of hidden fees. Rather, we will drop off your TAXIBOX (or multiple TAXIBOXES for larger moves) at your onsite storage location at a time that works best for you. You can fill it at your own pace, taking up to a week to get it all loaded in. Then, when you're done loading, you can put the lock on the secure storage unit and we'll come with a forklift and grab it!
If your new home in Brisbane, the Gold Coast or Sunshine Coast isn't quite ready yet and you'd like us to manage easy access furniture storage, business storage, or even bike storage, vehicle storage or boat storage for a while, you can do so free of charge for up to a month! When you're ready to have your things at the new place, we'll bring them right to your door, right when you want them.
Your long-term or short-term storage partner
TAXIBOX also has removalist services and packing materials to help you with your move. From boxes, packing tape and moving blankets to hard-working and professional removalists, we have everything you need for peace of mind to make moving from one home to another a breeze.
If you're looking for cheap self-storage units in Brisbane, QLD, TAXIBOX is ready to help. We have the best storage options around, whether it be an on-site storage shed in Brisbane with CCTV monitoring, mobile storage, or cool storage, there is something for everyone! We hope that you find what you're looking for with TAXIBOX, and we're always available for a phone call or to respond to an email! We're proud to be your long-term storage, short-term storage partner in Brisbane!
Real people really like us! Check out our reviews.