Storage that comes to you
We deliver
Stay put… we'll deliver your TAXIBOX wherever you want.
You/we pack
Take your time… pack and lock your TAXIBOX, or let us lend a hand.
We store
All done… we'll collect and store your TAXIBOX at our storage facility.
Mobile storage delivered virtually anywhere.
TAXIBOX mobile storage brings convenience right to your doorstep in Brisbane. Whether you need storage for your home or business, our flexible service allows for hassle-free delivery of storage units in Brisbane, making storing and accessing your belongings a breeze.
Do we service your suburb?
---
TAXIBOX Banyo
931 Nudgee Road, Banyo 4014
TAXIBOX Ormeau
15 Blanck St, Ormeau 4208
Box Shop
Before storage, comes packing (Yee-ha!). To do it right, you're gonna need the right protection *wink*. We've got all your primo packing needs sorted… and we can deliver it straight to you—with or without a TAXIBOX.
Some of our most popular suburbs
TAXIBOX proudly offers our convenient, secure and cost-effective storage services throughout Brisbane. If you can't find your suburb in the list below, fear not – chances are we service your area. TAXIBOX offers services throughout metropolitan Brisbane, as well as surrounding areas and outer suburbs.

Ready to turn your stuff into space?
Brisbane loves a TAXIBOX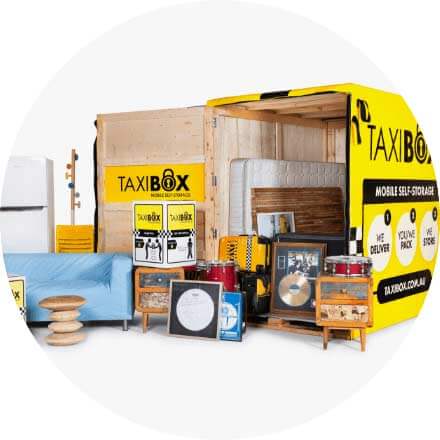 Great storage, zero hassle
Like regular storage but so much better, easier and fun-er. We come to you, so you can get on with the good stuff.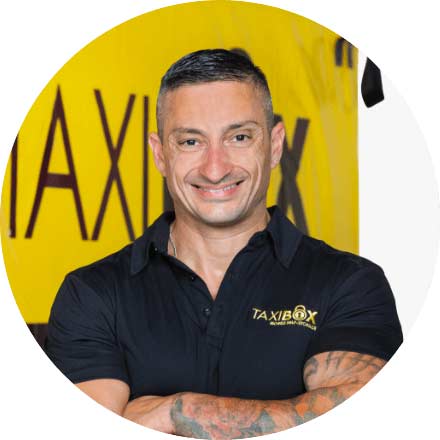 Take a (further) load off
Let us do the heavy lifting by combining your TAXIBOX with our removalists. It will save you big bucks and bad backaches.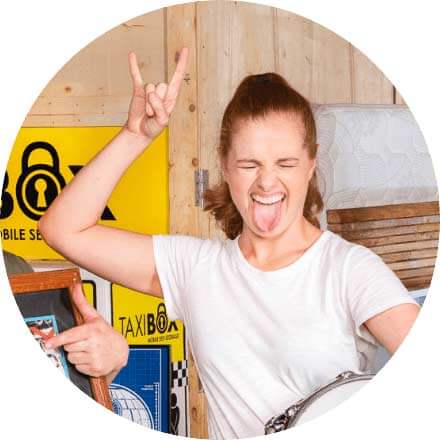 Made for bargain lovers
Forget bucks spent on trucks. TAXIBOX comes directly to you with great rates, no hidden fees, no long-term commitments and a best price guarantee.
Size DOES matter
Not to brag, but every TAXIBOX holds around 1-1.5 rooms of furniture, about 120 archive boxes, up to 1 tonne of weight—and they fit into an average sized car space.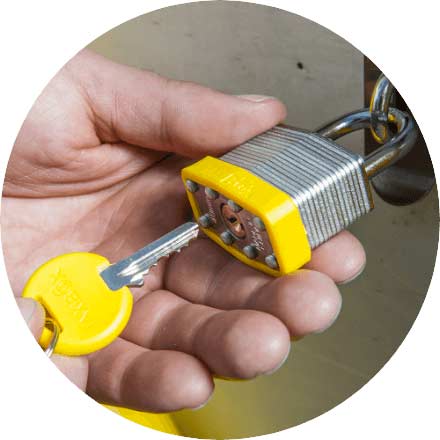 Access without the fuss
Wanna visit your TAXIBOX? No worries! Give us a bit of warning and we'll make sure your TAXIBOX is looking spiffy for your reunion.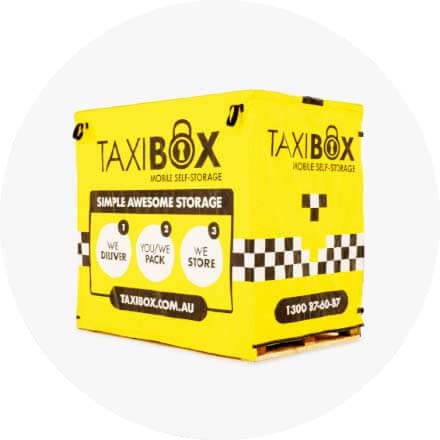 We're the strong, silent type
Every TAXIBOX is raised off the ground, made from tough, durable wood composite structure and wrapped with a heavy-duty weatherproof cover to keep your stuff mould and mildew free.
The Best Self Storage Solutions in Brisbane
Mobile Storage in Brisbane
Looking for storage in Brisbane without the stress? TAXIBOX offers convenient mobile storage solutions where the unit comes to you, not the other way around. Imagine traditional storage but cheaper, easier, and way more convenient — that's TAXIBOX. 
How does our mobile storage work? 
We Pull up:

Hang tight! We're driving your TAXIBOX over. And with our real-time updates, you'll know exactly when we pull up

You Load & Lock:

Fill your TAXIBOX, secure it tight, and if some items weigh a ton, give our

muscley moving guys

a nod — we're here to assist

We Store:

Done loading? Take a breather. We'll ensure your TAXIBOX finds its spot in our Brisbane facility, always ready for you when you need it
Why is Brisbane buzzing about TAXIBOX? 
Workspace Wonders:

Scaling your business or need extra space for your goods? For Brisbane's bustling businesses, TAXIBOX provides that much-needed overflow space

Home Harmony:

Overflowing closets? Our portable storage units are your ticket to roomier living, especially during refurbishments

Moves Made Smooth:

Swap out move-day meltdowns. Load your TAXIBOX, and we'll handle its journey, whether it's across town, interstate, or abroad

Adventures Await:

Travelling the globe or starting your studies? Leave your cherished items or even just a bag or two with us, for the short or long term
On-Site Storage in Brisbane
Need a little extra space in your life? Our on-site storage is your on-call solution for all your personal and business storage needs in Brisbane, whether you're decluttering, renovating, or scaling up!
We turn traditional storage on its head, bringing secure, robust storage pods straight to you. Park it, pack it, and relax. No contracts or extra fees — just more space when you need it.
So, how does it work? Simple: 
We Roll In:

Sit back and relax! We bring our mobile storage units to your location in Brisbane. Track our journey in real-time with live driver updates

You Pack & Park:

Fill it up, lock it down, and enjoy the extra room. Need a hand? Let our brawny

removalists

take care of the heavy lifting for you, saving you big bucks and backaches

We Roll Out:

All done? Give us a ring and we'll swing by to pick up the empty TAXIBOX — easy!
Payment? That's simple, too. With our seamless customer portal, you manage your account, make payments, and arrange access and other goodies from your phone. You can also call our Brisbane team at 07 3056-1841 for a chat, or head to our website and get a free quote in seconds. 
Cool Storage in Brisbane
Brisbane just got a whole lot cooler with TAXIBOX's cold storage units. These temperature-controlled mobile storage pods come with a cutting-edge digital cooling system, perfect for all those catering events, smashing BBQs, and lively festivals. What's more, you can book one for a party, or keep one on site long term. 
Our cool storage units drop down to an icy 0º Celsius, ideal for:
Climate sensitive goods

Fresh flowers 

Veggies 

Fruits 

Tasty meats 

Refreshing drinks 

And loads more!
Sizing up at 2.4m (L) x 2.2m (H) x 1.5m (W), there's heaps of room in our cold storage units. TAXIBOX pod storage sits flat on the ground, making loading easy and safe. Our unique delivery method also means we can deliver virtually anywhere.
Our Brisbane Storage Unit Pricing
Whether you're eyeing long- or short-term storage in Brisbane, we help you pocket those dollars by slashing removal costs. Transparent pricing? Check. No sneaky charges? Absolutely. And to top it off, we're backing it with the best price guarantee. Fair, straightforward, and cheap storage in Brisbane that just works — that's the TAXIBOX way!
Mobile Storage Price
Delivery: From $149 / Free

Re-delivery: From $149 / Free

Monthly rate: From $149
On-Site Storage Price
Delivery: From $149 / Free

Re-delivery: N/A

Monthly rate: From $169
Cool Storage Price
Delivery: Free!

Re-delivery: N/A

Monthly rate: From $379 (3 days)
Other ways TAXIBOX slashes your storage prices: 
Fuel savings: We roll right to your spot, saving you those unnecessary fuel costs

Long-term storage discounts making storage in Brisbane cheap: Score a 15% discount for your commitment

Changed your mind? Refunds for any days you didn't use? Check!

Life's twists and turns? Our flexible contracts adjust with you

Free access to your unit in our secure self storage facility when you need it

Box shop

stocked with affordable packaging supplies 

No contracts! Book your box, pack it, and call us when you're done
Want to chat pricing? Get in touch with our team at 07 3056-1841, or request an obligation-free quote online now and find a TAXIBOX that fits your budget.
What Are The Dimensions Of A TAXIBOX Storage Unit?
Sizing up at 2.4m (L) x 2.2m (H) x 1.5m (W) externally, our mobile storage units in Brisbane have all the extra room you need. Here's a little break down of what you can squeeze into our big spaces: 
1–1.5 rooms of furniture

120 archive boxes

1 tonne of weight
Plus, our storage pods fit right into a normal parking space! This means you can keep it in your driveway or with us at our safe spot — it's up to you. 
Not sure what you can stuff in? Use our easy space calculator to see exactly how much you can fit in our units, whether it's for cool, on-site, or portable storage.
Where Are We Located?
We might be the kings of mobile storage in Queensland, but we also have an ultra secure storage facility in Banyo, near Brisbane Airport. Book a tour and see our nifty storage units in action, or stop by and visit your unit when you need to. Here's where you can find us in Brisbane:
TAXIBOX Banyo
📍 931 Nudgee Road, Banyo 4014
☎ Got questions? Call 07 3056-1841
Customer service:
Mon–Fri: 9.00am – 7.00pm AEDT

Saturday: 9.00am – 2.00pm AEDT
Facility access:
Mon–Fri: 9.00am – 5.00pm AEST

Saturday: 9.00am – 1.30pm AEST
Looking for secure self storage near you? TAXIBOX is all over Australia, with storage locations in:
How To Book a TAXIBOX
Booking a self storage unit in Brisbane couldn't be easier with TAXIBOX. Here's a step-by-step to help you get started:
Decide on the type of storage you need: mobile, on-site, or our climate-controlled cool storage units

Let us know where in Brisbane you'd like your TAXIBOX delivered, and how many you need. If you're unsure about space, try our nifty

space calculator

Tell us how long you'll need the TAXIBOX — be it a few weeks, a month, or even longer

Get a clear price, make your payment, and your TAXIBOX is on its way! Need some help packing your stuff? Take advantage of our

removal services

and let us do the heavy lifting for you! 
In a hurry? You can book your Brisbane storage unit online, and it only takes a few minutes. Get a free quote now or give us a ring at 07 3056-1841.