In a world full of stuff, we don't all have the luxury of having a lot of space. In fact, most of us don't have enough space – and if you've ended up here, it's probably a safe guess to say you're in the same boat. Wondering how to save space in small spaces? We're here to help you and your tiny house out with a few simple tricks that are easy to introduce into your life (and don't worry, none of them involve shrink ray guns).
Three Words: Space Saving Furniture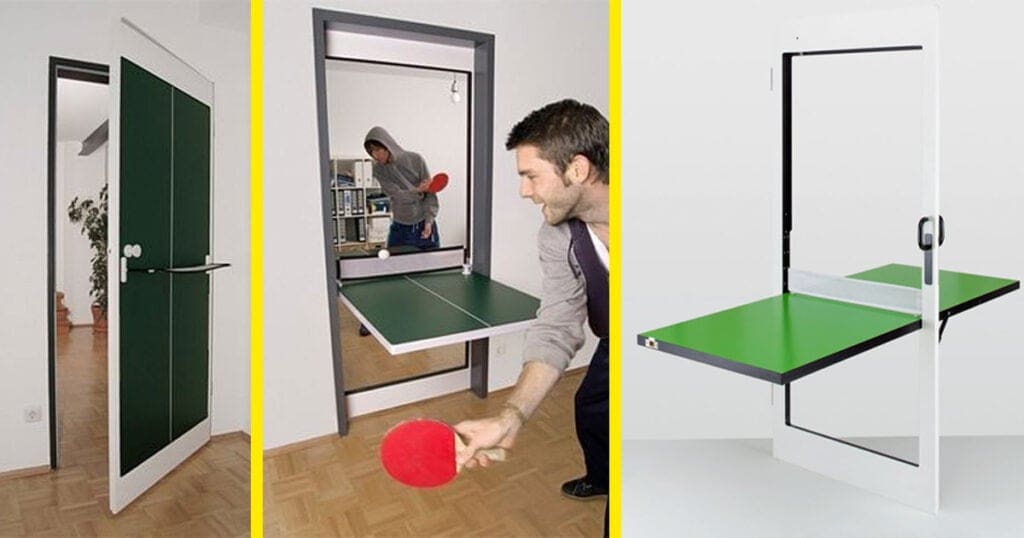 We all need furniture – to eat off, to sleep on, to lounge on, to play ping pong on – but who said our furniture has to take up space? Invest in a few pieces of space saving furniture and you can save on floor space and, as an added bonus, find some new sneaky ways to store some stuff while you're at it.
Try to find furniture that doubles up. In this scenario, "doubling up" = anything that has more than one function, like:
A fold-down desk that doubles as extra shelving
A low bed frame that doubles as under-bed storage
A fold-down dining table that doubles as a side-table
A fold-out sofa that doubles as a spare bed
If you're renting and can't justify installing a door frame that flips into ping pong table in your home, try opting for anything that doubles up as storage. It's something we all need: more space to store stuff when you're trying to figure out how to save space in small spaces.
Look Up and See What Your Walls Can Offer
Dream big. Just because you're stuck on gravity's bad side and can't walk up the walls doesn't mean your stuff can't. Take advantage of your vertical space wherever you can.
Anything that's not cluttering up your floorspace is a win. Get creative:
Try wall-mounted shelves
Mount your TV if you haven't already
Hang some hanging organisers in your closets
Hooks, hooks, hooks – if you're renting, go for the over-the-door kind
If there's one space at-home that's going to love this change, it's your kitchen. We don't mean to speak on behalf of your kitchen, but we can imagine it's probably got a lot on its shoulders right now, and by shoulders, we mean counters.
Try to find a vertical space solution for anything that would otherwise clutter up your kitchen counter. Think wall mounting your paper towel holder, or getting your hands on a magnetised spice rack set for your fridge.
Don't Let the Clutter Take Over
Despite what our spending habits would have us believe, there are some things in life you only need one of. By keeping your stuff to a minimum, your space doesn't fill up so quickly. Invest in the items you only need one of instead, like:
A high quality knife set that doesn't need sharpening so often
A suitcase you can reach for no matter what the occasion is
An all-rounder toolbox with all the essentials
An expensive enough vacuum that actually sucks stuff up properly
A high quality cookware set that covers all the basics
If you like keeping your options open and don't want to cut down on stuff, that's okay – we don't blame you. We love stuff too. Try keeping your stuff in self storage, rather than keeping everything all in the same place, to make the most of your space without sacrificing your love of stuff.
Make the Most of the Spaces You Never Use
If you put on a pair of rose-coloured glasses – or in this case, space-saving glasses – you might be able to find some unused areas of your home that you could turn into new and improved storage space.
Try taking advantage of those forgotten spaces:
Vertical shelving in corners
Under the bed storage
Nooks and crannies (for lack of a better term)
Under the stairs storage
The more you look around, the more likely you are to find space you had no idea you were wasting all this time. If you have kitchen counters that don't extend all the way to the ceiling? Get up there and add in some storage bins (and maybe give it a dust while you're at it… we all know that nobody ever remembers to clean up there. Us included).
Respect Your Kitchen Shelves
Never underestimate the power of clever shelving. While your kitchen cabinet shelving might look impractical, from a distance, it's actually got a lot of potential (you just have to unlock it).
Add a few shelf inserts to double the vertical storage space in your kitchen cabinets. We recommend shelf-risers for crockery and other dishes, or stair shelf-risers for jars, cans, spices, etc.
If you have deep cupboards – you know, the kind of kitchen cabinets that look like a black hole when you peer inside? Just add some extendable, pull-out shelving, designed to fix this problem (turns out a lot of people have black hole kitchen cupboards).
Still having trouble squeezing everything into your kitchen shelving? No need to cut down on the kitchen gadgets; store your army of air fryers in a TAXIBOX 'til you need them later.
Got air fryers?
Try our storage calculator to see how many airfryers you can store inside a TAXIBOX.
Opt for Out of the Way Storage Space
When your place is tiny, there's only so much you can do with your at-home space. You shouldn't eat up all your floorspace and wallspace with temporary storage solutions (you do have to live here, after all, and you probably want to hang art on the walls, and actually be able to walk on your floor).
If there's one solution that's going to save your place from getting overtaken by stuff, it's self storage. Store your stuff out of sight, literally – someplace else.
With TAXIBOX, you can still access your stuff whenever you need, with storage redelivered to your door. Kill two birds with one stone, or in this case, two problems with one TAXIBOX: no need to haul your stuff to the facility or deal with your stuff cramping up your at-home space. Get your TAXIBOX delivered to you, pack at your own pace, then we'll store it at our facility until you need your stuff back.
Out of all of the tricks for making the most of your small space – TAXIBOX is at the top of our list. Sure, we're biased, but we make a pretty good argument, don't you think?
Need more space in your small space?
Try TAXIBOX for storage that's out of sight, out of mind and out of the way.
Book Online