When you're renting, it feels like you're constantly waving your interior design dreams goodbye. You're just trying to figure out how to decorate your rental, but every idea you have is a main character in your landlord's worst nightmares (starring paint, nails, and holes in the wall).
Despite what your landlord has you believe, you actually can decorate your rental without getting kicked out or losing your bond. You just need to know how.
Embrace Your Inner Commitment-Phobe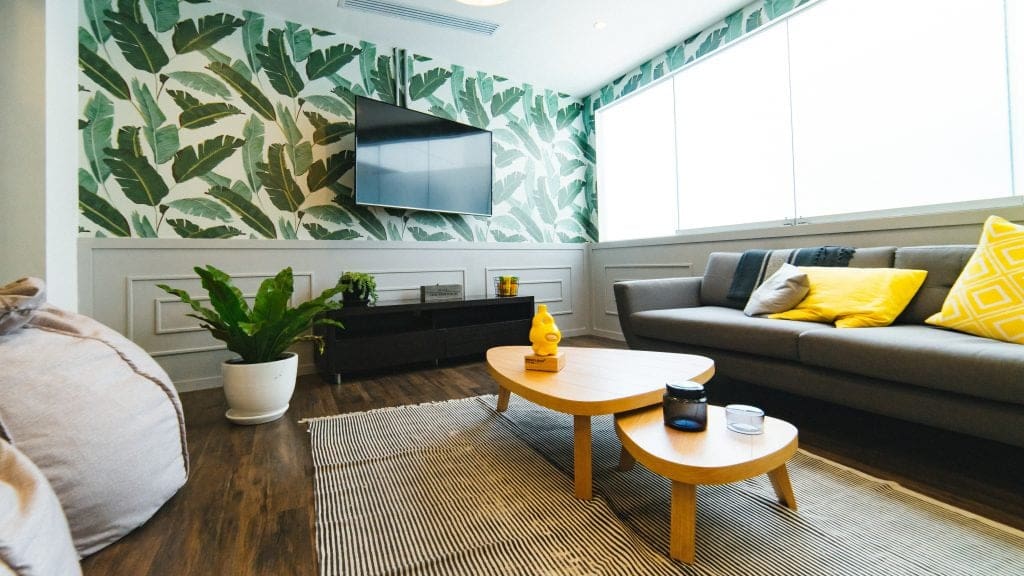 If you've got commitment issues, you're in luck (as a tenant, at least). The best solutions in rental decorating are temporary, perfect for commitment-phobes, and generally of the "peel and stick" variety.
Anything that's peel and stick is as easy to install as it is to remove. You stick it on, you peel it off. Try:
Peel and stick backsplash in the bathroom
Removable wallpaper
Damage-free 3M hooks
Contact paper for the kitchen counter
Invest In What You Actually Own
Like most millennials, the likelihood of you actually being able to afford a house any time soon is probably pretty far off on the horizon (you can make out the shape of a house if you squint). Forget about the investment property for now and invest in the realistic stuff instead (think above-average couch or fancy toaster). 
Obviously you're renting, so your budget's tight. We get it. But there are ways around it:
Achieve originality on a budget with secondhand furniture
Make yourself a budget for investment pieces to keep things realistic
Get your staples from IKEA (like bathroom storage or a kitchen island), then spend on the stuff your guests are going to notice (like your couch or your dining table)
Don't forget the best part about investing in your things — you won't have to come up with temporary fixes every time your flatpack furniture is on the way out. Investment pieces are investments for a reason.
Fill in the Gaps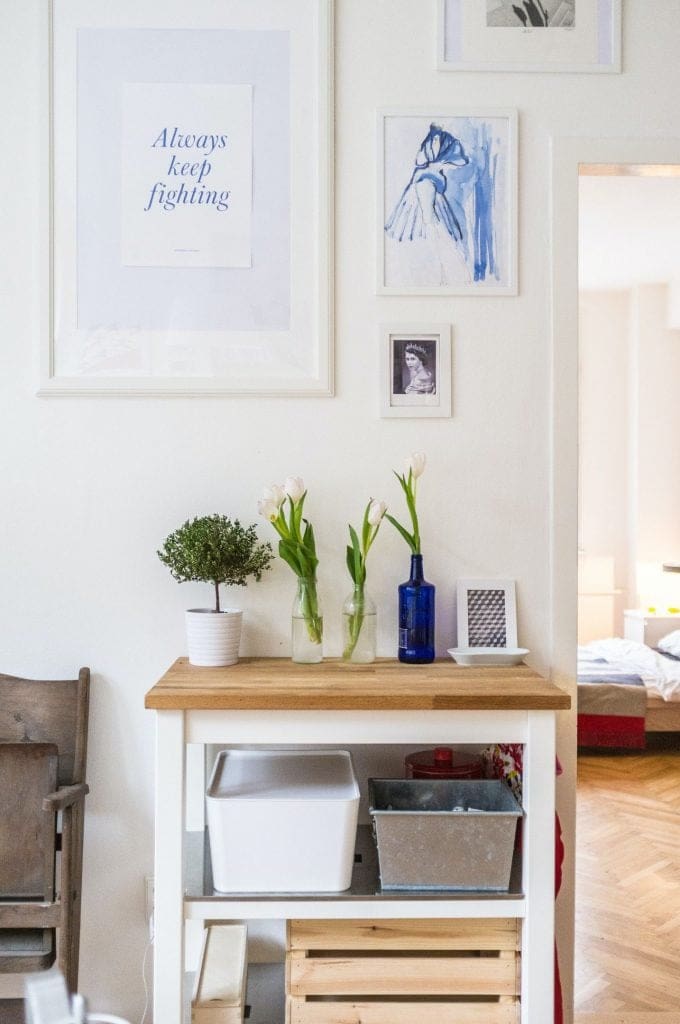 While homeowners can fix whatever they want, when they want, renters don't have that flexibility – they can't remodel the kitchen when there's not enough bench-space or redo the bathroom if they don't like it.
To make up for it, renters keep a checklist of their must-haves (gas cooktop, built-ins) and their I-could-live-withouts (bathtub, spacious kitchen). Turns out there's a twist… what if we told you, you didn't have to live without the live-withouts?
Be proactive. If there's not enough bench space, wheel in a portable kitchen island. Introduce some above-the-toilet bathroom storage if your medicine cabinet isn't cutting it. If there's a problem, there's almost always a solution. Unless it's the bathtub. A tiny inflatable pool just isn't the same. 
Pro-tip! If you're buying furniture that fits perfectly in your new place, the furniture from your old place probably isn't fitting so perfectly anymore. Just because it doesn't fit doesn't mean you have to let it go — store it until your next move.
The Grass is Always Greener (If You Fill Your House with Plants)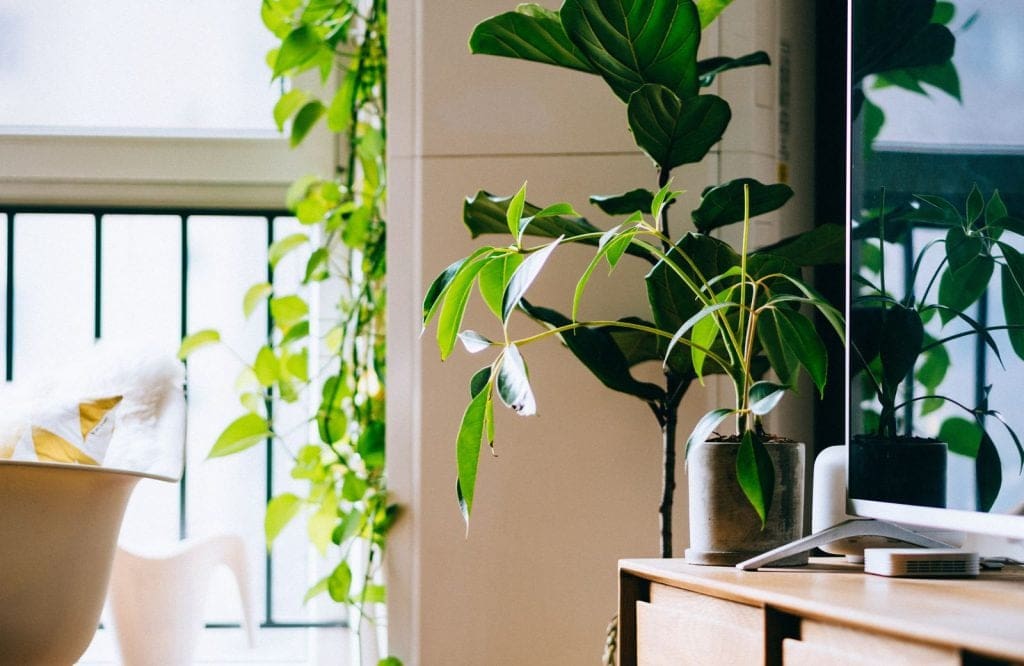 Want to see if you can keep something alive without the pressures of parenthood? Become a plant mum. Your landlord probably won't let you get the puppy anyway, and besides, plants are a lot easier to look after – they're already toilet-trained.
No matter how dead your rental looks on the inside, plants will always help liven things up. You can bring pot plants with you wherever you go, so they're a worthwhile investment regardless of how long your lease is.
If your green thumb sucks, trick your guests into believing otherwise with fake-but-believable plants (a thin layer of real soil will fool anyone and everyone).
Cover Up by Rugging Up
Despite what your landlord might think, shag carpets are never going to make a comeback. You'll also never truly get the pet hair out, no matter how hard you try. Do your vacuum yourself a favour by introducing your living room to the 21st century… with a rug.
A few tips:
Lay down a hallway runner to add some interest in a boring hallway
Try the new rug layering trend with some interesting shapes/colour combos
Protect your hardwood floors from getting scratched and keep yourself warm in winter with a big, heavy-duty rug
Let There Be Light (Fixtures)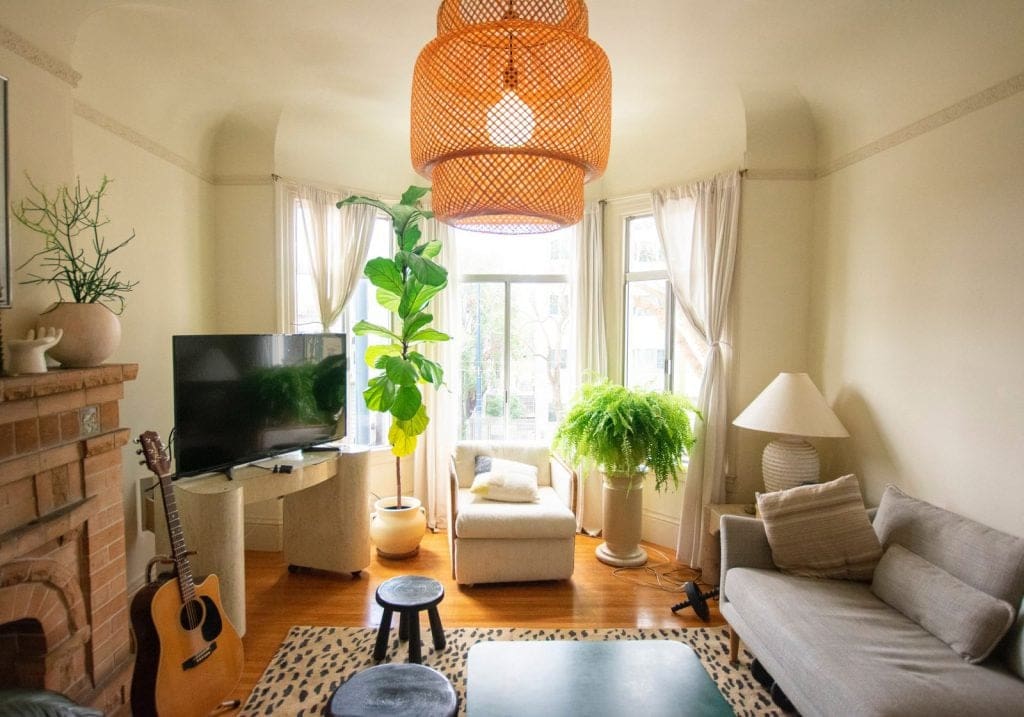 Look up much? Neither do we. There's usually a lot more stuff on the ground that's got our attention (literally everything that's not on the ceiling, because there's barely anything that can defy gravity like that). In your own place, though, you should look up – at least once, to see if your light fixtures are actually nice or not.
Switching up your lighting can do a lot for a room that's got nothing going on. Try changing lampshades and pendants and see how it makes the light change, or layering light with multiple lamps.
If things start to get technical, get an electrician, but don't feel the need to overcomplicate things; even switching a lightbulb from cool, white light to warm, yellow light can make a difference.
Anything You Can't Hide, Store
No matter where you live, you're never going to have enough space. Eventually, cupboards fill up, drawers don't close anymore, and under-the-bed becomes middle-of-the-floor pretty quick. This is especially true in old rental properties, which hardly ever have any storage at all.
You can always bring in free-standing wardrobes for extra storage, but they tend to eat up floor space pretty quick. So, what do you do with all the excess? You store your stuff somewhere else.
You'll never achieve your interior design dreams with all that clutter. Instead of trying to find a place for it in your already crowded rental, get a TAXIBOX instead.
If All Else Fails, Fix It Later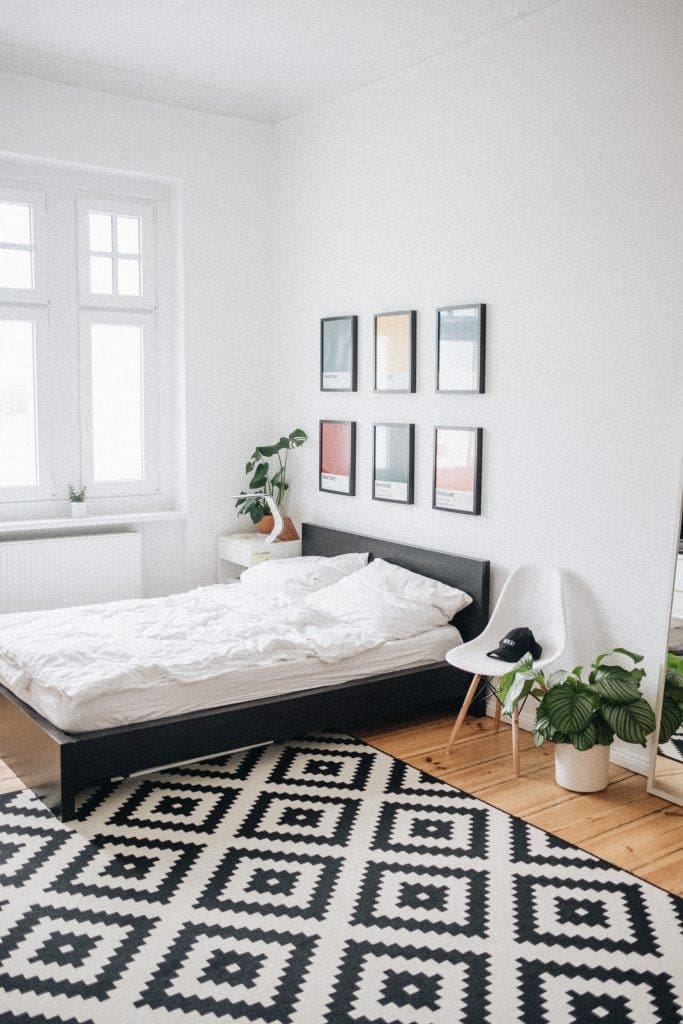 If the temporary fix fails, get it done some other way, with the hammer if you have to. You can make permanent changes as long as you're willing to make them disappear as soon as your lease is up:
Hang art with nails, patch up the holes when you leave
Replace curtains, hang the landlord's musty ones back up later
Paint walls, then repaint them the colour you found them at the end of your lease
Make Changes… or Move
Renting comes with a lot of downsides, but there's one upside that trumps it all: when you don't like it, you can leave. No mortgage, no worries.
The only thing holding you to your rental is your lease, which you can break if you really want to. A complete change of scenery is the ultimate refresh.
Moving out might sound like a lot of work for a restyle, but when you can use a TAXIBOX, why wouldn't you? Get a TAXIBOX delivered right to your door, fill it at your own pace, and we'll redeliver it straight to your new place. We make moving easy.