Visiting your TAXIBOX is always a good idea if you have the time to swing by for a visit. Not only do our team love to see you, but your TAXIBOX (and your stuff) sure do miss you when you're not around (seriously, they won't shut up about it). It might be time to book in to access your TAXIBOX.
While we used to do things old school with a pen and paper sign-in sheet, we decided it was about time we made a few improvements. Thanks to our 10/10 tech team, our new sign-in process is fully automated: no pen and paper required. Here's a step-by-step of how the whole thing works.
Start by Signing In
Up until recently, we asked our customers to manually sign in to visit their TAXIBOX with a pen and paper. To make sure you were all signed in correctly, we needed a TAXIBOX team member to be present for this. Now, we do things 2023 style.
First, log in to our customer portal, and request a link. You can access your tailored link via an SMS reminder, or opt for an email. Up to you. Not sure how our customer portal works? We've written a handy guide here.
Clicking this link will sign you in for access automatically – but before you click continue…
Check Your Details are Correct and Continue
Make sure all the details of your visit are correct (you don't want to stand your TAXIBOX up, after all)!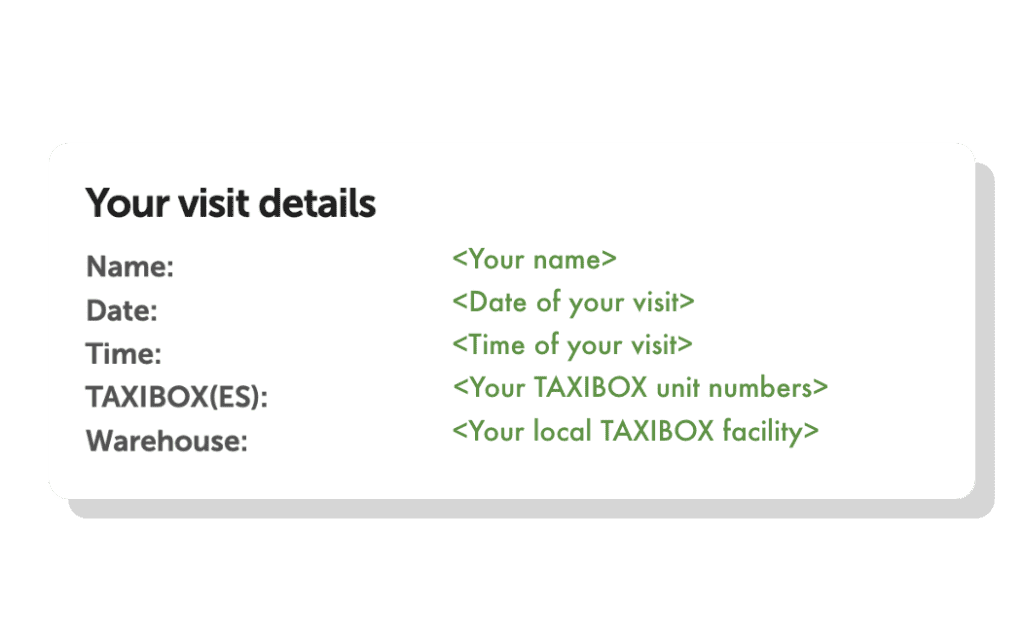 Looking all good? Click continue and proceed to the next landing page.
Snap Some Photos of Your TAXIBOX(ES)
From here, you'll be redirected to a page where you'll be asked to do a photoshoot before you access your TAXIBOX. Snap a few pics of your TAXIBOX to verify you're there – no need to take a selfie, but if you'd like to… by all means!
Snapping a few photos of your TAXIBOX(es) helps our team guarantee you really did visit your stuff and didn't stand us up. This means you won't have to pay any "no show" fees.
Once you've uploaded your images, they'll automatically be forwarded to our team as proof of your visit, and you'll be all signed in!

Need to Reschedule Your Visit?
If you were planning to access your TAXIBOX but something came up (*wipes tear* it's no problem, really), you can also use this function to reschedule your visit. Scroll down to find the correct link, which will redirect you to pick your new date with your TAXIBOX.

You can also cancel your visit using this link, although be wary: that may break your TAXIBOX's heart a little.
It's really that easy! If you need a hand booking your TAXIBOX visit or have any questions about this process, give us a buzz on 1300 87 60 87 or send us an email at [email protected]. We're more than happy to have a chat.
Need a TAXIBOX?
If you haven't booked already, all you have to do is click that button. Wink wink, nudge nudge.
Book Online