Moving House Checklist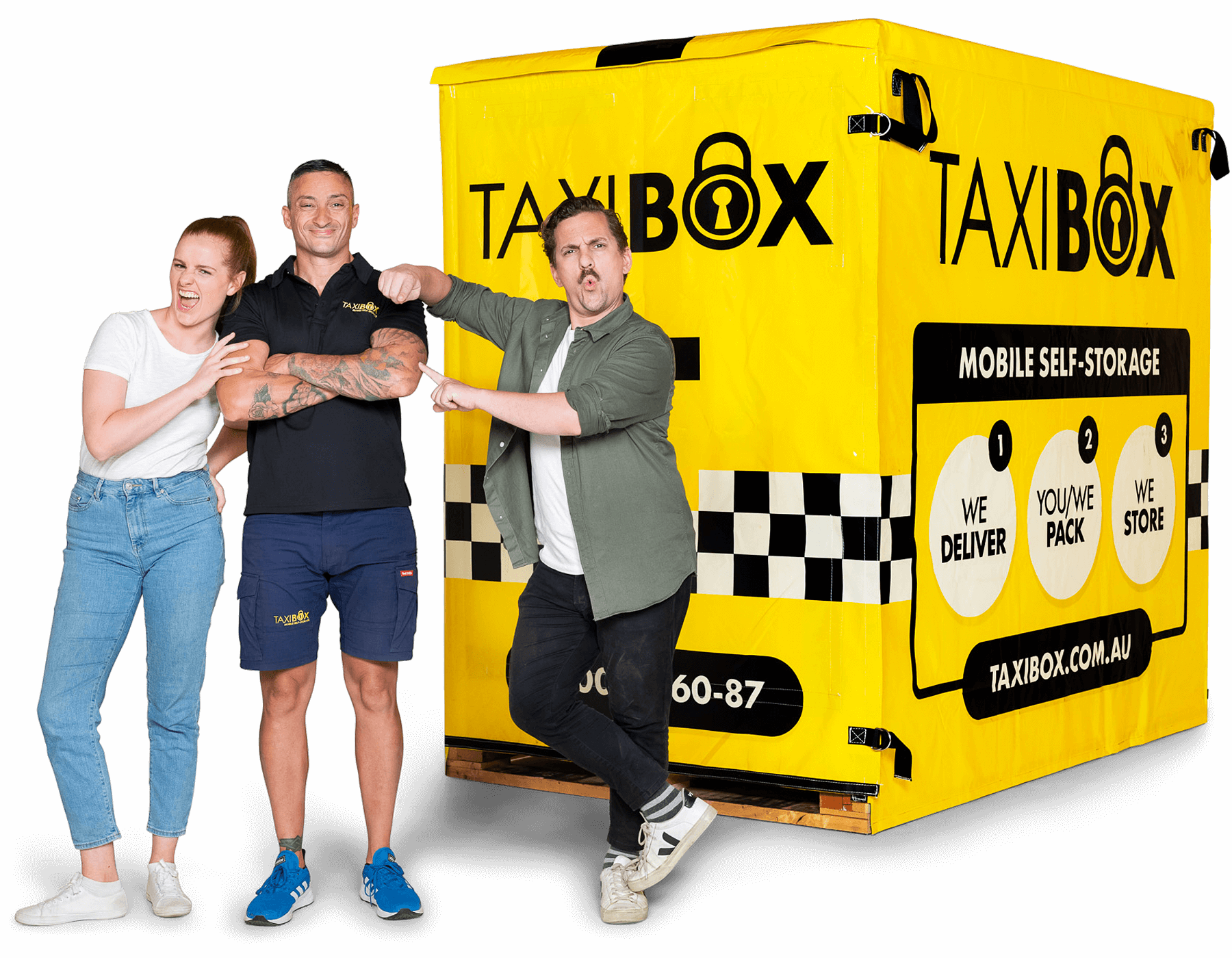 We deliver
We deliver your TAXIBOX to your home or office
You/we pack
Take your time to pack and lock your TAXIBOX
We move
Done! We'll move your TAXIBOX to you across Australia
Moving House Checklist
Moving to a new house is touted by the mental health industry as one of the most stressful events in a person's lifetime and one of the ways to ensure you have everything under control before you start moving is to create, and stick to, your moving house checklist.
Why we move and how is different for everyone but there are some key things it pays to keep in mind while you're planning a big move, particularly when you are moving interstate. For short suburban moves, you can often head back to the old house over the course of a week or so while you're still settling in and collect anything that you might have missed or was too awkward to fit comfortably into a box. For larger interstate moves like from Brisbane to Sydney and Sydney to Melbourne, you don't have the same flexibility. You can't just nip back to from Brisbane to Melbourne or from Sydney to Brisbane for a few minutes to collect the artwork you left in the garage. You can't leave things like floor lamps or other awkwardly sized objects for the end, packing them into your car at the end of moving day. Planning interstate moves like Melbourne to Brisbane or Melbourne to Sydney need to work like clockwork. You don't want to leave anything behind, and you want the whole relocation to go as smoothly as possible.
Here, we have compiled a generic moving house checklist that you can customise to suit your personal moving day and style. A moving checklist is the surest way you can devise to capture everything that needs to be done and it's also a great way to ensure that everybody involved with moving home are on the same page. You all know what needs to be done and generally in what order so it's easier to communicate. A second pair of eyes over your moving house checklist will also ensure that you haven't missed anything in the planning phase.
So, where to start? Roughly 4 to 6 weeks from your actual move date, the following moving tips are a great place to start planning your new move.
#1 Booking a removalist or moving company.
This is possibly the most important thing on the list which is why it comes in at number one. Your removalists are the people who are in charge of all of your personal objects. They aren't just the heavy-lifting for things like your washing machine and your refrigerator. They are the people who are responsible for the safe and careful handling of the things that you hold dear in your life from fragile items like knick-knacks to important memories like your photographs, your artworks, gifts and other items. You ideally want a removalist who is conscious of the responsibility that they owe you while they're moving your stuff and will take special care. You want to know that they are a reputable company and can be trusted. You also want to know that you're not going to be ripped off the in process either.
When you're searching for the right removalist, check out their website. Reputable movers will want everybody to know things like their trust score and the reviews that previous customers have left for them. Their website should also offer you a quoting facility so you can collect rough quotes and compare them with other service providers to get the best price and the highest quality service.
Interstate movers are usually very expensive. This is generally because you are paying by the hour for the removalist company or by the kilometre. An interstate removalist must have a large enough vehicle, lifting and packing aids, and skilled employees to manage all of that machinery. When you're planning a big move like interstate or overseas, these services become more expensive because you need more time for your move.
If the price for an interstate removalist company is too high then consider other alternatives to help you manage your move. For example, TAXIBOX is the company that moves your stuff for you but doesn't pack it. We deliver a TAXIBOX to your home or office that will fit in everything that you need to move. You take care of packing it, ensuring that your objects and items are carefully packed to your satisfaction. Then we come and collect your packed TAXIBOX, delivering it wherever you're moving to right across Australia.
You can use our TAXIBOX app to track your driver in real time, checking where they are up to. The app also has a range of extra features like our TAXIBOX Calcumate. You can use this program to estimate your space in 3D, making sure that you know how and if everything will fit.
We believe in transparent and competitive pricing so you can generate an instant quote and book your TAXIBOX live. You can check out prices for mobile cool rooms and a storage shed, along with other self storage options and storage in Sydney, Melbourne and Brisbane.
#2 Take an inventory of everything that you intend to move.
This part of the process is the boring but necessary one. If you've been living in a house or an apartment for a number of years, you'll be surprised by how much you have happily accumulated. Taking an inventory of what you have allows you to plan for your new home, your TAXIBOX capacity and also helps you clear out unwanted or unnecessary items. Organising a skip bin or something similar is a great way of clearing out anything that you don't want or don't need anymore. Don't forget to check under the house and in old cupboards.
While you're taking an inventory, take note of any details you should be aware of about the best way to move some household items like your fridge and other white goods. Some manufacturers specify exactly how these things should be moved to avoid voiding your warranty.
For very precious objects like jewellery, plan to move them personally. You can purchase moving insurance which covers the value of anything that may be lost during a move but for things of very special importance, try to plan to move them yourself.
#3 Confirm with your lawyers, real estate agents and previous owners exactly when you can collect your new keys and what your settlement date is and note that on your checklist.
This seems like the most important thing as you won't have access to your new home if you don't have keys, but we've put it here as number three because you will already know the date in your head and it's more about getting it down on paper. This is another of those 'making sure everyone is on the right page' moments. If you're moving interstate then you might have arranged a hotel stay for a couple of nights before you can access the new house. You may have fumigators or other tradespeople booked, for example. Having your actual date in writing for everybody to note will save potential frustration and misunderstanding.
#4 Moving administration.
Moving administration includes things like arranging your mail to be redirected, cancelling or updating subscription deliveries, returning borrowed items, changing your pet's veterinary service, making sure your utilities are connected and ensuring there's hot water available, etc. Move methodically through all of the services that you currently use, noting them down for easy reference when it comes to changing to new ones. Include contact numbers so it's quick and easy to get in touch with them the moment you need to.
And that's about it. Those are your main points that should be on everyone's moving house checklist for the ultimate moving strategy. To find out more about how TAXIBOX can help you achieve a seamless and stress free move, complete a fast online quote today.