Student Storage Melbourne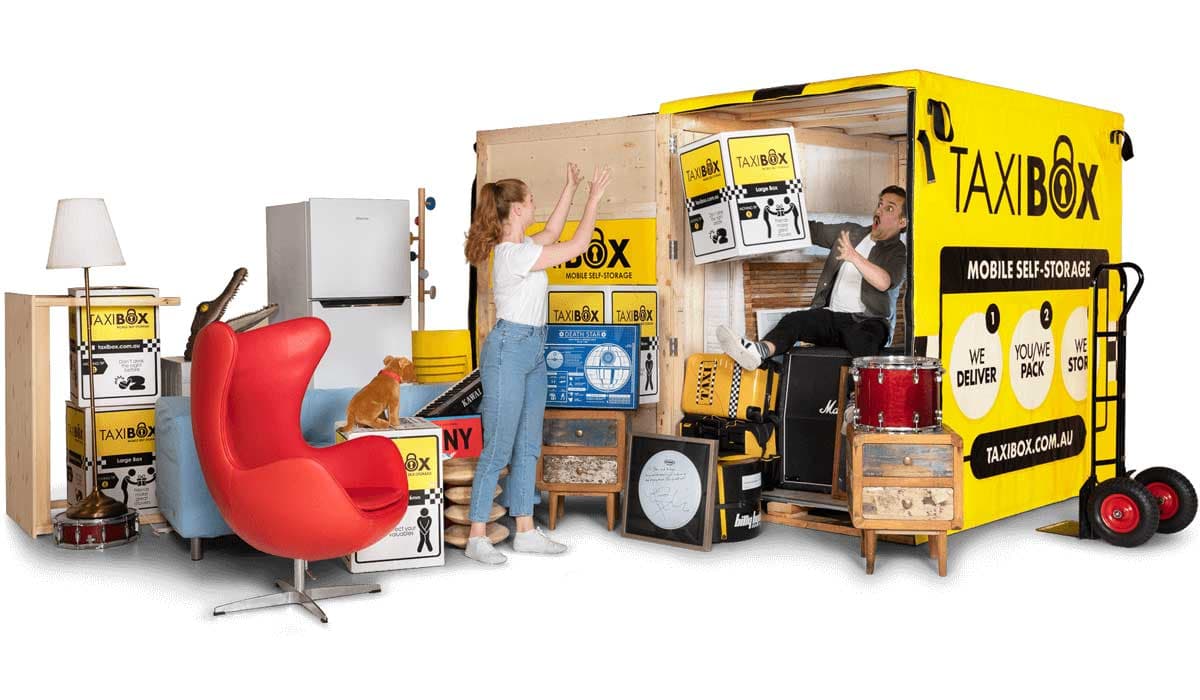 Melbourne is a popular destination for Australian and international students and TAXIBOX secure self-storage units are in demand. If you are moving to Melbourne and looking for student storage solutions to make space at your place, TAXIBOX has the answers.
Our student storage services in Melbourne
Rents are at a premium and student accommodation is in demand in Melbourne. On the plus side, now is a great time to generate extra income by transforming spare rooms into student accommodation with convenient self-storage solutions. TAXIBOX offers short-term and long-term self-storage at affordable storage prices with no lock-in contracts. Our student storage services in Melbourne are second to none and designed for hassle-free flexibility.
Different available storage options – here's how it works
TAXIBOX offers a comprehensive suite of secure storage services. We deliver storage units directly to homes and businesses all around Melbourne. Here are some of our most popular self-storage services to suit your storage needs.
Mobile Storage: The TAXIBOX is delivered to your home or commercial business address. You load the TAXIBOX according to your schedule. When you are ready we will return to relocate the TAXIBOX to a secure CCTV-monitored storage facility.
On-Site Storage: We deliver the TAXIBOX to your address. The TAXIBOX can stay with you on-site as long as needed. When you are finished using the TAXIBOX, we return to collect it.
Cool Storage: Cool storage TAXIBOX units are temperature-controlled mobile storage containers. They are perfect for restaurant backup and catering for weddings, parties, and other special events.
We also offer traditional storage services with on-site security at state-of-the-art storage facilities and can assist with local or interstate moves.
What's included
TAXIBOXES are weatherproof and water-resistant. They are designed with a large rubber-sealed door for easy loading/unloading of big furniture pieces. TAXIBOXES are mould and mildew resistant and placed on a level pallet with a floor well above ground level so your important belongings stay dry even during a downpour. A TAXIBOX can store approximately 1.5 rooms of furniture yet is small enough to fit in a regular vehicle parking space.
Use a TAXIBOX for removals and you won't need to lift a finger on moving day. The TAXIBOX is loaded by forklift directly onto the removalist's truck and can be delivered directly to your new home or business address.
We also have a Box Shop for all your packing supplies and packing materials such as moving blankets, bubble wrap, boxes, packing tape, and more. Everything is delivered with your TAXIBOX so you can start getting your stuff sorted out straight away to prepare for student accommodations.
Storage for students moving within Australia
There is a lot involved when making an interstate move. Australia is a huge country and making the move in one convenient step will save a lot of time and money. If you are moving within Australia to attend university, consider TAXIBOX self-storage Melbourne solutions so you can make the move with confidence.
TAXIBOX is your easy-access storage space for Melbourne storage, Sydney storage, Adelaide storage, Brisbane storage, and Gold Coast storage. If using a TAXIBOX for your student storage removals, make sure to load heavy items at the bottom to avoid items shifting during relocation. It's also a good idea to carry fragile items and important documents with you for complete peace of mind.
Benefits of self-storage for students
The way Aussies do storage in Victoria has changed, and TAXIBOX leads the way with storage solutions and prices that our competitors can't match. With TAXIBOX, there is no need to hire a moving van or negotiate heavy traffic to store at a distant storage location.
The storage unit can stay at your address, undercover or outdoors for as long as you like. You hold the key to access your belongings and valuables anytime 24/7. Loading and unloading can be done according to your timeframe and not someone else's schedule.
If your student accommodation isn't quite ready, you can store the entire TAXIBOX at one of our secure monitored storage facilities until it's time to move in. TAXIBOX is an easily accessible storage option for every self-storage situation.
Sizes of storage units available
TAXIBOX unit sizes measure 2.4m long x 1.5m wide x 2.2m high (external measurements). They are surprisingly roomy with plenty of space for stackable shelving. We are a new-style storage company in Australia with many years of industry experience, so we know what works best. We have the range of storage services customers are looking for. Take charge of your own Melbourne CBD or suburban storage facility with a TAXIBOX.
Kind to your hip pocket
Self-storage is a great storage option, but only if it is affordable, particularly for students on a budget and homeowners wanting to capitalize on a spare room by transforming it into student accommodation. TAXIBOX offers the best available monthly rates on self-storage facilities that can turn your plan into a reality. Contact TAXIBOX over the phone or online and get an instant quote for student storage, portable storage, on-site storage, cool storage, business storage, or removalist services. TAXIBOX will help you get things sorted out in no time at an affordable price.
Any questions? No need to raise your hand, get in touch with us today!