You offered to host at your place. Now, the day has finally come. It's time to figure out how to go about entertaining at home… in your place that's already short on space (let alone equipped for entertaining a bunch of people. Yikes). People are asking what they should bring and you're not even sure what you're going to be bringing to the table yet, and it's your table. Maybe you're in a little over your head.
Don't worry, we've got you. With a few of our entertaining at home ideas, you might actually enjoy hosting your next dinner party. Just maybe.
Prepare for First Impressions
When you spend a lot of time at home, you forget what your house really looks like. You don't notice the mess you've gotten used to; the stuff you've accumulated that seems completely normal to you, might seem completely bizarre to someone else. 
Figure out what your guests' first impressions are going to be by walking into your own house like a stranger. From there, you can weed out the weird stuff, and make your guests believe you're a completely normal person, that doesn't live in a house full of CDs and DVDs you haven't touched since tech companies phased out disc drives 10 years ago.
Don't bother hiding things under the bed or inside your wardrobe. Everyone thinks they're not a nosy person until they're snooping in someone else's guest bathroom. It's human nature. Don't give them the chance to uncover your secret taxidermy collection. Hide it in a TAXIBOX instead.
Do a Serious Clean
Once your first impression tidy up is done and dusted, you should do a serious deep clean and actually dust for once. While most of your guests won't notice the food splatters in your microwave, your mother-in-law will. Don't risk it. Just clean it. Besides, it's one of the only annual excuses you have to do a deep clean.
Target the areas your guests are going to spend the most time in, like your bathroom, living/dining areas, and kitchen.
Vacuum the pet hair
Hide away the lived-in clutter
Wipe down the surfaces
Pick everything up before you dust
Restock the essentials (cc: toiletpaper)
No need to make your house feel like a brand new car that's never been touched. Obviously your guests know that you live there, and will hopefully love you no matter how messy you are. If you have the time, though, a deep clean will make any entertaining event feel twice as nice.
Stock Up the Fridge
An obvious one, for anyone not clued up on the entertaining at home basics: make sure your guests aren't going to go hungry. Or thirsty. Keep your fridge fully stocked.
When you're hosting, it's always best to over-order than under-order. Having too much to choose from is a lot less embarassing than ordering takeaway halfway through the dinner party. Besides, there's a bonus: you get to eat the leftovers for the next week.
If you have big entertaining at home plans, go big and get a Cool Room. TAXIBOX can deliver temperature controlled storage straight to your backyard, where you can keep all your food and drinks at arm's reach.
Take the Party Outside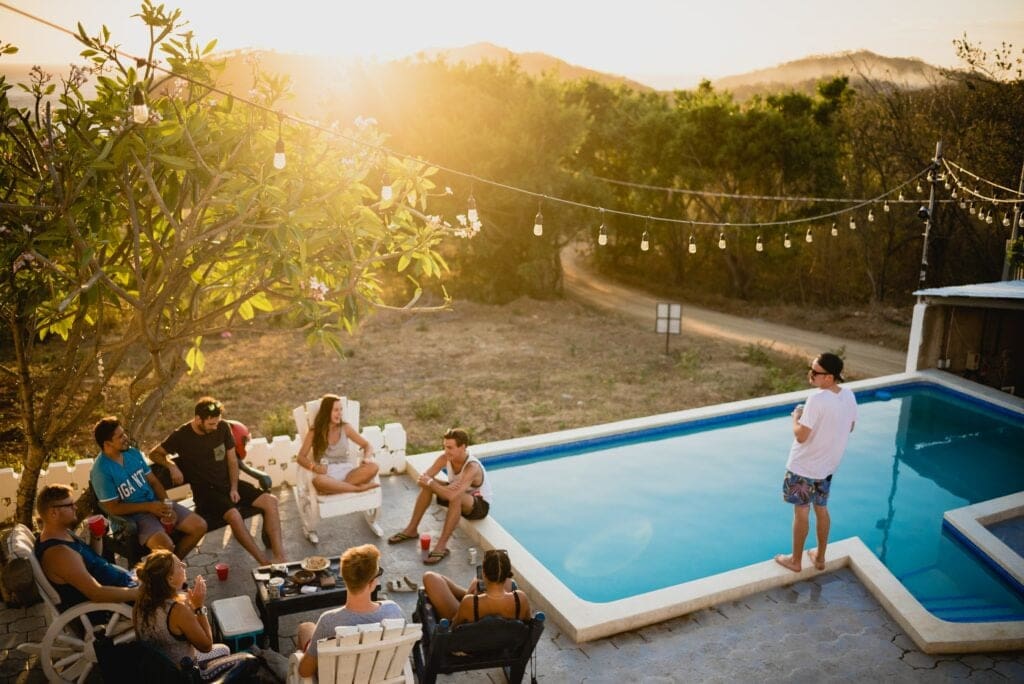 One of the most important parts of designing your entertaining space is making sure there's flow. Each area of your home that guests are going to be spending time in should flow into the next. Nobody's going to want to come to your party if they have to stick to their desginated corners of the room (unless you're only friends with introverts).
The best way to guarantee there's an easy-breezy flow when you're entertaining at home? Ease your indoor space through to your outdoor space:
Think about traffic flow
Use cohesive colours or match your colour schemes
Open up areas as much as you can
Make the most of good lighting
Shelter outdoor seating spaces
Prepare for the Worst
All good things* come to an end, especially when you have clumsy friends. In this case, your good things* might be your perfectly clean white carpet, your favourite glassware, or the weather forecast making a turn for the worst the day your party is planned.
Make the most of it by preparing for the worst of it:
Keep stainremovers at the ready. Yes, the rumours are true: white wine does help get red wine stains out, but that's the last resort. You should still still use a stainremover if you have one handy.
Make a plan B menu. You never know when your electric stovetop is going to become your worst enemy.
Prepare for rain and shine, not rain or shine. Especially if you live in Melbourne.
A bonus tip? Give your clumsy friends your least favourite wine glasses. If they're reaaaaally clumsy, give them paper cups and tell them you ran out of the glass ones.
Hide the Breakables
Not straying too far from preparing for the worst, stay one step ahead and hide your breakables from any friends that might break those breakables. This rule applies to all kids (sorry kids, you can have your holding-fine-china-license when you're older). It also applies to anyone that's known as a prankster…
This rule also applies to any of your valuables. You might not have plans for your Christmas party to get super rowdy, but no matter what happens, you don't want to worry about the impossible-to-replace-stuff going missing. 
Keep your mind on having a good time and store the extra special stuff in a TAXIBOX, where it will be safe and sound until the party's over. Your other option? Wrap all the breakable stuff in bubblewrap, place it throughout the house, and call it an interior design trend.
Set the Scene Table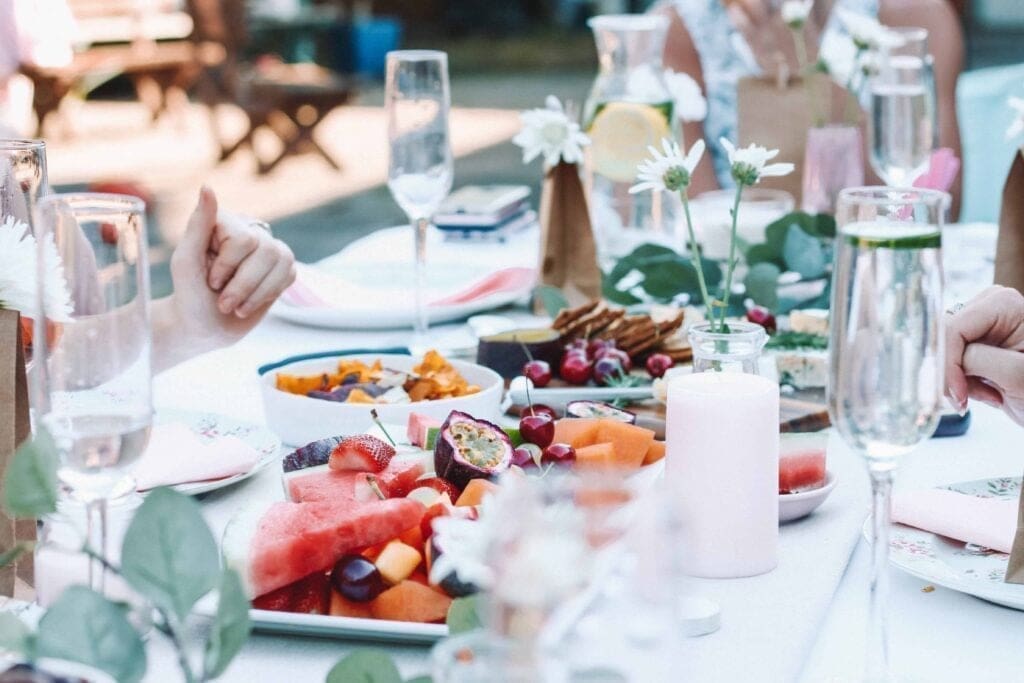 What mood are you going for? Fancy plates only, aka, the perfect excuse to use the silverware you never get to use? Or are you thinking more along the lines of no dishes after the party… aka… time to whip out the paper plates?
Styling for home entertaining doesn't have to be hard. Use Pinterest boards for inspiration, but don't stick too closely to every interior design tip you've ever heard. A good party atmosphere comes hand in hand with a decent amount of character. In other words, try your best to avoid the homegoods from everybody's favourite Swedish megastore this time around.
Make Some Space Worth Entertaining In
This tip is self-explanatory and the most important tip of them all. To play it to you straight, you can't entertain without enough space. Don't make your guests apologise to every piece of furniture they run into, trying to squeeze through your very crowded house. Declutter instead.
Great parties are full of people having a good time. Your stuff deserves to have a good time too (give your stuff the life it's pining for… a new life in a TAXIBOX).