Storage isn't new, so why are we acting like TAXIBOX invented it? Because we reinvented it — TAXIBOX tossed out all the stuff in traditional self storage that didn't make sense, and replaced it with the new and improved, much better, can't believe we haven't been doing this the whole time storage solutions. In the TAXIBOX vs. traditional storage battle, we've got bang-on tech, above and beyond service, and the best of the best BOXES.
Don't get us wrong, the traditional storage world's got options. Most of those options include huge buildings on the highway in the middle of nowhere, narrow hallways full of roller garage doors, maybe even an elevator you can cram all your stuff into to get to your storage unit, if you're really lucky.
So… with bountiful options like those to pick and choose from, why would you want a big wooden box wearing a bright yellow raincoat? Aside from the obvious reason – it sounds way more fun – our TAXIBOXES improve on the traditional self storage world in every way possible. If you're still weighing up your options and wondering why you should get yourself a TAXIBOX, you've come to the right place. Let us tell you why.
Free Access at Ours
Miss your TAXIBOX? We don't blame you. You can come visit your stuff for free at our facility 6 days a week, Monday through Saturday.
Storage that's yours to access. It's the one thing we have in common when it comes to TAXIBOX vs. traditional self storage. Everything else, we do a little differently…
We Deliver the TAXIBOX to You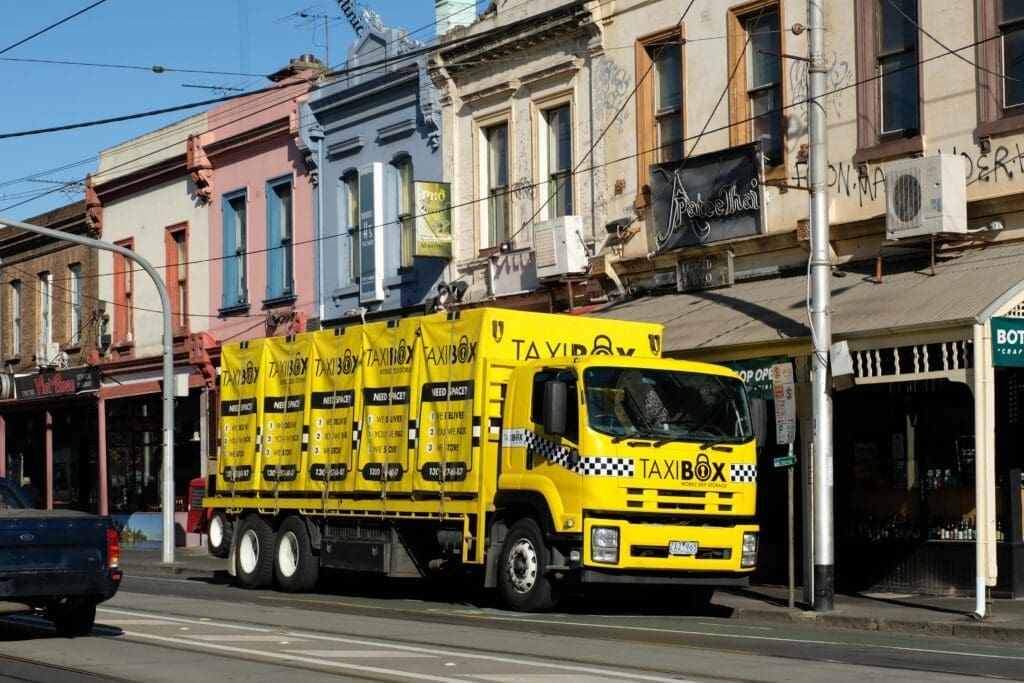 Traditional self storage asks a lot from you — they want you to do more than just drive all the way out to the storage facility, they want you to figure out how to get all your stuff to their facility, too.
TAXIBOX is storage that comes to you. Before TAXIBOX, you had to find your own way to haul your stuff back and forth between your place and your storage unit. With TAXIBOX, you can skip that step. Let us know when and where you want your TAXIBOX and we'll deliver it right to your door. It's that easy.
We'll deliver your TAXIBOX to you, with (free delivery available) so you don't have to spend a whole day driving out to the middle of nowhere and back. 
Our Storage Calculator Will Do the Maths
Traditional self storage is based on guesstimation. You're expected to quantify your stuff in a way that doesn't make sense; instead of asking how much stuff you have, you're asked how big your place is, as if your three-bedroom-place = exactly how much storage you're going to need.
You'll realise you undersold it or overshot it way too late, after driving all the way out to the storage facility, where you'd find your storage unit (either way too small or way too big).
With TAXIBOX, you won't have to do the maths. Put all your stuff into our storage calculator and we'll tell you how many TAXIBOXES you need. We don't need to know how many rooms your house has, we're more accurate than that.
No Hiring Trucks, Vans or Utes (or Playing Corolla Tetris)
Why would you pay for a rental truck or van if you didn't have to? Or, better yet, test your friendships by borrowing your mate's ute for days on end (because hauling all your stuff to the storage facility is bound to take you longer than you planned)?
With TAXIBOX, you can say bye to the drive and leave the truck behind. With delivery and redelivery that comes straight to your door, all you have to do is walk to your storage unit. No need to drive out to the middle of nowhere.
Pack at Your Own Pace
When you have to drive out to the storage facility to unload all your stuff, it's usually an all-day kind of thing. No matter how much time you have, you end up rushing to get your stuff in the storage unit so you can hurry up, return the truck, and go home.
With TAXIBOX, you don't have to rush. Get the TAXIBOX delivered to you, then pack at your own pace.
Whether you're moving or just straight up storing, you get a month's storage free, so you have all the time in the world to pack your TAXIBOX. We'll pick up your TAXIBOX for you whenever you're ready, whenever suits you.
If You Need a Hand, Hire Some Help
You've got better things to do than worry about lifting with your knees. Take the load off and let us do the heavy lifting instead.
If you're in need of a hand, let our removalists lend a little help. All you have to do to book your removalists with TAXIBOX is submit a request with us. We'll book your removalists for you and arrange for them to show up once your TAXIBOX is delivered, so you can be 100% ready for them to arrive.
Sit back and relax: just point to the furniture and watch your removalists load it all for you. Job done.
Purchase Packing Supplies (If You Need Them)
Need to pack? We've got your back. If you want to pack like a pro and do your storage unit justice (aka pack it like a Tetris expert), you need the right supplies. Luckily for you, TAXIBOX has all the packing supplies you could ever need, and you can buy them all from the one place.
With TAXIBOX, you can book your storage unit and order your packing supplies at the same time, without having to call anyone or even get up from your couch. Everything you need is on our website, available via our BOX Shop.
Save Big Bucks
If you're still not sold, we'll let the $$$ do the talking. TAXIBOX offers cheap self storage solutions across Melbourne, Sydney and Brisbane: we guarantee the lowest prices.
When you take a look over the facts – free delivery options, long-term discounts on storage, free access, transparent pricing and flat monthly storage rates – it's obvious why TAXIBOX is so much cheaper than other self storage solutions. And, don't forget the big one (literally, the big one): no need to hire a truck when your storage comes to you. 
With transparent pricing and our instant quote calculator, you can be sure you're getting your money's worth when you book your TAXIBOX.
Overall, It's Plain and Simple…
TAXIBOX vs. traditional storage: how'd we do? The proof's in the TAXIBOX, we worked out the kinks and sped up the process. We've got all the space you need, without all the extra stuff.