Removalists Sydney to Brisbane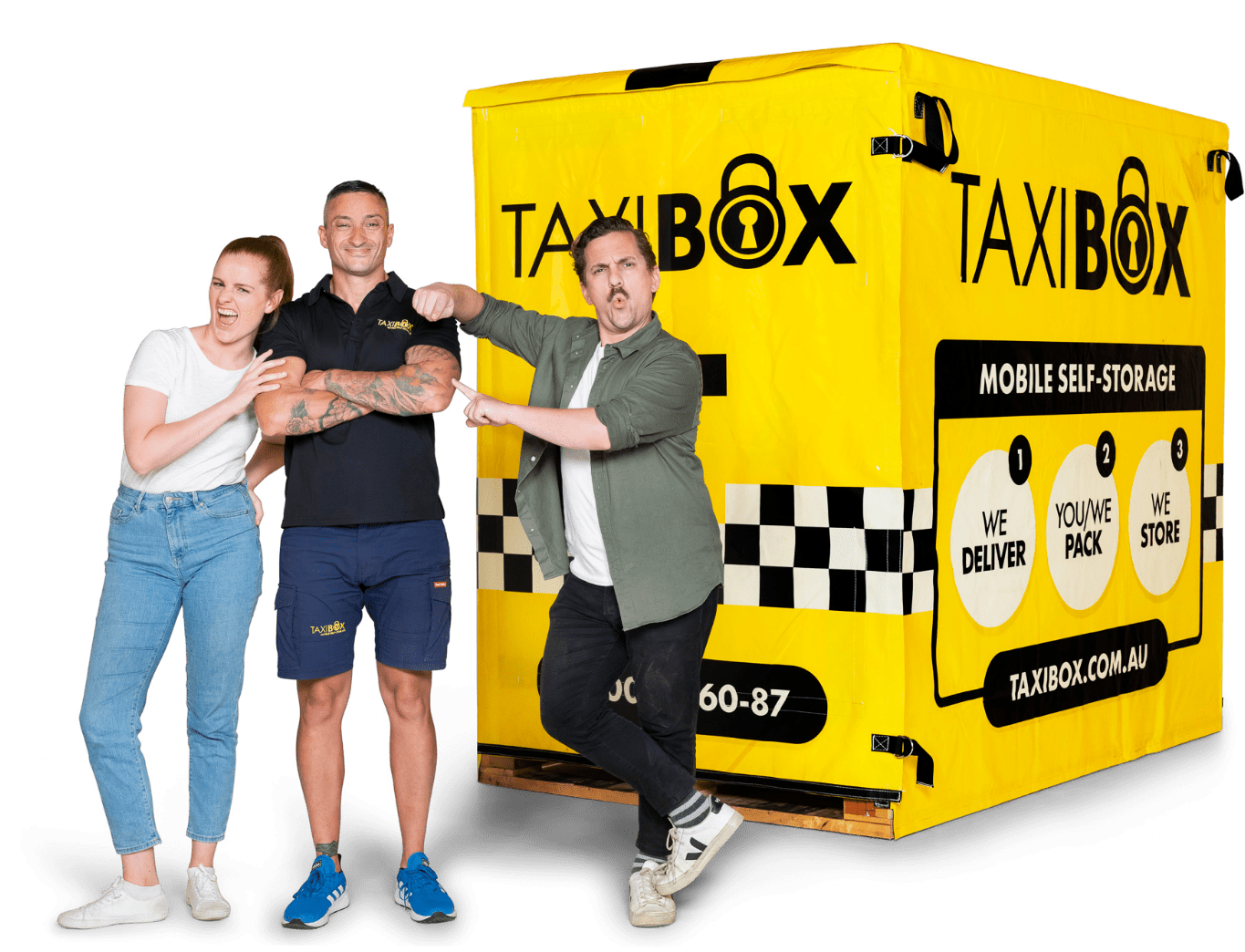 We deliver
We deliver your TAXIBOX to your home or office
You/we pack
Take your time to pack and lock your TAXIBOX
We move
Done! We'll move your TAXIBOX to you across Australia
Our storage facilities
Do we service your suburb?
---
TAXIBOX Banyo
931 Nudgee Road, Banyo 4014
TAXIBOX Ormeau
15 Blanck St, Ormeau 4208
Removalists Sydney to Brisbane
TAXIBOX is much more than just another Sydney to Brisbane removalists company. When we are your Sydney to Brisbane removals, we give you peace of mind, flexibility and a more cost effective way of managing interstate removals. As Australia's most trusted removalists, we help you manage your interstate move from Adelaide, Melbourne, Sydney and Brisbane with lower costs, full pricing transparency, and intuitive and helpful apps like the ability to keep track of your driver in real time.
Getting ready for the big move
Sydney to Brisbane, the Gold Coast, or Sunshine Coast is a big move, so we offer Calcumate, the 3D calculator that helps you estimate the space that you really need for your TAXIBOX. If you've never moved interstate before then it's probably going to feel a bit stressful. We've put together a helpful moving house checklist based on our years of experience that you can use to base your own checklist on. It has all of the essentials covered like when to start preparing your actual moving day.
If possible, you will need plenty of notice to make your move stress-free. You should be looking at booking your Sydney to Brisbane removals roughly 4 to 6 weeks out of the actual moving day itself. Interstate removal companies are usually pretty booked so if you're searching for a traditional pack and unpacking service as well as shifting your household or office then the earlier you book, the more peace of mind you're going to have.
Finding the best interstate movers
There's no doubt that moving interstate can be a stressful event, so it's a good idea to get a head start by finding qualified and experienced movers well ahead of moving day. If you don't give yourself enough time to research which Sydney to Brisbane removalists are the best ones for you, you risk paying extremely high rates for a subpar moving service on a tight moving date timeline for pickup, delivery and back loading.
Sending all your furniture almost 1,000 kilometres north to your new home can be quite an expensive moving experience when you opt for a traditional removalist company. An interstate removalist will charge you for the time required to pack the truck on the move day, the driving time between locations and the time taken to get back to their original depot. These moving company costs can rack up very quickly.
A new and flexible moving approach
TAXIBOX offers a different interstate removalists Sydney to Brisbane approach. We offer you flexibility and control over your time and your costs. We have created the smarter, stress-free and cost effective way of managing your furniture removal and relocation from NSW to Queensland, Brisbane to Melbourne, Melbourne to Brisbane, Melbourne to Sydney and Sydney to Melbourne.
We deliver your TAXIBOX storage unit to your home or office in Melbourne, Brisbane or Sydney, and then you pack it the way that you want. If you prefer, you can choose a local furniture removalist to take care of the actual packing service. This takes the strain off of you and employs professional packers who know how to get the job done with great care in the most efficient way.
Tailored services for your specific needs
Because we offer you flexible and hassle-free removalist services, you can tailor your TAXIBOX delivery and pick up the way that works best for you. A TAXIBOX is just like a mobile self-storage unit. You are able to securely lock it and it's completely weatherproof. You can have your high quality TAXIBOX delivered directly to your home or office location and use it for extra storage.
This is particularly useful if you're renovating your office or warehouse space, or have a big project going on at home. Have your rented storage shed delivered to your place, pack it with whatever needs to be safely stored, and then arrange for it to be collected when you don't need it anymore.
Keep chilled with cool room storage
Our mobile self-storage options also include mobile cool room. Cool storage is necessary for perishable items and we now deliver mobile cool rooms directly to your location. Use them for event and festival storage on location or at your own home. If you're running a business and it's coming up to the busy season, a mobile cool room can keep extra stock fresher for longer while freeing up valuable production space.
TAXIBOX cool rooms use state-of-the-art digital cooling systems that chill as low as 0 degrees Celsius. You can opt for additional accessories like shelving, and it's designed to sit flat on the ground to ensure safe loading and unloading, incorporating a skid system for easy and safe relocation around your site.
The professional removalist company
We are the professional removalists Sydney to Brisbane, QLD, for people who want to manage some of the process solo, ultimately saving on costs without skimping on the quality of service. Our TAXIBOXES are delivered for free and can be engaged for both short and long- term hire. All you need to provide is the packing materials like moving boxes. We take care of the long-distance removal service, taking your TAXIBOX to its final destination while you make your way to Brisbane in your own time. It really is that easy with the moving experts on your side.
The best removals price and service
When it's time to move house, use the intuitive and flexible Australian removalist company. We offer excellent service for the best price, plus cost effective solutions for important and complex moves. When you're moving from Sydney to anywhere else, think of TAXIBOX. You can access a competitive free quote online and when you're happy with the removalist quote, you can book straight away.
Our removals team will deliver your TAXIBOX to your door and then pick it up again when moving day finally arrives. Choose TAXIBOX best removalists Sydney to Brisbane to take your life from A to B seamlessly. We are the local and interstate removal services you can trust, so give us a call today!