Interstate Removals And Storage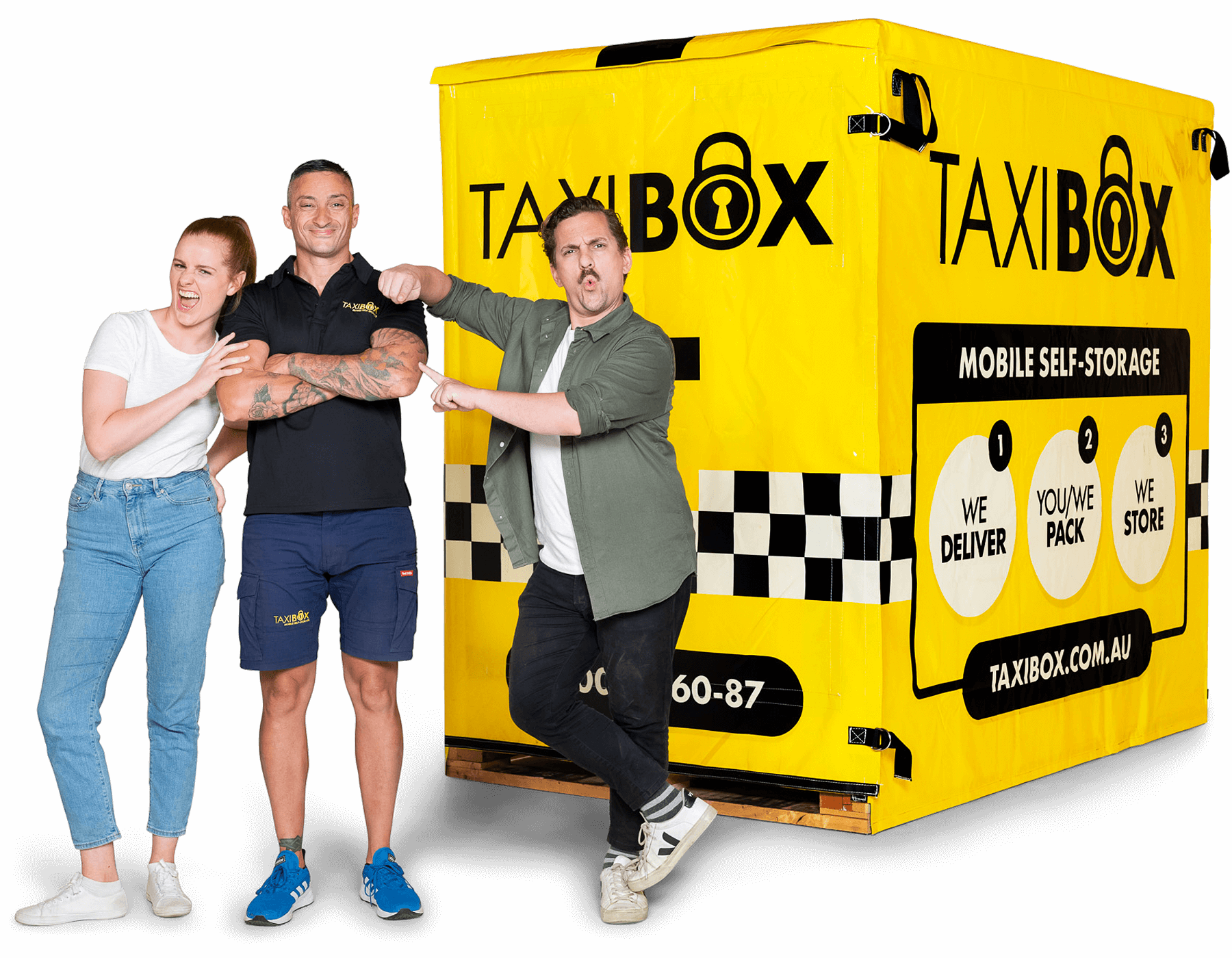 We deliver
We deliver your TAXIBOX to your home or office
You/we pack
Take your time to pack and lock your TAXIBOX
We move
Done! We'll move your TAXIBOX to you across Australia
Moving Interstate Australia
We are Australia's most trusted interstate removals company helping individuals who are moving interstate Australia to enjoy a smooth, stress-free moving process. Our services include the delivery of your TAXIBOX and the safe and secure relocation of it to anywhere in Adelaide, Melbourne, Sydney, Perth, the Gold Coast, and Brisbane. We offer our customers complete pricing transparency and competitive quotes. Along with your onsite storage facility and it's relocation, our services include intuitive features through our app which include the ability to track your driver in real time, use our 3D Calcumate calculator which helps you accurate judge the space that you need, as well as a quick and easy delivery and pick up service.
When it's time to move interstate Australia, it's time for a big move. Australia is vast country and the distance between states like Victoria and Queensland is a lot of kilometres. That's why when it comes to planning a strategy to help you get everything you need to do in time actually done, at the top of that list is a reliable removalist used to moving interstate Australia, and who is going to offer you the best price for the highest level of service.
Sending even small packages long distance can be expensive. The costs for freight usually include the actual kilogram weight of what you're sending as well as the time a removal service needs to pack the truck, move it to where it needs to be and then unpack it again. More often than not you'll find that your interstate removalist will even charge you for the time it takes to get back to where they started from. When you're trying to keep move costs low and manageable, this is a nightmare.
Our services for moving interstate Australia are a little different and they're designed to offer you the most cost effective method for your furniture removal and interstate relocation. For anyone with a starting point in NSW, like people planning a Sydney to Brisbane or a Sydney to Melbourne move, you're looking at covering a distance of about 900kms with your move. That's a bit far to manage trips throughout the week in case you forget anything.
Similarly, anyone with a based point located in Queensland such as a Brisbane to Melbourne or a Brisbane to Sydney move, you're travelling much farther than just around the corner from your old place. Planning these kinds of moves takes time and attention to detail, especially when you are trying to minimise costs as much as possible and create a smooth transition between states.
Choosing to use TAXIBOX to manage moving interstate Australia means that you have time to prepare and plan for the moving day. Choose to have have your storage box delivered to the moving location well ahead of the actual moving day. Create a moving house checklist and then check everything off as you move your way down the list. Leaving it later than about 4 to 6 weeks out of your actual moving day to book anything is dangerous. Interstate moves aren't like local suburban moves. You may find that as you approach the date that you need to be out of your old location, there are no available interstate removalists able to take your job on. Having your TAXIBOX delivered ahead of schedule is highly recommended. This way you can take your time with the packing and know that there will be a driver at your location the day of the move.
Because deliver your TAXIBOX to your home or office you can pack it the way that you want. If you're short of time or not confident about your packing abilities, then you can choose a local removals company to take care of the heavy lifting for you. If you're based in Victoria and planning either a Melbourne to Brisbane or a Melbourne to Sydney move, then consider choosing a local moving company around Melbourne who has access to the equipment and expertise you need to ensure that your TAXIBOX is packed safely, that the right packing materials have been used, and relax until moving day.
The great thing about TAXIBOX is how convenient and versatile our neat little solution really is. It works as an on site self storage unit in and of itself, offering you secure storage just outside, and it's completely weatherproof. If you're renovating or you have another big project at home, you can have your rented storage shed delivered to your home, pack it with whatever needs to be safely stored and then arrange for it to be collected when you don't need it anymore. Options include both long term and short term storage.
Our mobile self storage options also include a mobile cool room. Cool storage is necessary for things like perishable items and we now deliver a mobile cool room direct to your door, wherever you need it to be. Use them for event and festival storage either on location on even at your own home. If you're running a business and it's coming up to the busy seasonal times, then a mobile cool room is a great temporary storage solution can keep extra stock fresher for longer while freeing up valuable production space. They use a state-of-the-art digital cooling system which goes as low as 0 degrees Celsius. You can opt for additional accessories like shelving and it's designed to sit flat on the ground to ensure safe loading and unloading, incorporating a skid system for easy and safe relocation around your site.
We believe in transparent and competitive pricing which means that you can get a quote instantly online for moving and storage. We are Australia's trusted removalists so if there's anything you need to clarify for moving interstate Australia, then please contact our customer service team and we'll happily answer any questions you may have. Get a quote now.