Removalists Brisbane to Melbourne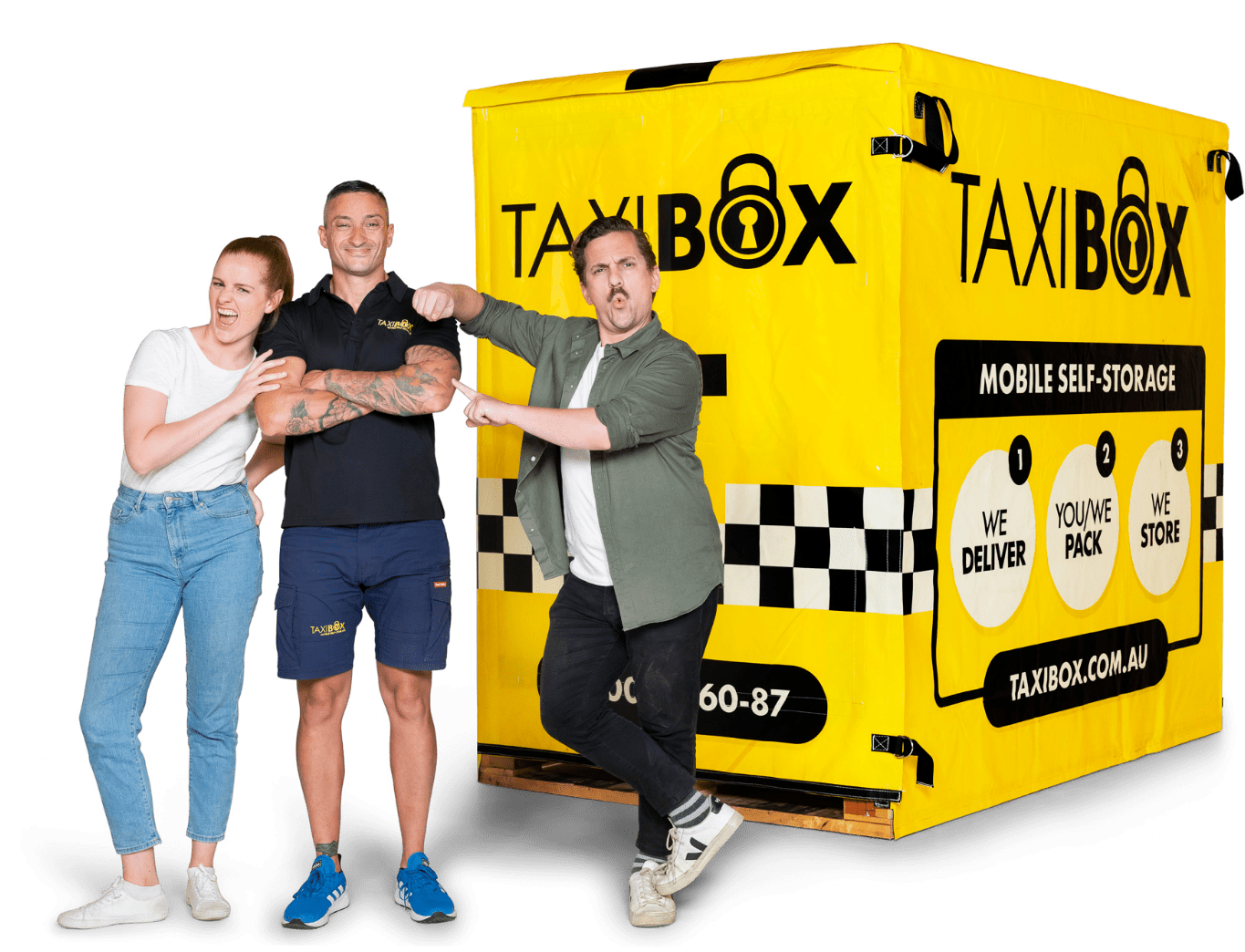 We deliver
We deliver your TAXIBOX to your home or office
You/we pack
Take your time to pack and lock your TAXIBOX
We move
Done! We'll move your TAXIBOX to you across Australia
Our storage facilities
Do we service your suburb?
---
TAXIBOX Braeside
118 Boundary Rd, Braeside 3195
TAXIBOX Reservoir
274 Edwardes St, Reservoir 3073
TAXIBOX St Kilda
12 Grey St, St Kilda VIC 3182
Removalists Brisbane to Melbourne
You're planning a big interstate move. That's great! Moving is always exciting, even if it's one of the most stressful events in a person's life. Now you need reliable and secure removalists Brisbane to Melbourne to help you make moving interstate as painless as possible. And, we've got you covered.
We have created the smarter and most cost effective way of managing your furniture removal and interstate relocation. We cover the entire eastern seaboard including helping you make a smooth and painless move from Brisbane to Melbourne, Sydney to Brisbane, Melbourne to Brisbane, Brisbane to Sydney Sydney to Melbourne, and more. We deliver your TAXIBOX to your home or office in which ever city you're starting from and then you can pack it the way that you want. If you prefer and if your home base is in Victoria, then you can choose Melbourne removalists to take care of packing your self storage box so that you're only paying for the time your movers have actually used in carefully and skilfully packing all of your belongings. Use a Queensland based removal company for packing services at the Brisbane end.
To help you estimate the size that you need, we have included a helpful little Calcumate. This app feature will give you a 3D estimate of the storage shed that you're renting and how all of your possessions will fit inside it.
And, because it's actually a self storage unit, able to be securely locked and completely weatherproof, you can use it around your home or office as either extra long term or short term storage. Like a shed if you don't have one or, if you do, then a shed that isn't already crammed solid with stuff. Use it for furniture storage while you're renovating or, if you're between houses and you have a vacant lot available, set up your secure storage unit there.
We also offer a short or long term hire cool room. Cool storage is necessary for things like perishable items and we now deliver a mobile cool room direct to your door. Use them for event and festival storage either on location on even at your own home. If you're running a business and it's coming up to the busy seasonal times, then a mobile cool room can keep extra stock fresher for longer while freeing up valuable production space. The system uses a state-of-the-art digital cooling system which goes as low as 0 degrees Celsius. You can opt for additional accessories like shelving and it's designed to sit flat on the ground to ensure safe loading and unloading, incorporating a skid system for easy and safe relocation around your site.
For interstate removals you really need to get the right removalists. We are Australia's most trusted mobile storage company, helping people move from Melbourne and Geelong (including Belgrave, Berwick, Bonbeach, and Cremorne) to Sydney, Brisbane, the Gold Coast, and Adelaide. We give you honest and direct quoting through total pricing transparency. Use our apps to help you keep track of your driver in real time and judge your space properly using our 3D calculator. The delivery of your TAXIBOX is also free.
An interstate removalist is traditionally expensive because you're paying for the packing, the freight, the unpacking and often the return to depot afterward or a fuel levy of some kind which covers your removal services time. Our TAXIBOXES are delivered for free and can be engaged for both short and long term hire on your terms. You can even arrange to have it delivered weeks before your moving day to give you more time to pack carefully.
Our removals storage ticks all of the boxes on your moving house checklist for the big Brisbane to Melbourne removals. We understand that moving to a new house is one of the most stressful events to occur in a person's life and that moving interstate for something like Brisbane to Melbourne is absolutely huge. We want to help you get everything done thoroughly, stress free and on time. We want you to enjoy the moving experience rather than sweating all the details. While nothing goes absolutely to plan, using TAXIBOX helps to avoid most of the pitfalls and reduces your overall costs.
If you're new to moving interstate and you've never planned a move as big before, you need to trust your Brisbane to Melbourne removalists. We try to keep everything as transparent and accessible as possible, including where your TAXIBOX is. Ideally, while you're planning your move, you should engage your Brisbane to Melbourne removalist with plenty of time before the actual moving day. Often interstate movers are fully booked weeks in advance and you don't want to be scrabbling at the last minute for a mover. Choose TAXIBOX and we'll arrange the delivery of your storage unit early and then pick it up, ready for your new home in Melbourne, exactly when we say that we will. There won't be any additional packing delays because you will have taken care of all of that well in advance. When moving day arrives just sit back and let us take care of the heavy lifting.
We are Australia's trusted furniture removalists, helping individuals and business move interstate every day. If there's anything you need to clarify about prices or our service offering for removalists Brisbane to Melbourne, then please contact our customer service team and we'll happily answer any questions you may have. Get a quote now.