Removalists Melbourne To Brisbane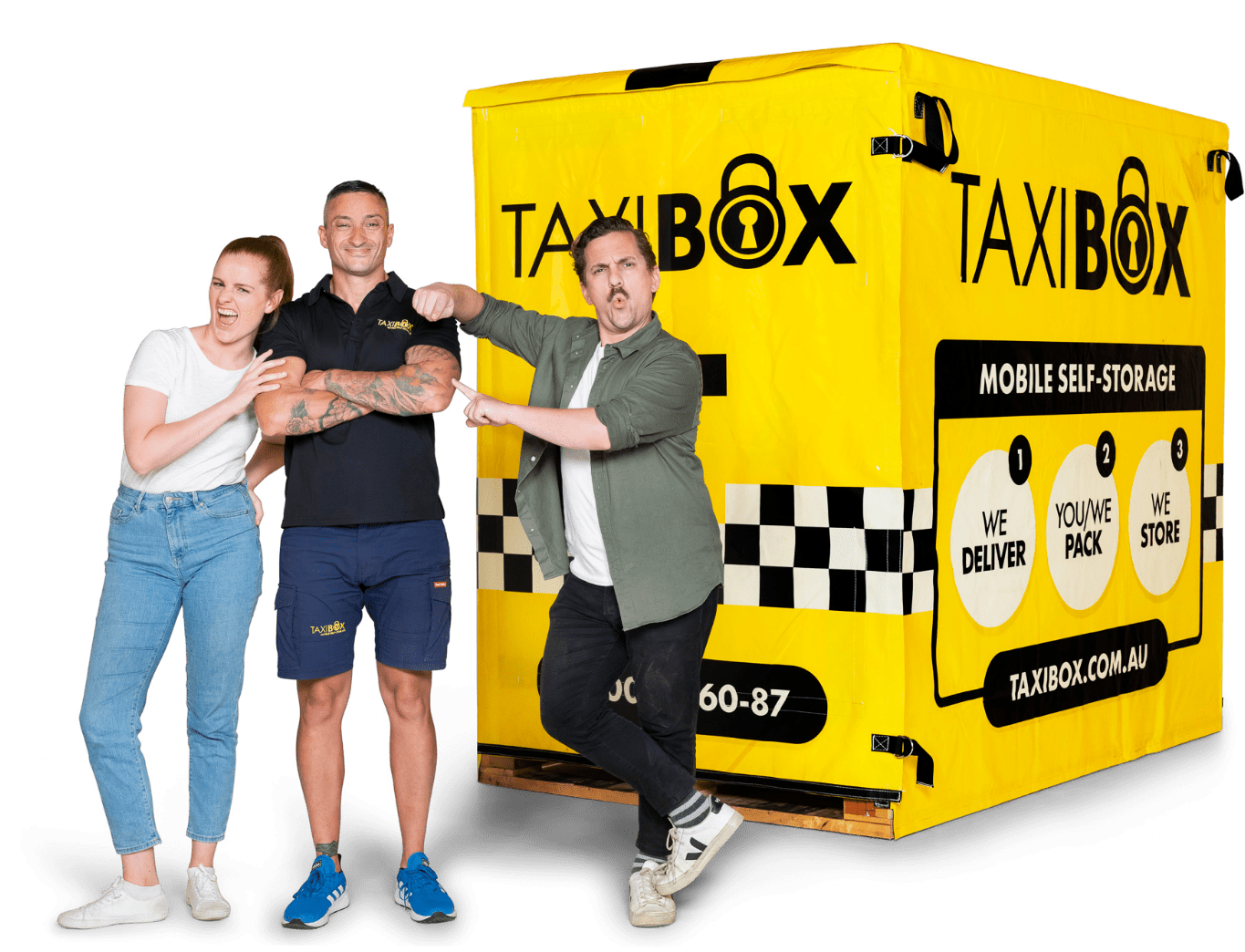 We deliver
We deliver your TAXIBOX to your home or office
You/we pack
Take your time to pack and lock your TAXIBOX
We move
Done! We'll move your TAXIBOX to you across Australia
Our storage facilities
TAXIBOX Banyo
931 Nudgee Road, Banyo 4014
TAXIBOX Ormeau
15 Blanck St, Ormeau 4208
Removalists Melbourne To Brisbane
One of the biggest interstate removals to undertake is the one between Melbourne and Brisbane. To get the job done right, you need the best removalists Melbourne to Brisbane available. Fortunately, we happen to be one of Australia's most trusted removal companies, offering our customers pricing transparency and competitive quotes, helpful apps which help you keep track of your driver in real time and judge your space properly using our 3D calculator, and a simple pick up and delivery process.
When you're planning a big interstate move like Melbourne to Brisbane, you're looking at almost 2000kms of highway between your old house and the new one so it's not really an option to nip back in case you've forgotten anything. That's assuming that your moving into Brisbane proper and not the surrounding areas like the Sunshine Coast, Coolangatta or the Gold Coast. We offer removalists Melbourne to Brisbane services as well as Sydney to Brisbane, Brisbane to Sydney, Brisbane to Melbourne, Melbourne to Sydney and Sydney to Melbourne. We operate out of Sydney, Brisbane and Melbourne, offering our customers both a reliable and cost effective moving services as well as a onsite storage option.
If you're reading this then chances are you are in the midst of planning your big Melbourne to Brisbane move. The first thing that you're probably going to want to know is how much it's going to cost for an interstate removalist. Traditionally, big interstate moves come with hefty price tags. Shifting a heavy load of furniture almost 2000kms is a long way. Often you're paying for both the weight of the load as well as the packing and unpacking services and the trip back to the depot, or a nominal cost to cover the fuel required for the truck to head back to the closest truckyard in Brisbane.
We have created the smarter and most cost effective way of managing your furniture removal and relocation from Victoria to Queensland. We deliver your TAXIBOX to your home or office in which ever city you're starting from and then you pack it the way that you want. Another option you can choose is sourcing a local removalist in Melbourne who can do the heavy lifting and the 3D Tetris game for you. They'll have the skills and the equipment to move your furniture and belongings and it's considerably cheaper for them to only do the packing than it would be for the whole move. At the other end in Brisbane, engage a local removalist who will unpack your furniture for you.
Basically, what we offer is a self storage unit, able to be securely locked and completely weatherproof, that you can either shift to Brisbane or not. You can have your TAXIBOX delivered to your home and use it for extra storage. If you're renovating or you have another big project going on at home, you can have your rented storage shed delivered to your home, pack it with whatever needs to be safely stored and then arrange for it to be collected when you don't need it anymore.
Our mobile self storage options also include a mobile cool room. Cool storage is necessary for things like perishable items and we now deliver a mobile cool room direct to your door. Use them for event and festival storage either on location on even at your own home. If you're running a business and it's coming up to the busy seasonal times, then a mobile cool room can keep extra stock fresher for longer while freeing up valuable production space. They use a state-of-the-art digital cooling system which goes as low as 0 degrees Celsius. You can opt for additional accessories like shelving and it's designed to sit flat on the ground to ensure safe loading and unloading, incorporating a skid system for easy and safe relocation around your site.
Our TAXIBOXES are delivered for free and can be engaged for both short and long term hire. Using removals storage options like the TAXIBOX means that you can have your storage box delivered to site well ahead of the actual moving date. You can take your time, checking off your moving house checklist and ensuring that you've remembered everything. By engaging Brisbane removalists at the destination, you can manage your unpacking quickly and stress free. It's a full service removal in the most cost effective way.
A big interstate move like needs to be timed very carefully. If you're still not sure what kind of removalists Melbourne to Brisbane that you're looking to engage, then you should be looking to book an interstate moving company about 4 to 6 weeks out of the actual moving date. Often interstate removals are booked far in advance and you don't want to risk not having a furniture removalist when it comes to crunch time. The ideal move happens without you having to think about it because everything is already in motion. You want to unpack in sunny Brisbane and relax into your new surroundings, not worry about where most of your stuff is and when it'll get to where it's going.
We are Australia's trusted removalists, offering innovative ways to help our customers to reduce costs and to manage their interstate moving needs seamlessly. To get an instant online quote, simply start on our website. If you're happy with the price, then you can book us immediately. If you're not sure about anything then we'll happily answer any questions that you have. Simply engage our friendly professional customer service team and we'll take it from there.
Book your removalists Melbourne to Brisbane now online.