Removalists Sydney To Melbourne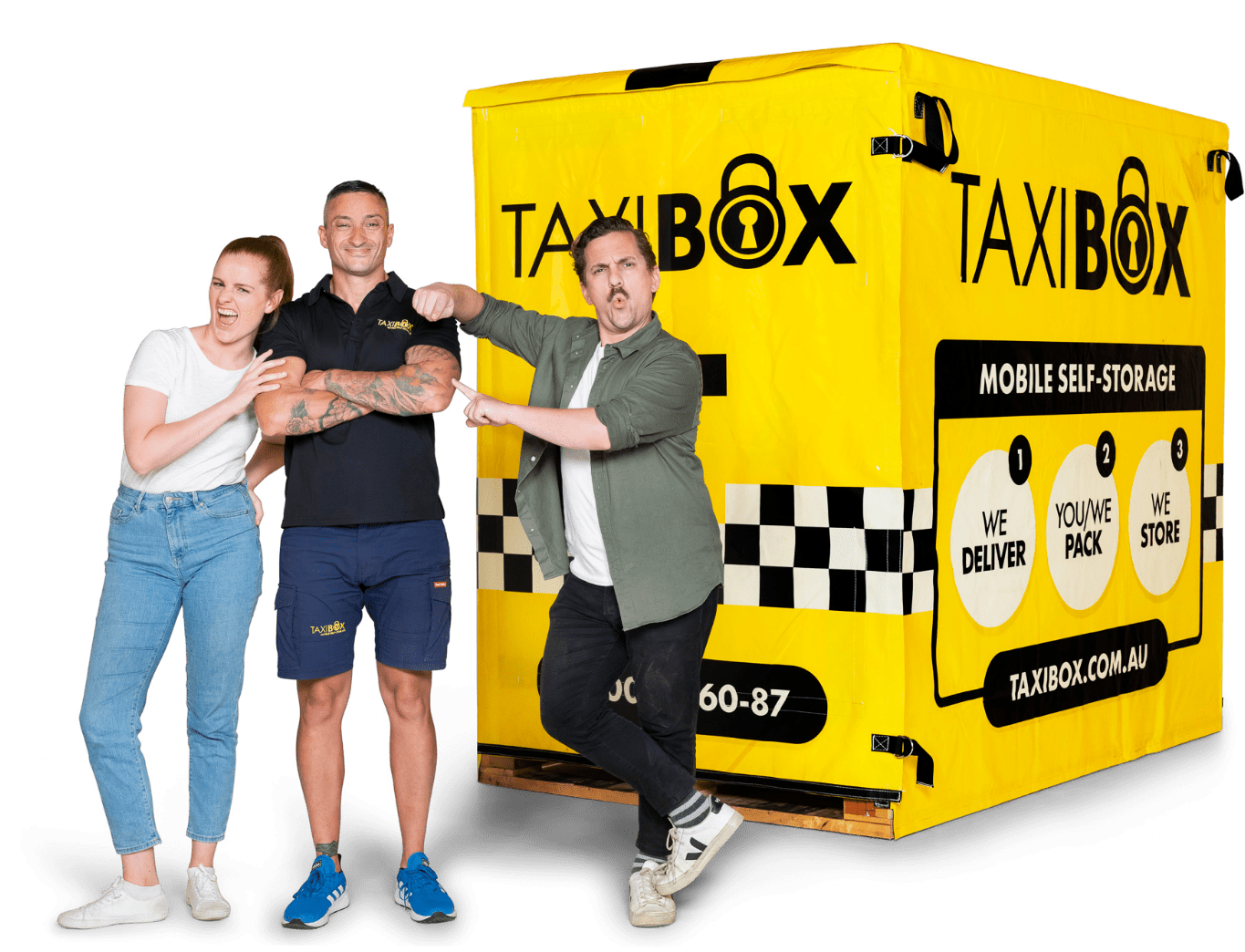 We deliver
We deliver your TAXIBOX to your home or office
You/we pack
Take your time to pack and lock your TAXIBOX
We move
Done! We'll move your TAXIBOX to you across Australia.
Our storage facilities
Do we service your suburb?
---
TAXIBOX Braeside
118 Boundary Rd, Braeside 3195
TAXIBOX Reservoir
274 Edwardes St, Reservoir 3073
TAXIBOX St Kilda
12 Grey St, St Kilda VIC 3182
Removalists Sydney To Melbourne
Choose Australia's most trusted removalists Sydney to Melbourne and arrange your Sydney to Melbourne removals with a cost effective and intuitive service provider actively looking for ways to optimise your interstate move and give you peace of mind. Our interstate removals and storage services are available from Melbourne, Sydney, the Gold Coast, Adelaide, and Brisbane. We offer you flexibility and the opportunity to lower costs by packing and unpacking your own furniture and belonging. We offer full pricing transparency, intuitive and helpful apps like the ability to keep track of your driver in real time, as well as our Calcumate, the 3D calculator that helps you estimate the space that you really need for your TAXIBOX.
For those of you who have never moved interstate before, we're here to help you reduce what's probably a lot of stress right now. You can start your moving interstate journey with our helpful moving house checklist. It has all of the essentials covered like when to start preparing your actual moving day and some tips on choosing the best removalists Sydney to Melbourne for your budget and your plans. Moving an office or a household is a giant undertaking and it's no wonder that relocating is one of the biggest stress events in a person's lifetime.
When it comes to choosing your removalists Sydney to Melbourne, try to give yourself as much time to prepare as possible. If you have the notice, then you should be looking to book your interstate removalist about 4 or 6 weeks out of the moving date that you absolutely must be moved by. Be mindful of actual distances, too. Parramatta is a fair way from Sydney-city so you'll want to know precisely what kind of distance you're covering to ensure you're getting a good price.
If you're considering a full service interstate move which includes both packing and unpacking services at both destinations, then be mindful of the costs and how quickly they can sky-rocket. Shifting your entire life hundreds of kilometres south can get expensive. A traditional removalist company will charge you for the time required to pack the truck on the move day, for the time between locations and then the time back to their original depot. If you're not ready for the total costs then you can find yourself out of your depth quickly.
Choosing TAXIBOX as your removalists Sydney to Melbourne is choosing a more flexible and cost effective moving solution. We have created the smarter and most cost effective way of managing your furniture removalists costs and relocation from NSW to Victoria. We can manage moves from Brisbane to Melbourne, Melbourne to Brisbane, Melbourne to Sydney, Sydney to Melbourne, Sydney to Brisbane, and more.
The way it works is simple: your TAXIBOX is delivered to your home or and then you pack it the way that you want. We cover Melbourne and Geelong (including Narre Warren, Seaford, Southbank, South Yarra, and North Melbourne), Sydney, Adelaide, the Gold Coast, and Brisbane, offering you removalist storage in all locations and between all locations. Some people will still need some assistance with packing up their office or household and the best way to manage those costs is to engage professional packers in your originating destination – in this case a local removalist in Sydney – and then engaging another Melbourne removalist. This way you can enjoy the move while still managing your costs effectively. Unpacking, for example, is always easier and faster than packing so why not engage a moving company in Sydney but then unpack yourself in Melbourne?
Our service is essentially just mobile self storage unit. You are able to securely lock it and it's completely weatherproof. You can have your TAXIBOX delivered to your home or office and use it for extra home or office storage rather than a move. You may find that a fast and cost effective on site storage solution is exactly what you need to free up space in the home or office. If you're renovating or you have another big project going on at home, get your rented storage shed delivered to your home, pack it with whatever needs to be safely stored and then arrange for it to be collected when you don't need it anymore.
Our mobile self storage options also include a mobile cool room. Cool storage is necessary for things like perishable items and we now deliver a mobile cool room direct to your door. Use them for event and festival storage either on location on even at your own home. If you're running a business and it's coming up to the busy seasonal times, then a mobile cool room can keep extra stock fresher for longer while freeing up valuable production space. They use a state-of-the-art digital cooling system which goes as low as 0 degrees Celsius. You can opt for additional accessories like shelving and it's designed to sit flat on the ground to ensure safe loading and unloading, incorporating a skid system for easy and safe relocation around your site.
If you're ready to move house from Sydney to Melbourne then engage the flexible removalists Sydney to Melbourne who specialise in storage and freight solutions. Our TAXIBOXES are delivered for free and can be engaged for both short and long term hire. All you need to provide is the packing materials like moving boxes. We take care of the removal service, taking your TAXIBOX to its final destination while you make your way to Brisbane in your own time.
Get a competitive quotes instantly online. If you're happy with the costs, then you can book us right now. Choose TAXIBOX, the removalists Sydney to Melbourne who make every interstate moving experience as cheap and as seamless as possible.