Removalists Brisbane to Gold Coast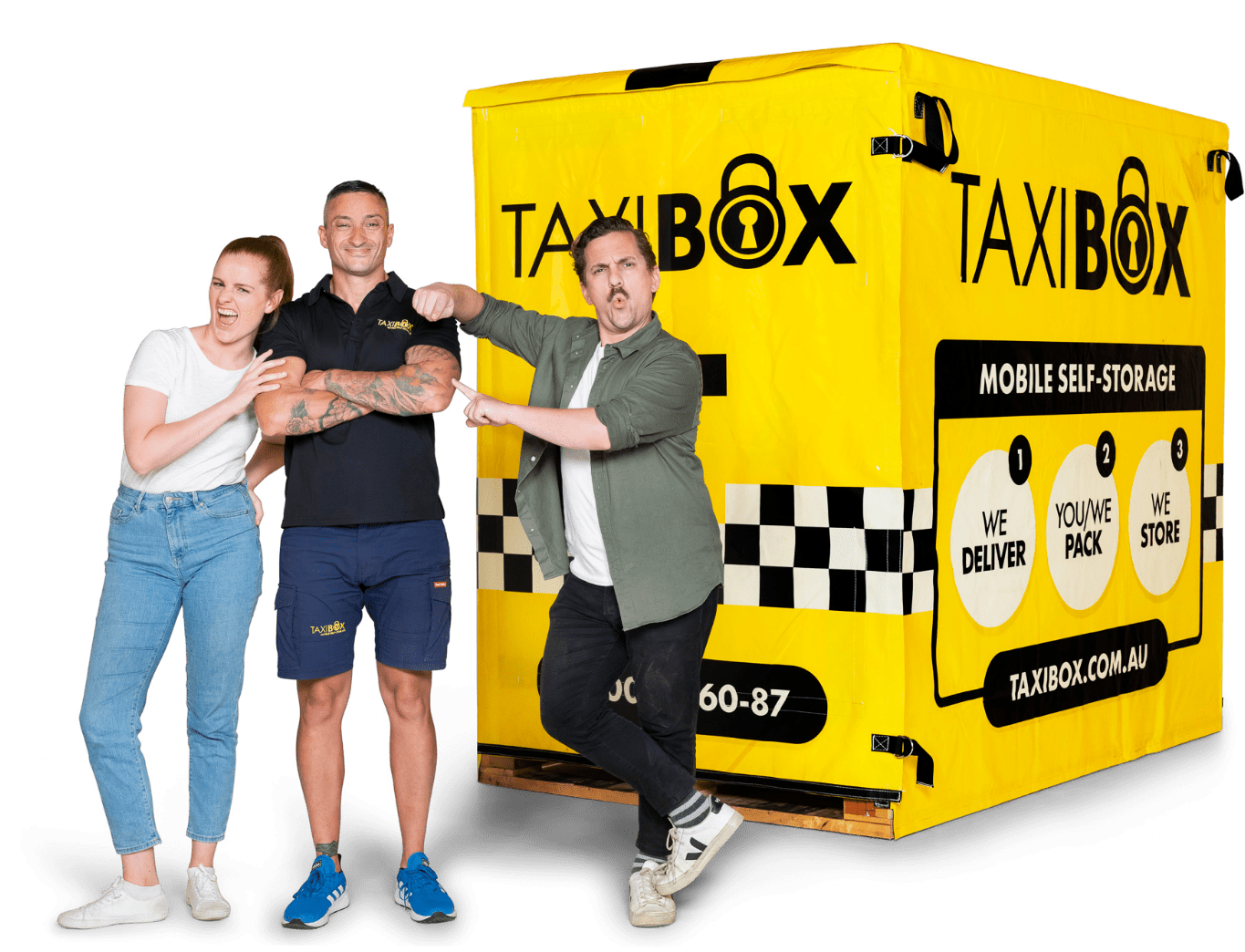 We deliver
We deliver your TAXIBOX to your home or office
You/we pack
Take your time to pack and lock your TAXIBOX
We move
Done! We'll move your TAXIBOX to you across Australia
Our storage facilities
Do we service your suburb?
---
TAXIBOX Banyo
931 Nudgee Road, Banyo 4014
TAXIBOX Ormeau
15 Blanck St, Ormeau 4208
Removalists Brisbane to Gold Coast
Moving cities is a big step at any part of your life, and hiring a removalist Brisbane to Gold Coast can make the entire process smooth and easy. At TAXIBOX you can call in for one of our self storage units that you can load yourself and request it to be delivered to your new home. We even have cool rooms available, or a rent storage shed if you need some extra space at your new place.
For any removalist Brisbane to Gold Coast the cost can be difficult to determine. However, at TAXIBOX you can make use of our online calculator to work out how many storage units you need for your furniture and other belongings. Then enter in your drop off and delivery address to get a price for the removalist costs. One of the best things about working with TAXIBOX is that you're not under any pressure to have your home packed up by a certain date. We give all our removal customers a month of free storage, so you get four weeks to pack and unpack your TAXIBOX. This will give you plenty of time to pack up your old home and then settle in at your new home.
We are an experienced team of removalists and have been operating for many years completing moves such as Melbourne to Sydney, Brisbane, and Gold Coast, and Sydney to Melbourne, and Brisbane. You can be sure that when you book in with TAXIBOX for your move, that you're getting a professional team and your furniture will be treated with the care it deserves.
Do removalists pack everything for you?
Getting a packer from your removalist Brisbane to Gold Coast is usually an optional extra. Many people choose the pack it yourself option to save money, however, if you're short of time and you need assistance it is available. At TAXIBOX we can help you pack your home up into the TAXIBOX ready for sending. Some of the benefits of having your home packed up by a professional team include efficiency, (as it can be completed in a few hours), and security (your furniture and belongings are packed by an experienced team).
Even if you're getting a team in to do your packing, it is still a great idea to pack a few boxes yourself. This may include any sensitive items you don't want others packing, valuables, and the important 'first to unpack box' (this may include hygiene items, snacks and coffee making supplies).
Do removalists disassemble furniture?
When you hire a removalist, Brisbane, to Gold Coast, it's unlikely that they'll disassemble any furniture. Most removalists are skilled at loading their trucks with precision; however, some furniture items are moved more easily when disassembled. Beds frames are quite easy to take apart and put back together provided you hang on to the screws! For a quick job packing up, it is recommended to take beds apart before your removalist arrives. During the loading process, it's likely that you're paying your removalist by the hour, so the more you can do to make the job quick the more you'll save.
When you hire a TAXIBOX, you'll notice that it can be much easier to fit everything inside if the furniture is disassembled into smaller parts. However, the choice can be completely up to you. For example, if you have a chest of drawers, you can load it up and then fill the draws with other items to save space inside the TAXIBOX. If you do decide to take furniture apart, we'd recommend keeping the screws separate in labelled bags and taking these with you, or taping it to the furniture it belongs to.
Do removalists charge for boxes?
As a removalist Brisbane to Gold Coast we can supply storage boxes for your move. You can choose to buy as many as you need and we have set up packages to cover most homes. There are some places that you may be able to rent boxes from, but often this comes with a definitive return time, and if you miss that deadline then you may need to buy those boxes and that can result in a more expensive choice.
It is possible to get boxes for free for your move, but using boxes that are not of a uniform shape may make it harder to load up your TAXIBOX. Collecting free boxes can take quite a bit of time, but if you're willing to put in the hours it can be done. Boxes sold by a removalist company are specifically designed to house different objects, you can get smaller boxes for heavy items (e.g., books, etc), larger ones for light items (e.g., clothes) and even robe boxes for clothes that need to be kept upright. After your move, these can be recycled through most council collections, or you can resell them, or keep them if you feel you may move again.
Where to find Brisbane to Gold Coast removalists near me?
There are usually two types of removalists, those that are local, and those that are focussed on moving interstate in Australia. At TAXIBOX we can be your removalist for Brisbane to Gold Coast, as well as provide services for larger distances, such as Brisbane to Melbourne, or Brisbane to Sydney. We are focussed on taking the stress out of moving, as there are no real deadlines for when you need to have everything packed up and ready to go. You can order a TAXIBOX to be delivered to your home, take your time packing it up and then call us when you're ready for the big move.