Removalists Brisbane to Sydney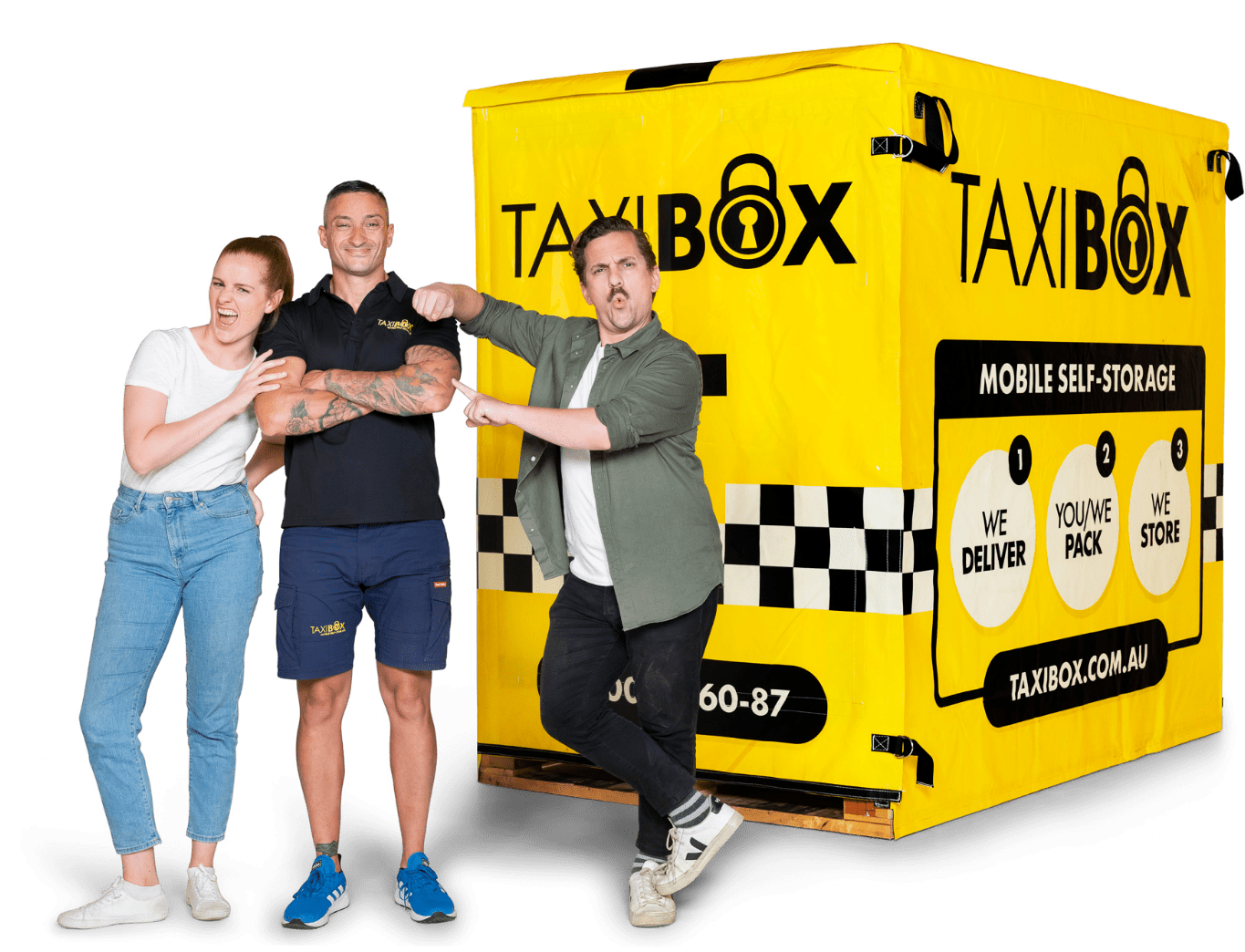 We deliver
We deliver your TAXIBOX to your home or office
You/we pack
Take your time to pack and lock your TAXIBOX
We move
Done! We'll move your TAXIBOX to you across Australia
Our storage facilities
Do we service your suburb?
---
TAXIBOX Erskineville
3/149 Mitchell Rd Erskineville 2043
TAXIBOX Greenacre
7B, Roberts Distribution Centre, 81-85 Roberts Rd, Greenacre 2190
Removalists Brisbane to Sydney
We are Australia's most trusted removalists Brisbane to Sydney and right along the eastern cost to Melbourne. We offer our customers a cost effective way of managing their interstate removals with competitive pricing, complete transparency, and intuitive technology which helps you keep track of your pick up and delivery driver in real time as well as accurately estimate the space that you need properly using our 3D calculator, Calcumate.
For those of you who know what it's like to move interstate, then you don't need telling that it's a big job and should be carefully planned. Moving a single individual more than 500km is hard enough but when you're talking about an entire household or a fully office, you need good planning, a moving house checklist and plenty of time to tick off everything that you need to do. Moving to a new house is one of the big five stressful events that mark a person's lifetime so it's important to get it right so you can actually enjoy the fruits of your labour.
TAXIBOX is a removals storage option. We're not like regular removalists Brisbane to Sydney. Where your Sydney removals will arrive on the moving day, pack your belonging and then shift them ready to be unpacked at the other end, we don't. We're a more cost effective storage and freight solution that isn't going to charge you the k's it takes to head back out to Hornsby or our depot in Fortitude Valley. Our way puts you in charge of your furniture removal and relocation from Queensland to NSW and we go both ways, too. Arrange your TAXIBOX for your move from Sydney to Brisbane, Brisbane to Melbourne, Melbourne to Sydney, Melbourne to Brisbane and Sydney to Melbourne. We deliver your TAXIBOX to your home or office in which ever city you're starting from: Melbourne, the Gold Coast, Adelaide, Brisbane or Sydney (including Stanmore and Strathfield). Using removalists Brisbane to Sydney like the TAXIBOX means that you can have your storage box delivered to site well ahead of the actual moving day. It's you who decide how and how long to take packing your furniture and belongings. If you want, you can arrange packing and unpacking services from a local removalist company so that they take care of all of the heavy lifting.
So, what does it look like not using TAXIBOX? Well, interstate removalists are usually pretty heavily booked weeks in advance. They are also expensive to use. The reason for this is that you're not only paying for the removal company's physical distance that they will eventually travel but also for the time it takes to pack and unpack your stuff. If you'd prefer that option, then you should also be aware that you are likely to pay a surcharge to get the removalist back to their original depot when the job is done. This can quickly climb into a dazzling figure for your removalists Brisbane to Sydney.
An interstate removalist will charge you for the time required to pack the truck on the move day, for the time between locations and then the time back to their original depot. TAXIBOX will deliver your storage box for free. Interstate removalists Brisbane will arrive on your moving day and pack everything then meaning you need to relocate in one stressful day. TAXIBOX can deliver your unit weeks in advance so you can take your time with the packing.
Our moving service is more than just quick and easy removalists Brisbane to Sydney, too. We offer a self storage unit in and of itself, able to be securely locked and completely weatherproof. You can have your TAXIBOX delivered to your home and use it for extra storage when the shed is too full or while you're sorting stuff around the house. If you're renovating, for example, you can have your rented storage shed delivered to your home, pack it with whatever needs to be safely stored and then arrange for it to be collected when you don't need it anymore. Our options are available for both long term and short term storage so how you use your TAXIBOX is entirely up to you.
Our mobile self storage options also include a mobile cool room. Cool storage is necessary for things like perishable items and we now deliver a mobile cool room direct to your door. Use them for event and festival storage either on location on even at your own home. If you're running a business and it's coming up to the busy seasonal times, then a mobile cool room can keep extra stock fresher for longer while freeing up valuable production space. They use a state-of-the-art digital cooling system which goes as low as 0 degrees Celsius. You can opt for additional accessories like shelving if you need it. The unit is designed to sit flat on the ground to ensure safe loading and unloading, incorporating a skid system for easy and safe relocation around your site.
We are Australia's trusted removalists, helping countless individuals and offices manage moving from Brisbane to Sydney every day of the year. Where traditional professional removalists will charge you an arm and a leg for interstate moving, we're the removals services that offers you flexibility and control of your costs. You can use a removal company to pack your TAXIBOX or you can take care of your packing services on your own. It's your choice.
Get a quote for removalists Brisbane to Sydney right now online. You can book immediately ensuring that your big move is under control.