Removalists Melbourne to Gold Coast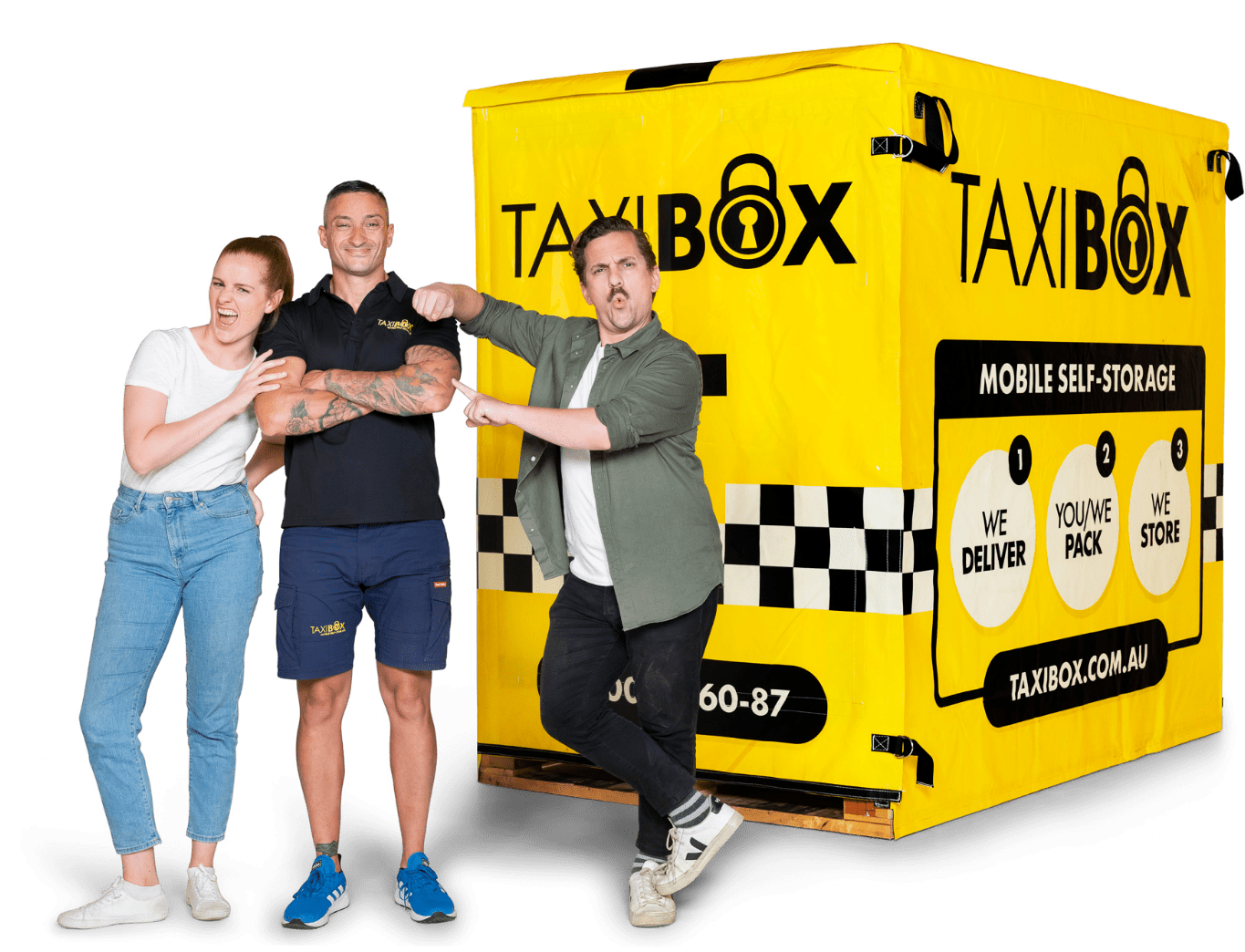 We deliver
We deliver your TAXIBOX to your home or office
You/we pack
Take your time to pack and lock your TAXIBOX
We move
Done! We'll move your TAXIBOX to you across Australia
Our storage facilities
Do we service your suburb?
---
TAXIBOX Banyo
931 Nudgee Road, Banyo 4014
TAXIBOX Ormeau
15 Blanck St, Ormeau 4208
Removalists Melbourne to Gold Coast
At TAXIBOX we can be your removalist Melbourne to Gold Coast. Anytime you're moving interstate in Australia you want to go with a team that has years of experience behind them. As most people will only move once or twice it may not be something you have a lot of experience in doing, so you want the process to be as easy as possible. At TAXIBOX we don't set any deadlines for your move to happen, instead, we deliver our mobile storage boxes to you, and you can call us when they're packed up and ready for collection. In addition to being your local removalists, we also offer mobile cool rooms, self storage solutions, and you can rent storage sheds, which is perfect if you need a little extra room at your new home.
When you're moving all your furniture and other belongings, hiring a team that knows the best way to look after them will give you peace of mind and allow you to relax during the moving process. In addition to being a removalist Melbourne to Gold Coast, we have also completed moves in Melbourne to Sydney, and Brisbane, Sydney to Melbourne, Brisbane, and Gold Coast, and Brisbane to Melbourne, and Sydney. You can see from our positive reviews that we leave an impression on everyone we've worked with. You can get a quote on your move quickly through our online calculators, and we offer many different packing supplies to get you started.
How to prepare for removalists?
When considering a removalist Melbourne (including St. Kilda East, Toorak, Windsor, and South Melbourne) to Gold Coast check on what they may need from you. All removalists may have different requirements, but as a standard, it is expected that on the day of your move everything is packed in suitable boxes and marked with a brief description of its contents. Frame beds should be disassembled and your mattress should be sealed into a mattress bag (this protects the mattress and makes it easier to handle). For your peace of mind and to help with any insurance claims for damages, you can photograph all your furniture before it's loaded onto the trucks.
At TAXIBOX you can pack and load all your items yourself, and just let us handle the delivery. We'll give you plenty of time to get everything sorted out, with up to one month of onsite storage included in your removalists fee. This means that you won't need to stress about having everything ready to go at a certain time, just pack it, lock, and call us to pick it up.
How much do removalists charge in Gold Coast?
It all depends on how far you need to travel. For a removalist Melbourne to Gold Coast the costs can vary greatly from all the different removalists. To get a good idea you'll need to contact all the local removalists in Melbourne. At TAXIBOX we have made getting a quote quick and easy. All you need to do is enter in your pickup and delivery addresses, and how many of our mobile storage boxes you need (we can guide you on that with an estimate), and then you'll be shown how much it will cost.
Like many removalists, we can offer help with packing up your TAXIBOX, and you can buy all the packing materials you need (we have a handy guide for that as well!), anything you order from us will be delivered when we drop off your first TAXIBOX. Which means that you can get started packing immediately.
Do removalists pack everything for you?
Most removalists won't do the actual packing of small items into boxes unless you request (and pay) for it to be done. A professional packer can charge about $150 per hour or about $1500 for a modest three (3) bedroom home (this may not include furniture disassembly). You can save money by doing all the packing yourself, but it may be a requirement that you use special removalists boxes.
At TAXIBOX, your local removalist Melbourne to Gold Coast, we can save you money on your move by giving you the time to pack all of your furniture and belongings yourself, we can supply all the packing materials and even lease out a trolley to help with the heavy stuff. You'd be surprised at how easy packing up a TAXIBOX is once you get started.
Where to find Melbourne to Gold Coast removalists near me?
To find a removalist Melbourne to Gold Coast that is near your home you can do a simple search on the internet. However, this will rarely find you the best removalist. To check that you're getting an excellent removalist, it is best to check their reviews, have a look around and see what others have thought of the service. Most people are happy to post a review when they get exceptional service from a removalist.
After checking on the reviews, the next thing you need to look for is what services they are offering and to check if that fits in with what you're seeking. Then get some quotes for how much they'll cost. You may find there is a huge difference in the price's removalists will charge. This can be based on many different factors, such as packing, insurance, and transportation options.
When you book in for removal with TAXIBOX you have a month's self-storage included, this is great if you need that little bit of extra time to get it all packed for the big move. Most people that move are doing so for work purposes and can find it difficult to squeeze in packing during their off time. At TAXIBOX we have solved this issue by giving you more time to get ready.