Removalists Gold Coast to Melbourne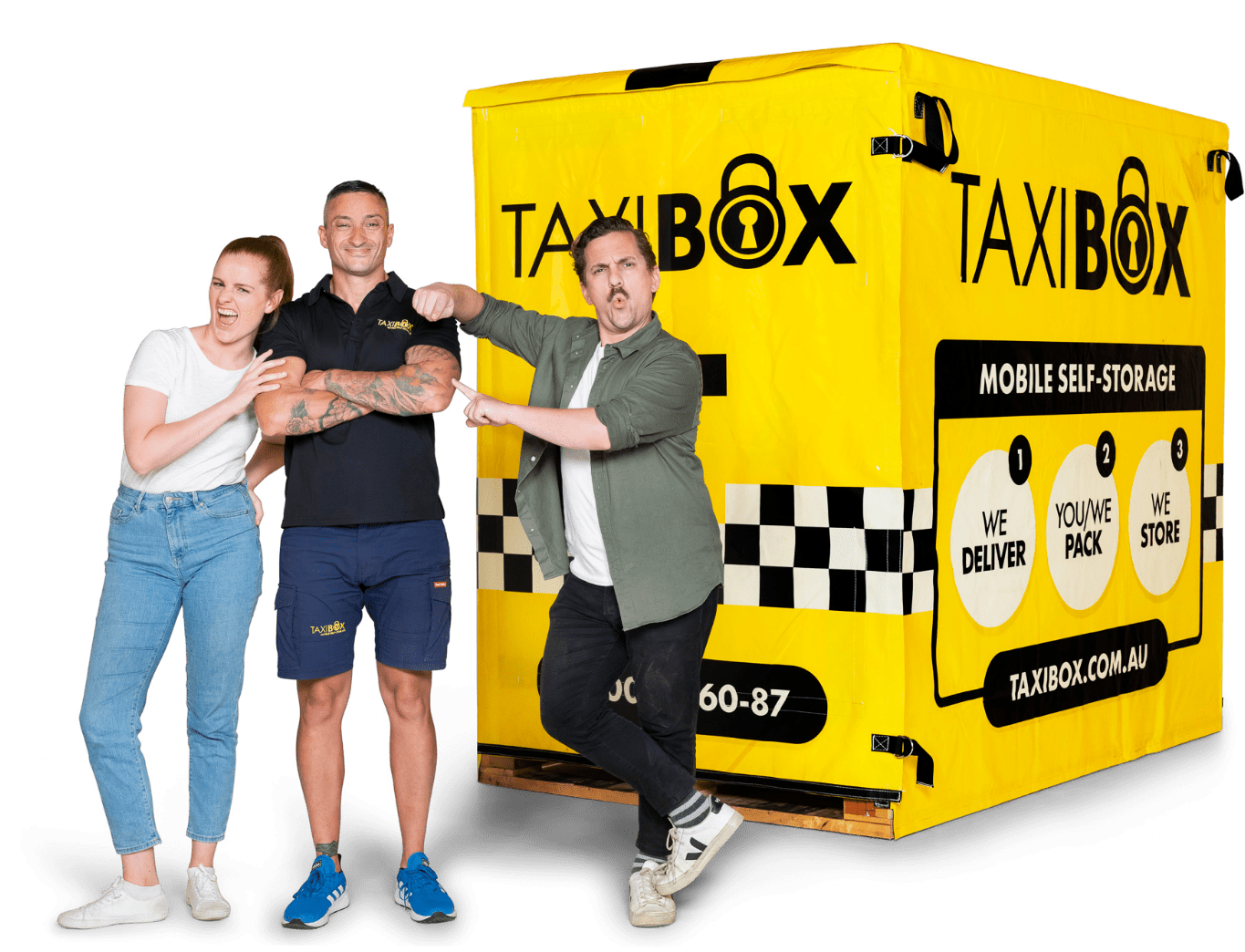 We deliver
We deliver your TAXIBOX to your home or office
You/we pack
Take your time to pack and lock your TAXIBOX
We move
Done! We'll move your TAXIBOX to you across Australia
Our storage facilities
Do we service your suburb?
---
TAXIBOX Braeside
118 Boundary Rd, Braeside 3195
TAXIBOX Reservoir
274 Edwardes St, Reservoir 3073
TAXIBOX Derrimut
200 Australis Dr, Derrimut 3026
Removalists Gold Coast to Melbourne
A removalist for Gold Coast to Melbourne can be expensive, but with TAXIBOX, you're only going to pay for the transportation. This is because we work differently to the way that many regular removalists do. We'll drop off one of our storage units to your home, where you can pack up all your furniture and other belongings, then give us a call for the collection and delivery to your new home. By not having a specific date on your move you're saving on the pressures and stresses associated with most moves.
When you book in with TAXIBOX you can also choose to put your furniture and items into storage while you get your new place ready to go. This can be an excellent option if you need access to your belongings but haven't had the time to find a new place to live just yet. We can move items across Australia quickly and easily and for a price on our services, you can enter in the pickup location and the delivery location. In addition to being a removalist Gold Coast to Melbourne, we also work as a removalist Sydney to Melbourne, and Brisbane to Melbourne.
What do removalists do?
Most removalists will operate out of trucks, and they'll load all your household items (mainly furniture and packed boxes) and then transport it to your new home. If you are looking for a removalist Gold Coast to Brisbane you can call on TAXIBOX if you'd like to save money on your moving costs. At TAXIBOX you can also arrange for a move from Gold Coast to Sydney, or Brisbane, or Melbourne to Sydney, Brisbane, or Gold Coast.
With a traditional removalist they'll book you in for a collection time and all your items need to be ready to move on that day. This means that loose items need to be boxed up and large furniture (beds, etc) should be disassembled ready for transport. At TAXIBOX you can choose to take as long as you need to pack everything away. Also, as you're loading the TAXIBOX yourself you're only paying for transportation, and not the hours of work it takes to load a truck.
How much do removalists cost?
At TAXIBOX, your local removalist Gold Coast to Melbourne, a quote is easy to obtain through our online calculator. All you need to do is enter in the TAXIBOX drop off address and the delivery address, and we'll show you how much it will cost. If you're not sure how many mobile storage units you need, well we have an estimator for that as well.
By using TAXIBOX to move your furniture and belongings you can save quite a bit of money and stress. This is because you get to load all your items yourself, and there are no time constraints for how long you need. All our removalists bookings come with one month worth of free onsite storage, even if you need more time than that you can choose to pay for ongoing storage. We also offer cool rooms, self-storage, and you can rent a storage shed if you need extra room at your new place.
Can removalists pack your stuff?
Once you hire a removalist Gold Coast to Melbourne with a traditional mover, you'll need to have everything packed and ready to go on a certain date. If you need help with packing most may offer the services of a professional packer, usually charged at an hourly rate, and this may or may not include the packing materials costs. However, there are still things that are best to pack yourself, such as sensitive items, valuables, and that all-important 'first to unpack box' (usually personal hygiene items, snacks and coffee making stuff).
As you need to have everything packed on a certain date, getting a team to do it for you may seem like a good option. But you'll need to be present for most of the packing and it can get expensive. A better option is to choose TAXIBOX, we don't have any deadlines for your move date as we'll deliver your mobile storage unit, and only pick it up for removal when you tell us it's ready!
If you need help with moving heavy items into the TAXIBOX (after all we weren't all built to lug fridges about!), we can call on our support team to get that completed for you. Generally, a TAXIBOX will take an hour to load and these are charged at $299 for the first unit and $149 for any others (if extra time is needed, it's charged at $89 per half hour).
Where to find Gold Coast to Melbourne removalists near me?
Moving interstate in Australia can involve travelling large distances and this can translate into high costs for transport. By going with an established company that has a good reputation for interstate deliveries you making sure all of your furniture and other belongings are in good hands.
At TAXIBOX we are offering a different way to move between cities in Australia. You can book through us for your removalist Gold Coast to Melbourne (including Fitzroy North, Hallam, Malvern East, and Middle Park), we can deliver one of our mobile storage units to your door. Then you can take your time to pack it all up, as you get a free month of onsite storage with any booked removalist. When you're ready simply give our team a call and we'll come and collect it for delivery to your new address.