Removalists Gold Coast to Brisbane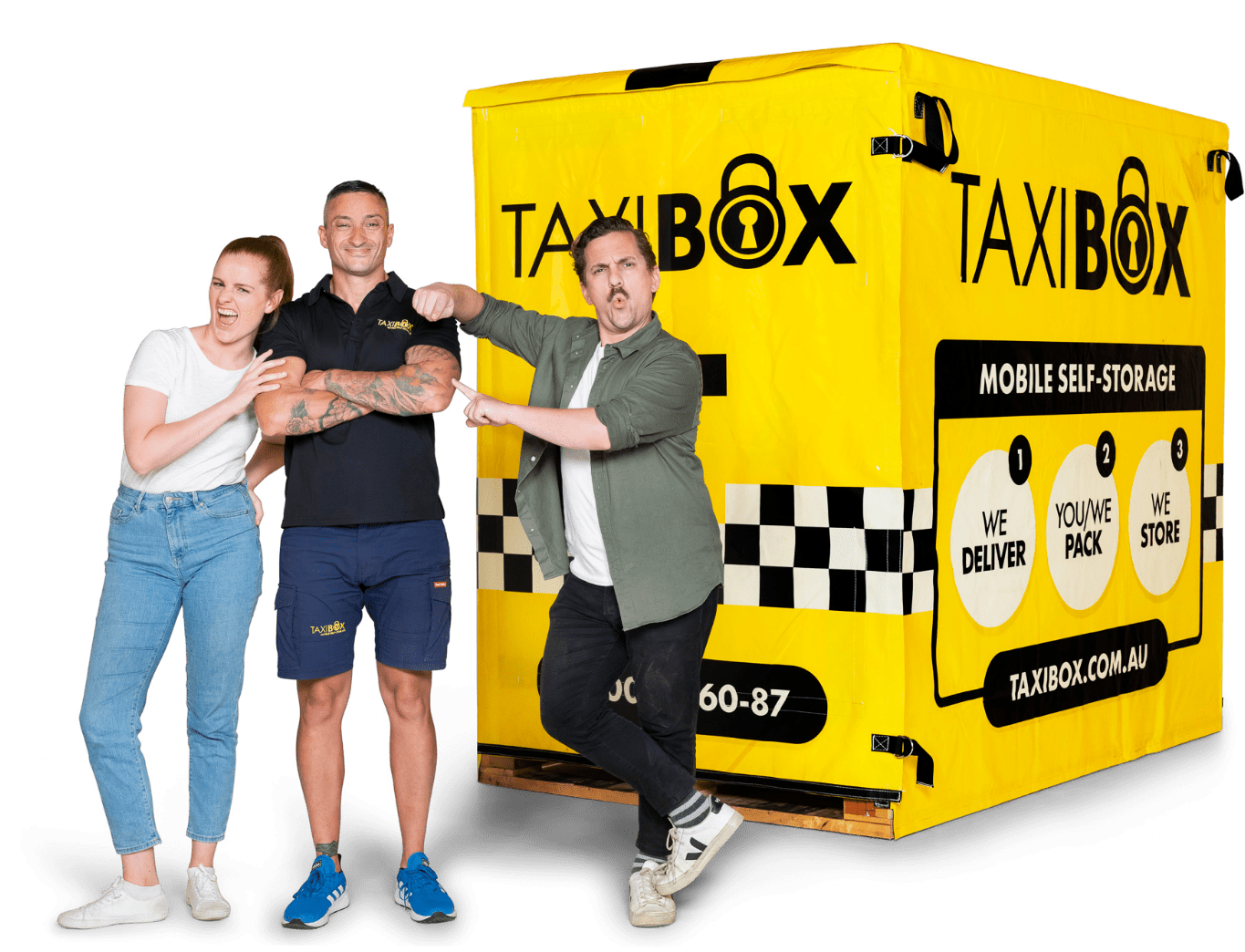 We deliver
We deliver your TAXIBOX to your home or office
You/we pack
Take your time to pack and lock your TAXIBOX
We move
Done! We'll move your TAXIBOX to you across Australia
Our storage facilities
Do we service your suburb?
---
TAXIBOX Banyo
931 Nudgee Road, Banyo 4014
TAXIBOX Ormeau
15 Blanck St, Ormeau 4208
Removalists Gold Coast to Brisbane
Moving from the Gold Coast to Brisbane can be a huge challenge and one that can be made easier with the use of removalists. At TAXIBOX we can be your removalist Gold Coast to Brisbane, our services differ from traditional removalists in that you can take your time packing all your stuff up. Then when you're ready for the big move you can book it in, and we'll come to collect it and deliver it to your new home. If you need to leave one property but your next home is not quite ready, we can store the TAXIBOX at our secure storage facility. From there you'll have free access to your self-storage TAXIBOX six (6) days a week. Then once your new place is sorted, we can deliver it, and just give us a call when it's all empty and ready for collection.
Packing up a home is best done in stages, for large homes you may need more than one TAXIBOX to store and move everything. At TAXIBOX we can also supply cool rooms which can be perfect if you are holding a final 'going away' party at your recently emptied home. At this time you can also make use of our rent storage shed for any supplies that you don't want to keep inside a freshly cleaned home. TAXIBOX is the perfect solution for when you need a removalist Gold Coast to Brisbane, or if you're moving interstate in Australia, (e.g., Gold Coast to Melbourne).
Packing your own TAXIBOX and having it sent to a new address is the best way to make sure that everything is packed properly. During long trips such as Melbourne to Gold Coast, Sydney or Brisbane, or even Sydney to Melbourne, Brisbane, or Gold Coast, or any of those poorly packed items will shift and move and can potentially be broken. By taking the time to pack everything properly (at TAXIBOX you get a month of free storage when booked for removals) you can be certain that your furniture will arrive in excellent condition.
What do removalists do?
A removalist Gold Coast to Brisbane can pack up your home, load it into a truck, deliver it to your new home and unpack everything. In most cases you'll need to have all your loose items boxed up and ready for the day of your booking, and when they unpack everything it may go into the right room or it may not, that depends on what your local removalist in Gold Coast offers.
Moving your home can be a stressful event, and a part of that comes with having deadlines as requested by removalist teams. When you use a TAXIBOX it takes away the stress as you don't have any deadlines to keep to. After receiving your TAXIBOX, you get a month to pack and unpack everything before there are any storage charges. If you need more time simply give us a call and you can pay for an additional month of self storage; it's that easy!
How much do removalists cost?
For removalists working in Gold Coast to Brisbane, your costs are often charged based on the actual distance travelled. It may incorporate tolls and other charges, and these are set by the removalist you employ. The difference with TAXIBOX is that you can save on your removalist costs by packing all your furniture and belongings yourself! Or if you prefer, we can arrange for it to be packed up for you.
As we understand that the price of a house move is important, we have available a calculator that you can use to find out the exact cost of your move. You can enter in how many mobile storage units you need (and we have a guide for that as well!), the drop off address, and the delivery address, and we'll show you exactly how much the cost will be. The price you're quoted also includes up to one-month storage, this means you get an entire month to load and unpack your TAXIBOX! We feel you'd be hard-pressed to find a more affordable removalist in Gold Coast.
Can removalists pack your stuff?
Generally, a removalist Gold Coast to Brisbane will only collect everything after it has been packed and then take it to your new home. For short trips this could be the same day, or they give you a date for the delivery and you have to be there when it arrives so they can unload it. If you need help with packing all your furniture and other items, then you can arrange for a professional packer to do that for you. They may supply you with the packing materials, or they may charge based on how much they use. Many removalists can put you in touch with a suitable packer, or they'll have someone available. The benefits of hiring a packer mean that everything is completed quickly, however, the drawbacks are that it can be expensive; but if you have a deadline you may just need to do it.
Where to find Gold Coast to Brisbane removalists near me?
If you're considering moving and you need a removalist in Gold Coast to Brisbane or the other way around, then you can book in for a TAXIBOX. We'll deliver our mobile storage units directly to your home, and it can stay on-site until you've got everything packed up. This means there is no pressure to have everything ready by a certain time; which is what many removalists may expect.
One of the other excellent reasons you should book in for a TAXIBOX is that if your new home is not quite ready your furniture and other household items can be sent to one of our secure storage facilities. There you'll have access to it at any time six (6) days a week, and once your new home is sorted out, we'll deliver it there at a date that is convenient for you.