Removalists Gold Coast to Sydney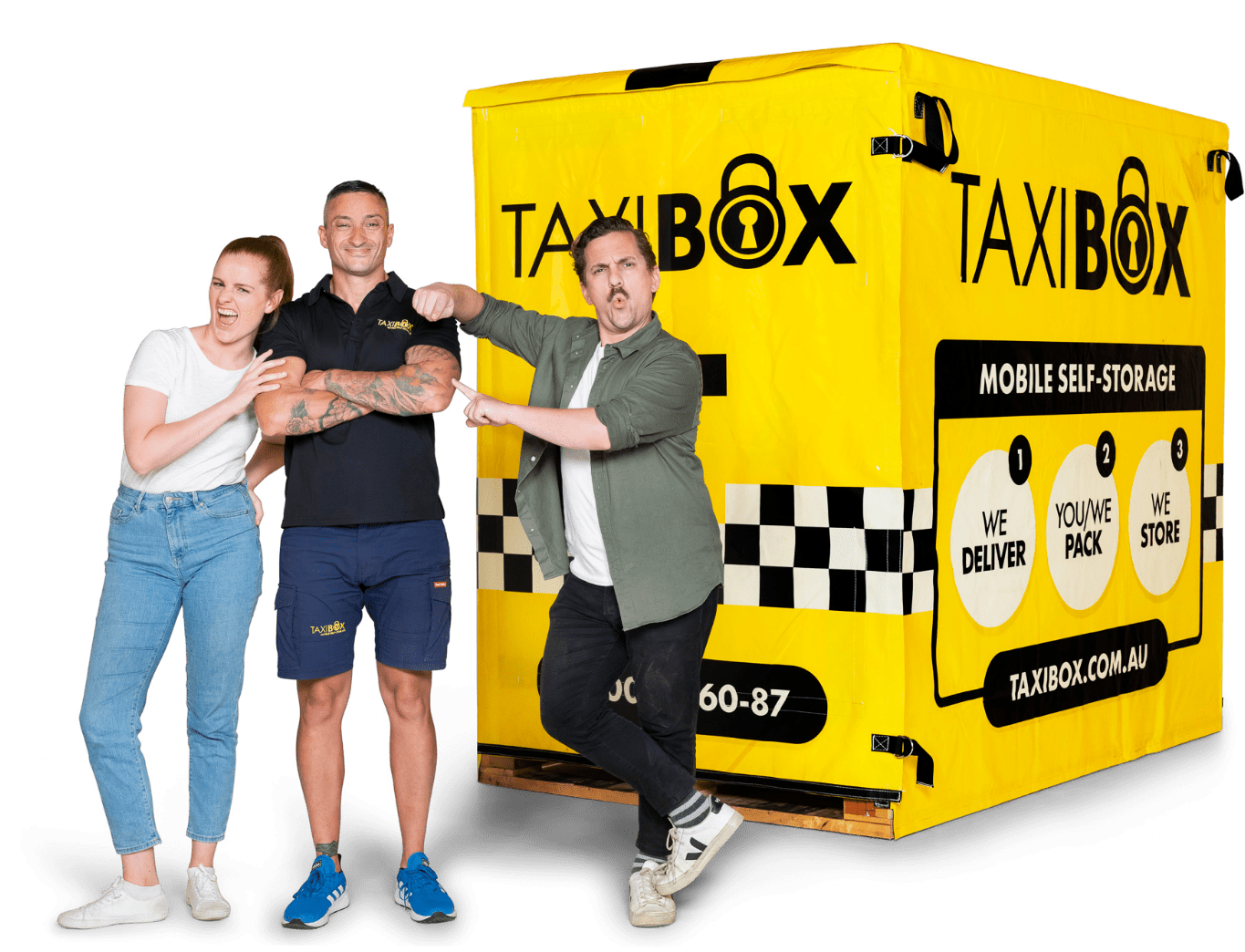 We deliver
We deliver your TAXIBOX to your home or office
You/we pack
Take your time to pack and lock your TAXIBOX
We move
Done! We'll move your TAXIBOX to you across Australia
Our storage facilities
Do we service your suburb?
---
TAXIBOX Erskineville
3/149 Mitchell Rd Erskineville 2043
TAXIBOX Greenacre
7B, Roberts Distribution Centre, 81-85 Roberts Rd, Greenacre 2190
Removalists Gold Coast to Sydney
At TAXIBOX we can be your removalist Gold Coast to Sydney. We can deliver up to five (5) of our mobile storage boxes to your home for you to pack all your furniture and other belongings. With our removalist booking, you get one-month on-site storage included. Once you're all packed, give us a call and we'll come to collect your boxes and deliver them to your new address. After receiving the boxes at your new home, just unpack the boxes and let us know when they're empty and ready to collect.
Moving interstate is a big choice and choosing the right a removalist Gold Coast to Sydney is an important job; who you go with should be carefully considered. We feel that we are offering the best solution that gives you the most freedom as you're not locked into a move by date. An additional bonus to going through our team is that if your new home is not quite ready, you can request all your items be put into storage. This means you'll have access to all of your belongings while you search for that new place. This is perfect for those last-minute moves, where you haven't yet had the chance to properly scout out the local areas.
What do removalists do?
A removalist Gold Coast to Sydney, will load up all your furniture and boxed up belongings and deliver them to your new address. The exact time of delivery and costs can vary between different removalists. Some may offer additional services such as supplied boxes and packaging materials, an inventory list, and insurance, however, these are all factored into the overall costs and can add up quickly.
At TAXIBOX we have aimed to simplify and remove the stress associated with moving. We can supply you with some of our mobile storage boxes, and you can take as long as you like to pack it up and prepare it for your move (the first month is included and then a monthly charge will apply). If you need to vacate your current property and your new home is not ready, we can store everything at our secure storage facility until it is ready to be delivered (this may incur additional charges).
How much do removalists cost?
The exact cost of a removalist Gold Coast to Sydney can depend on many different items and is usually broken down into what the removalist will offer. At TAXIBOX all our prices are available on our website, you can use our quote calculator to find out the exact cost of your move. All you need to do is enter in the details of your move (i.e. starting and finishing address) and then select how many of our mobile storage boxes you'll need, and it'll display a price for you!
We feel that we offer the best value as your removalist Gold Coast to Sydney because all you're paying for is the use of a storage box for one month and the transportation. There is an option to have the TAXIBOX packed up if you need a little help getting it sorted out. Also, you can buy boxes and other packing supplies directly from our website if you don't have any handy; we'll even deliver those with your first TAXIBOX!
Can removalists pack your stuff?
A removalist Gold Coast to Sydney will usually give you the option to pack your items yourself or hire a professional to do the job for you. If you are finding that you simply do not have the time to get everything together in time for your move, then hiring a team could be the best option. At TAXIBOX we can help you pack your mobile storage units; you can get in contact with us through our website and we'll sort you out with a date that fits in with your current schedule.
If you're choosing to get a team to pack everything for you, it can still be a good idea to pack some boxes yourself. This may include any sensitive items (e.g. personal documents), and anything that you want to label and make sure it is treated with extra care (e.g. any fragile items). Your packers are professional and they work fast, many homes can be packed up and ready to move in about six-eight (6-8) hours.
Where to find Gold Coast to Sydney removalists near me?
Finding a local removalist Gold Coast to Sydney is easy when you use TAXIBOX. As we can deliver one (and up to five) mobile storage units directly to your home. We remove the pressures associated with many home moving events, as you get up to a month of free onsite storage, which means that you get two weeks to pack everything and then two weeks to unpack at your new home. If you need extra time you can call us and pay for an additional month of storage; we are an easy solution to moving interstate in Australia!
When you're thinking about a removalist it is very important to check on the reviews of the company. This will give you plenty of information for if they can handle your items properly and limit any damage. At TAXIBOX we are proud of all the reviews we have received, and customer satisfaction is high on our list of business goals. We have been involved in many moves over the years such as Gold Coast to Brisbane, and Melbourne, Sydney to Gold Coast, Melbourne, and Brisbane, and Brisbane to Sydney, and Melbourne. In addition to being your removalists of choice, we can also offer cool rooms, self storage, and you can rent a storage shed for secure onsite storage.