Seen some bright yellow TAXIBOXES roaming around your area but never looked into it? Want to know what the deal is… without all the bass riffs? You've come to the right place, we've got all the answers right here.
We'll lay off the bass, but we can't promise there won't be a mic drop here and there. It's a given with TAXIBOX.
So, You've Seen Me Around Town…
I'm not surprised, the yellow tends to stand out from the crowd. You've probably seen me roaming around your neighbourhood or parked in someone's driveway, but let me properly introduce myself: I'm storage delivered to you… you can call me TAXIBOX!
I'm a big wooden box that you can put all your stuff inside. I fit in a carspace and wear a big yellow raincoat to keep your stuff safe and dry. As a business, us TAXIBOXES have been working hard for over 10 years now. We're Australian-owned and dedicated to turning your stuff into space.
If you're the kind of person that's never really thought about storage before, but you're also the kind of person that's either (a) planning on moving soon, (b) styling your house to sell it, (c) working on a renovation project, (d) about to move in together with your partner, (e) planning an event, or (f) just a long-time accumulator of goodies, then you might want to think again. Especially if you're all of the above, that's a full plate you've got there.
It's about time you did your research, to find out why you should store your stuff (and get to know me – your future TAXIBOX – a little better)! Luckily for you, we've got all the answers right here… find out what you can fit in me a TAXIBOX, what you can use me TAXIBOX for, and how the whole process works.
How Does TAXIBOX Work?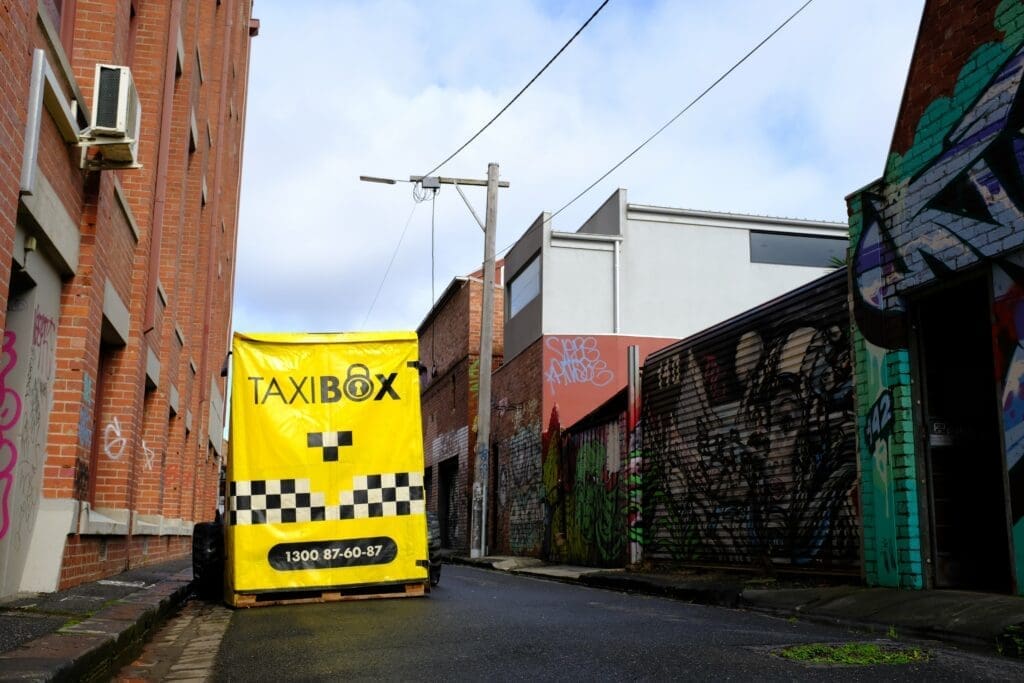 The problem with stuff is simple — you've got stuff and you need space. So, we made the solution simple too. We turn your stuff into space. It's a 3-step solution, which requires the least amount of leaving your house possible (score).
We Deliver
Get your TAXIBOX delivered, wherever, whenever (except on these Holidays), right where you need it (in our service areas, double check we service your area by putting your postcode into our instant quote calculator):
TAXIBOXES fit in a car space, so you can get it delivered right where you need it
We deliver virtually anywhere, making loading and unloading easy
All of our TAXIBOXES sit flat on the ground, so your stuff stays put
You Pack
Pack and lock your TAXIBOX at your own place, in your own time:
No need to rush, you have all the time in the world to load your TAXIBOX
We've got removalists that can lend a hand (if you need any help)
Once you're locked and loaded, give us a call and we'll take your TAXIBOX away
We Store
Once you're ready, we'll collect your TAXIBOX and take it where it needs to go, or store it until you need it back:
No need to drive all the way out to the storage facility — we'll move your TAXIBOX for you
If you need to access your stuff, there's no fuss (get it delivered back to you if you need to add or remove stuff, or access our storage facility for free, 6 days a week)
We'll deliver it straight back to you wherever and whenever you need it back (we'll even travel across state lines, just for you)!
What Fits in a TAXIBOX?
A lot! TAXIBOXES are 2.4m long, 1.5m wide, and 2.2m tall externally. Internally, they're 2.32m long, 1.46m wide, and 2m high. They fit king-sized beds, fridges, couches, and everything in between.
The best part? There's no need for guesswork. You can figure out exactly how many TAXIBOXES you'll need with our Storage Calculator. All you have to do is put your life together — from dining room tables to surfboards to skeletons in the closet — and see how it adds up.
Why Should I Get a TAXIBOX and Not [Redacted]?
TAXIBOX one-ups other solutions for moving, storing and renovating because we put our all into everything we do. Aside from the cool yellow boxes you know and love, our tech is pretty schmick (world-leading actually), and we're one of the best companies in Australia when it comes to customer service.
It's all thanks to our secret sauce. We've got…
Super service – we've removed the word "unfortunately" from our vocabulary; we find proper solutions instead of taking the easy way out
Great people – our TAXIBOX family are better than good, they're great (and they're the experts in turning stuff into space)
Smart tech – behind every TAXIBOX delivery is an army of bots that just makes everything work better, smarter and cooler
What Would I Use a TAXIBOX For?
Our TAXIBOXES are perfect for anything that involves stuff, so pretty much everything. Think:
Storing seasonally
Event planning
Running a business
Storing the excess stuff
If You've Got Other Ideas…
Don't be afraid to think outside the BOX. Our customers have done all kinds of things with our TAXIBOXES.
Our Mobile Self Storage units are perfect for all kinds of stuff. Whether you need help moving, you're about to go travelling, you're in need of a declutter, you're styling your house to sell it, or you're just trying to find space, you can get it all done with Mobile Self Storage.
TAXIBOX Mobile Storage is extra convenient if you've got no space on your property to store your stuff. We'll bring your TAXIBOX to you, and once you're all packed, we'll pick up your stuff and store your TAXIBOX in one of our secure indoor facilities until you need it back. Out of sight, out of mind. Easy.
If You Need Something a Bit Stiffer…
Working on a longer renovation project, a construction job, or a larger-than-large event? We can help you out with On-Site Storage. Store your stuff securely on-site, outside. Our On-Site storage stays with you 'til the job's done.
TAXIBOX On-Site Storage is perfect for anyone that needs to keep their stuff outside, in a stronger, sturdier, and secure-r BOX. We'll deliver your On-Site Storage to your property, so pack it, lock it, and store it on-site for as long as you need. Once the job's done and you've unpacked your On-Site Storage, we'll collect your empty TAXIBOX. It's that simple.
If You Need to Chill Out…
Anything you need to keep cool, you can with Cool Storage. Our temperature-controlled BOXES will keep your food, beverages and whatever else you need cool. Think catering, festivals, weddings, floristry, meat, whatever. We'll keep your stuff cool for you.
TAXIBOX Cool Storage is the answer to all your prayers (especially if you're an event planner and praying for a really big fridge). We'll deliver your Cool Storage wherever you need it so you can pack it, lock it and store it on-site for easy access, for however long you need it. Once you're done, all you have to do is empty your TAXIBOX for us to come and collect it. Easy freezy.
So… Got Stuff, Need Space?
We'll sort it for you! We're a one-stop-service in the self storage world. Get your stuff sorted in just a click with an instant quote on our website. Once we've got your info, we'll give you a call to confirm your booking and it's all stream ahead from there.