Storage Facilities in Brisbane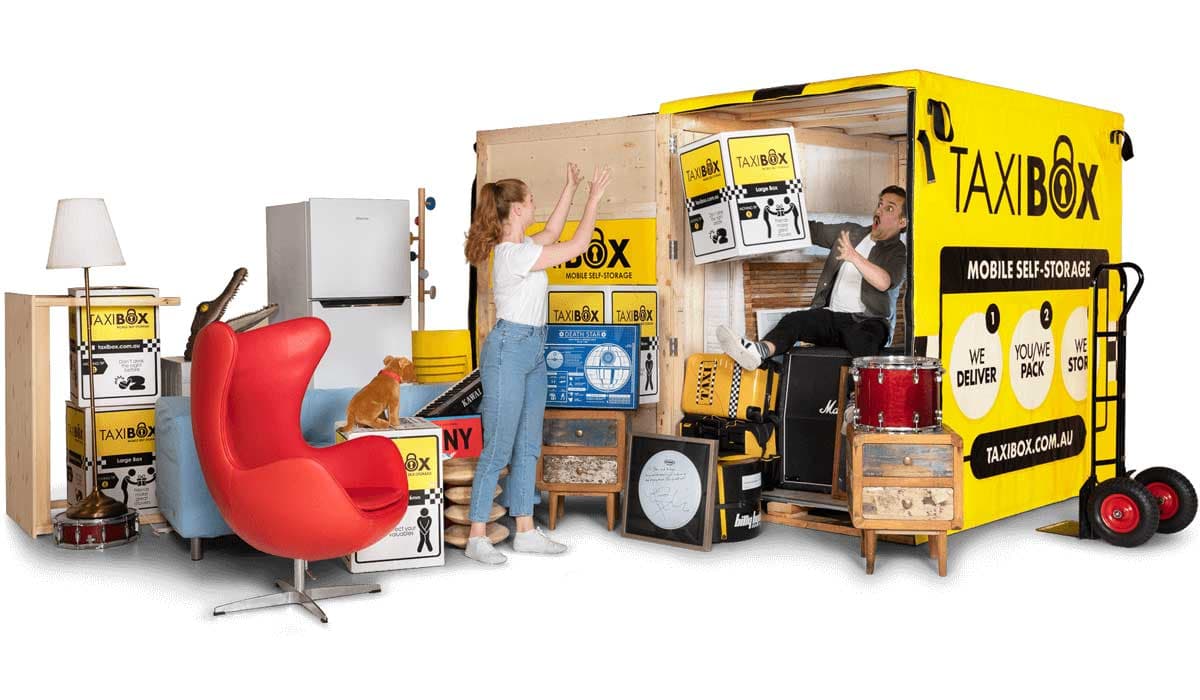 What are TAXIBOX's storage facilities in Brisbane?
TAXIBOX mobile self-storage took Australia by storm in 2010 and has gone from strength to strength ever since. Not only are we revolutionising storage in Melbourne and Sydney, but TAXIBOX mobile self-storage is now the biggest and best storage solution in Brisbane!
The hub of Brisbane TAXIBOX is the TAXIBOX storage facility. It is the perfect home to keep your belongings safe and sound. Easily accessible and only 9km away from the Brisbane CBD, the
TAXIBOX storage facility is perfectly located in Hendra. Not only is there a train station right on our doorstep, but other public transport options are easily within reach too.
Accessibility
Along with our other cities, TAXIBOX Brisbane offers accessibility – all you need to do is allow 24 hrs notice and access can be arranged to your TAXIBOX 6 days a week. Even if you're busy working Monday to Friday, we're open 9am – 2pm on Saturdays!
We'll make sure that you have all the space you need if you're bringing along a van, friends or removalists to load or unload some extra items into your TAXIBOX. You can pull straight up to your mobile self-storage unit and spend as long or as little time as you need. There are no restrictions as to how many times you can access your mobile self-storage units – you're free to access as many times as you wish for the length of your storage term. Use our simple online access request form to book in your date and approximate arrival time and one of the friendly TAXIBOX Team will confirm your access over email. Plus, access to your TAXIBOX is free of charge!
Security
TAXIBOX's Brisbane storage facility doesn't compromise on security. Only you will hold the key to your TAXIBOX, you and nobody else!
The safety and security of your belongings is our number 1 priority and we'll treat your possessions as though they were our own. The padlocks that we supply are durable, heavy duty and are easily distinguishable thanks to the yellow keys.
No matter the weather, your TAXIBOX will always be protected. For your convenience, whilst your TAXIBOXES are with you for loading on your own property, each mobile self-storage unit is covered with a strong weather resistant cover. Once your TAXIBOX is returned to us for safe keeping, this is removed as our secure facility will do its work.
Protection
We have all the modern security measures in place at our Brisbane facility to keep your items protected. Our professional team carry out regular pest control inspections and fire audits for your added protection and peace of mind.
All of the TAXIBOX team have been through a criminal record check, plus every visitor to the Brisbane storage facility signs in on arrival.
Exceptional Service
Our storage facilities can hold a top secret amount of mobile self-storage units, though having recently moved to bigger and better facilities, we're ready to help with your storage problems!
TAXIBOX mobile self-storage is your solution and TAXIBOX Brisbane beat any mobile self-storage competitors hands down. We're proud to stick to our guns.
How do we do it you ask?
Convenience –
We bring the storage straight to your front door! We can deliver a TAXIBOX into your driveway, front lawn and even your garage. Our drivers are skilled at delivering TAXIBOXES and they can even be delivered onto the street, just like a parked car. By having the storage unit so close, this saves you time and effort when compared to hiring a trailer and jumping into your car and driving all the way to a storage facility. You don't have to double handle your belongings and furniture, which means we do all of the travelling for you. How easy is that? Moving house couldn't be easier.
Cost Effective –
We're proud to have the lowest rates for mobile self-storage in Brisbane. When pricing up TAXIBOX Vs traditional self-storage we are going to win. Plus, think how much you'll save by removing the need to hire trucks, trailers, vans or removalists!
Best of all, since you can order as many TAXIBOXES as you need, thanks to our modular system you are only going to be charged for the space that you actually use. This means no wasted space.
Easy loading –
Your TAXIBOX is the perfect sized storage unit to allow you to organise and categorise various rooms / areas of your property according to different TAXIBOXES. We're a modular system! This makes it so much easier both for loading and unloading at the end of your storage. Also, included in our service is the delivery of packing supplies along with your TAXIBOX. Whether it's packing boxes, mattress protectors or even moving blankets – we have got you covered.
Local AND interstate moving –
Not only are TAXIBOX the saviours of helping with local moves within Brisbane, we can also help you move interstate down to both Sydney and Melbourne too! We will transport your TAXIBOX straight to your new front door, across the country. You'll have the security of knowing when your TAXIBOX will arrive (no backloading going on here!) and our rates are out of this world. And, since we use our expert delivery system, at the end destination your TAXIBOX can be with you for as long as you need to unload.
TAXIBOX is the quickest, easiest and most effective solution in Brisbane.
Call one of our friendly team to see how we can help you today, 1300 80 60 87.